June 23-25, 2008
Pineglen RV Park
We are camping with Pineglen RV Park 11930 Panama City Beach Parkway, Panama City Beach, FL 32407 Phone 850 230 8535 www.pineglenpark.com. $43- (including taxes) a night for full hookup wifi & cable. While the $43 may shock you we are talking June on Panama City Beach. A fancier RV-Park is a few blocks from here--Emerald Coast I think their rates start at $75 before taxes. We usually stay at St Andrews State Park when visiting Panama City Beach but we didn't make reservations this time and the State Park was full--the State Park is around $25 for water & 30-amps. Pine Glen RV Park has gravel/dirt interior roads and pads but is otherwise a nice RV-Park that is well maintained with good looking RV's in the place.
Sadly there isn't a 1/2 price PPA Campground on Panama City Beach.
One day we drove to the west end of the Beach to visit Camp Helen State Park. Camp Helen is a relatively new State Park and has yet to be developed to its full potential. Still it is a good place to visit.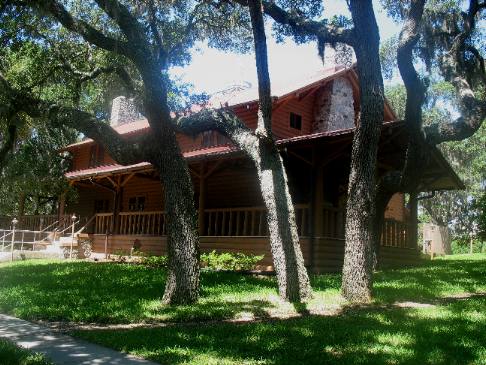 This is the "Lodge" circa 1932. At that time the Lodge was the centerpiece of Camp Helen. Of course Camp Helen was privately owned at that time also.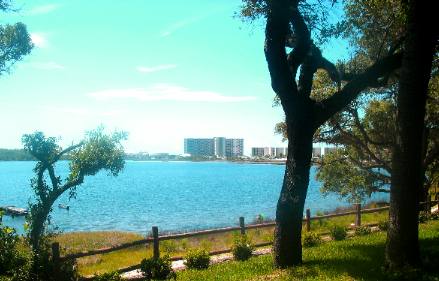 This is a view over Phillips Inlet to the southeast. The condo in the distance is on the Gulf. This picture was taken from Camp Helen State Park looking back to the east and the condos on Panama City Beach.
This is a cabbage palm the state tree of Florida.
View looking to the southeast from atop the bluff at Camp Helen State Park. The Gulf of Mexico is the dark blue strip in the middle of the picture just above the narrow strip of white sand beach.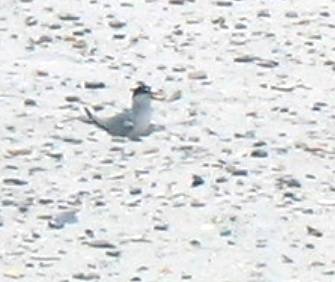 We walked down to the beach where a large area was roped off protecting a least tern nesting area. Least terns nest in the open laying eggs in shallow depressions amongst scattered shells. The small birds have to protect their eggs from the blazing sun. Only a few minutes in this sun could cook them.
This is a side view of one of those nesting least terns on the beach at Camp Helen State Park.
Here comes Joyce from her walk on the beach. The beach is that white strip you see in the distance.
Pindo palms like this one are not native to this area but there are a good number of them in the State Park. I guess they are left over from the days when this was a private property. Pindo palms are native to Brazil & Argentina and have a reputation as a very cold hardy palm tree.
We spent the day visiting Camp Helen State Park and visiting with my Mom who lives in Panama City. But we headed out to look for an enhanced excitement level around 5pm. It was no where near dark but that is time to start searching for food and entertainment.
Margaritaville, Jimmy Buffett's place in the new Pier Park on Panama City Beach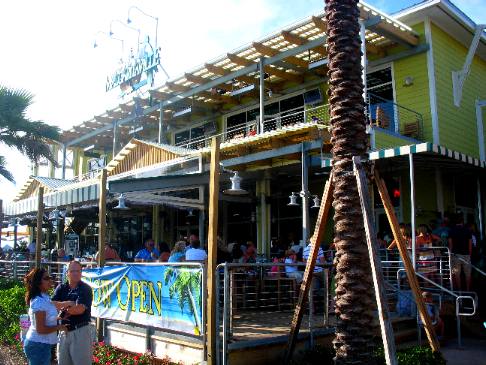 We wanted to dine a the new Margaritaville, Jimmy Buffett's place in the new Pier Park on Panama City Beach. That was what we wanted to do but there was a one & one-half hour wait each time we got hungry. I don't do waits like that --15-minutes is about the extent of my wait-tolerance. We attempted this exercise in futility three different evenings around 5:30, one time they said the wait was 2-hours.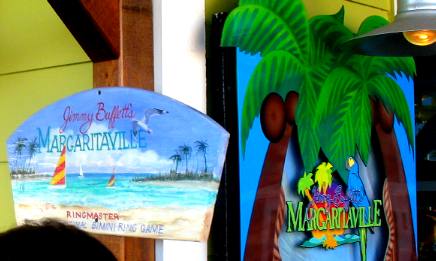 Margaritaville on Panama City Beach is definitely a hit. It seemed that everyone on Panama City Beach wanted to get a table in there.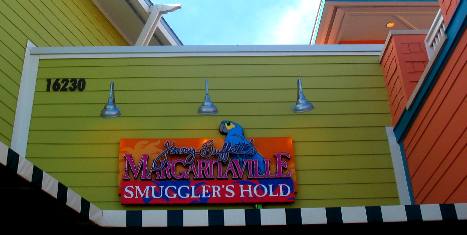 This is as much of Jimmy Buffett's Margaritaville as we got to see. If you are visiting Panama City Beach you can find Margaritaville on Front Beach Road at the entrance to Pier Park. Be forewarned you will not be dining alone. vbg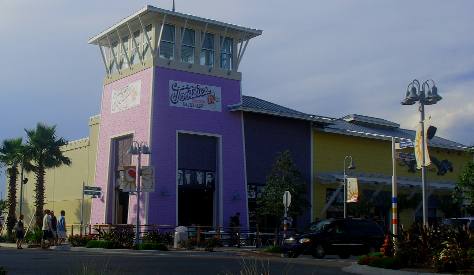 One place that did not disappoint us was the new Tootsies that also opened in Pier Park just a block north of Margaritaville. Tootsies was doing a landmark business as well -- just not as ridiculous as Margaritaville. Tootsies, the world famous honky tonk, on Broadway in Nashville, Tennessee has opened this Tootsie's on Panama City Beach. The music format so popular in Nashville is being well received at Tootsies on Panama City Beach. While the music format remains essentially the same, featuring musicians and bands that are on the verge of becoming top stars. For the most part these musicians lean heavily on a Country Music format but also do songs from the Temptations (My Girl), the Eagles and songs like Brown Eyed Girl. Musicians of the talent level performing in Tootsies play to the audience thus know a wide variety of songs from the Country & old Rock & Roll genres.
The artist and bands we listened to in Tootsies were performers we had listened to at the River Front Stage at Fan Fair in Nashville several weeks ago. Some of the band members and lead vocal artist were in the Nashville Convention Center signing autographs right along with the likes of Sarah Evans and Alan Jackson.
If you are contemplating a visit to Panama City Beach and Tootsie's you can count on good entertainment. The "atmosphere" in the Panama City Beach Tootsie's is MUCH more family friendly than the original Tootsie's in Nashville. When I say the "atmosphere" has improved (my opinion) I am speaking of things like serving food (we ate there two nights), the music incorporates more "beach/new Country" than the more hard core "old Country/honky tonk" emphasized in the Nashville Tootsie's. This Tootsie's is much larger than the Nashville Tootsie's and much cleaner. Families bring children of all ages in to enjoy the music. One night when we were there about 50-teen age girls visiting Panama City Beach as part of a dance group dropped in -- they appeared to range in age from 12 to 17 or 18. These girls and their chaperones had a ball in Tootsie's, the musicians had them dancing on the bar and on the band stage. The music quickly changed to appeal to this "younger-age" group that appeared. Many of us were surprised that the chaperones allowed this group of young girls to enter Tootsie's much less dance on the bar when we settled down we realized that there was absolutely NOTHING going on that was the least bit out of line. Many families with children ranging in age from one year old to around 18-years came in and enjoyed the music and food. If anything "out of line" would have happened I am sure these families would have quickly exited. The inside area of Tootsie's is a no-smoking area which is to our liking. Along the south side of Tootsie's is an outside bar where smokers tend to congregate as well as many tables outside that seem to stay pretty full of smokers. Bottom line, this new Tootsie's is much more family friendly.
If you are interested in some of the artist we enjoyed there check out Anthony Orio's web site: www.myspace.com/anthonyorio
His band is the Goodfellers, you can get a link to the Goodfellers band from Anthony's web site.
The Goodfellers are also the band for recording artist Crystal Shawanda. Crystal wasn't performing when we were at Tootsie's but was arriving the day we left for a weeks worth of performances.
Jonathan Newton is a multitalented musician that plays lead guitar, base guitar, fiddle and mandolin to name a few of the instruments he has mastered.
Chris Griffiths is the Goodfellers base guitar player.
Lewis Winfield is the drummer for the Goodfellers. He has performed with the Blues Brothers, Leonard Skynard and the Nevel Brothers to name a few of the musicians he has performed with.
Scott Colier is a lead vocal that was singing with the Goodfellers band. Google Scott Colier to find out more about this great performer. He has a CD out that can be purchased from his web site.
The Goodfellers Band has opened for top acts like Travis Tritt, Montgomery Gentry and Miranda Lambert as well as playing at the 2007 Canadian Country Music Awards.
Singer/Songwriter Anthony Orio and The Goodfellers Band have brought a taste of Nashville to Tootsie's. Their southern-rock show features a large variety of country and rock covers as well as original tunes with a few "hollers and swallers" mixed in with the music.
Click here for more Panama City Beach Adventures
Click here for more Florida Travel Journals
Click here for Florida Panhandle Travellogs
Until next time remember how good life is.
Mike & Joyce Hendrix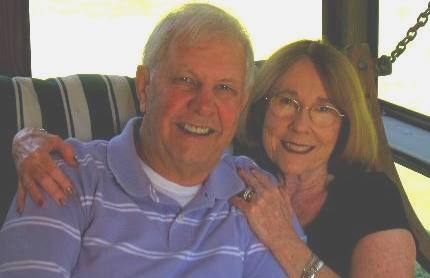 Mike & Joyce Hendrix who we are
We hope you liked this page. If you do you might be interested in some of our other Travel Adventures:
Mike & Joyce Hendrix's home page
Travel Adventures by Year ** Travel Adventures by State ** Plants ** Marine-Boats ** Geology ** Exciting Drives ** Cute Signs ** RV Subjects ** Miscellaneous Subjects
We would love to hear from you......just put "info" in the place of "FAKE" in this address: FAKE@travellogs.us
Until next time remember how good life is.