Hurricane Ike & Flooded Campground
St. Andrews State Park on Panama City Beach
September, 5th thru 13th
This travellog covers some pictures of Hurricane Ike that roared ashore in Galveston, Texas while we were visiting Panama City Beach and staying in St. Andrews State Park $26.16 for water & 30-amps with a central dump station. The sites feature paved interior roads with sand campsites. St. Andrews State Park Campground has LOCATION and "price". The campground is situated on Grand Lagoon with many sites on the water and all others with a view of the water. In my opinion it doesn't matter if you have one of the sites on the water or not you are so close to the water that it doesn't matter.
If you can't find a great campground like the one at St Andrews State Park you need to be looking for a 1/2 Price PPA campground.
We arrived at St. Andrews State Park on Friday September 5th with Hurricane Ike approaching Cuba after having ravaged Haiti. It was making unpredictable turns so everyone along the Gulf Coast was watching and waiting to see what that monster was going to do.
Hurricane Ike is passing over Cuba aproximately 900-miles south of St Andrews State Park shown in this picture
We started our stay with the Gulf of Mexico looking like this. Beautiful emerald colored water with just moderate surf. In fact it is hard to see the first wave as the Gulf laps at the shoreline. Things will change in a few days, take a good look at this picture.
Campground at St. Andrews State Park before Hurricane Ike paid a visit
This is our motorhome in the campground at St. Andrews State Park. Get a good look at this as the campground will be flooded by the storm surge of Hurricane Ike. Yes, we had to evacuate the campground.
As Joyce took this picture from St Andrews State Park Hurricane Ike was ravishing Cuba
When Joyce took this picture, from St Andrews State Park, Hurricane Ike was ravaging Cuba and predicted to enter the Gulf sometime tomorrow. It is hard to imagine that this tranquil setting will be so vastly different in only a matter of hours.
While not "slick" calm this is about as calm as the Gulf of Mexico gets. Things will change tomorrow when Hurricane Ike moves into the Gulf of Mexico 600 or more miles south of here.
View of the Gulf of Mexico from St Andrews State Park the evening before Hurricane Ike enters the Gulf
Pelicans in the surf, at St Andrews State park, a day before the effects of Hurricane Ike reach this area.
And one last picture of how calm the Gulf was before Hurricane Ike stirred things up.
We awoke Thursday morning to this scene in the campground at St Andrews State Park. Fortunately we were on higher ground, some campers weren't. This picture shows three rows of campsites underwater. My campsite was behind me as we took this picture. We cranked up and headed for higher ground.
This is NOT the road we took out of the campground.
Last night when we arrived back at our campsite around midnight we drove down this road in the campground and campers were occupying campsites on both sides.
Our campsite was on the right side about 100-sites down this road. Fortunately, this road continues past our campsite and we were able to exit that way this morning.
Oh, one more thing. That road was under water also, just not this much water.
These campers at St. Andrews State Park were in a popup or TT, I can't remember, but their power went off in the night and they went out to investigate. They stepped into water when they exited their camper. As you can see they moved their camper but not the stuff on their picnic table. Not to fear, they were in another spot in the campground on higher ground so I suspect they returned to retrieve their belongings on that table. By the way, that is salt water that was pushed in here by Hurricane Ike. This is part of the "storm surge" that the weather folks always talk about when warning about a hurricane. When this "storm surge" came in hurricane Ike was still 600 miles from Galveston. In other words it had recently passed over Cuba and just entered the Gulf.
To say that Hurrican Ike is pushing a LOT of water in front of it is an understatement.
What a difference a day makes! Amen! These large breakers were what was pushing the wall of water "storm surge" into St. Andrews Bay and indeed along the entire Gulf Coast.
That is all there is.
Click here for more Hurricane Ike Pictures from St Andrews State Park
Click here for more Panama City Beach Adventures
Click here for more Florida Travel Journals
Click here for Florida Panhandle Travellogs
Until next time remember how good life is.
Mike & Joyce Hendrix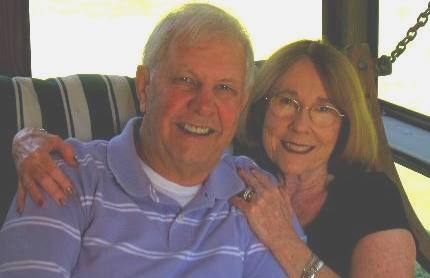 Mike & Joyce Hendrix who we are
We hope you liked this page. If you do you might be interested in some of our other Travel Adventures:
Mike & Joyce Hendrix's home page
Travel Adventures by Year ** Travel Adventures by State ** Plants ** Marine-Boats ** Geology ** Exciting Drives ** Cute Signs ** RV Subjects ** Miscellaneous Subjects
We would love to hear from you......just put "info" in the place of "FAKE" in this address: FAKE@travellogs.us
Until next time remember how good life is.