September, 5th thru 13th
We arrived at St. Andrews State Park on Friday September 5th with Hurricane Ike approaching Cuba after having ravaged Haiti. It was making unpredictable turns so everyone along the Gulf Coast was watching and waiting to see what that monster was going to do.
We started our stay with the Gulf of Mexico looking like this. Beautiful emerald colored water with just moderate surf. In fact it is hard to see the first wave as the Gulf laps at the shoreline. Things will change in a few days, take a good look at this picture.
And one last picture of how calm the Gulf was before Hurricane Ike stirred things up.
What a difference a day makes! Amen! These large breakers were what was pushing the wall of water "storm surge" into St. Andrews Bay and indeed along the entire Gulf Coast.
These are giant waves crashing across a sand bar on the eastern side of the Pass where boats enter and exit St. Andrews Bay. Surfers flew in here from as far away as California and Hawaii to surf these "World-Class" waves. Surfers told us that when conditions were right (and they were RIGHT) this was one of the premier wave sets in the world. The dots you see in the water are surfers. We watched as surfers caught a wave to the right of this picture and rode it well past where this picture ends on the left side.
These are boats that ferried the surfers to this surf spot. The waves the surfers are riding are 100-yards or so to the right of this picture.
This is a gnarly wave breaking in the middle of the pass. The rock jetty you see protects the western side of the Pass and is located in St. Andrews State Park.
This enormous wave was loaded with surfers. In case you are not oriented the waves are moving from right to left. The picture is being taken looking to the east from St Andrews State Park across the pass. That is Shell Island on the other side.
Waves battering the western jetty that protects the pass into St. Andrews Bay.
The Gulf certainly doesn't look like it did yesterday.
The sunset coupled with angry surf made this an interesting picture
Rough surf, a beautiful sunset, shore birds, and snow white sand. What else could someone ask for?
This isn't a day to get in the water. As you can see the rough surf has cleared this snow white beach of swimmers.
I was trying to capture some of the angry surf in these pictures. Pay attention to how there is one monster wave set after the other lined up in this picture.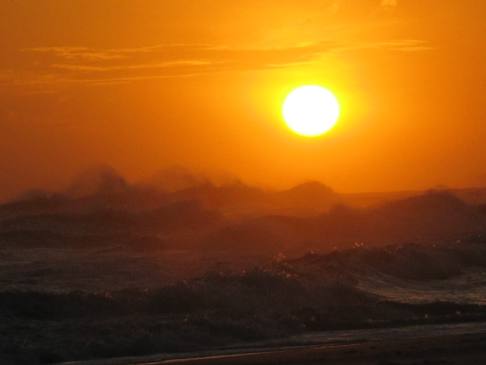 When writers write about the "frothing surf" this must be what they have in mind.
Awesome, totally awesome.
Hurrican Ike is really creating a spectacle on Panama City Beach.
What a difference a day makes. I think this is the night that Hurricane Ike roared ashore in Galveston, Texas 500-miles or more west of here. As you can see the waves are smaller now than they were when the hurricane was in the middle of the Gulf.
That is all there is.
Click here for more Panama City Beach Adventures
Click here for more Florida Travel Journals
Click here for Florida Panhandle Travellogs
Until next time remember how good life is.
Mike & Joyce Hendrix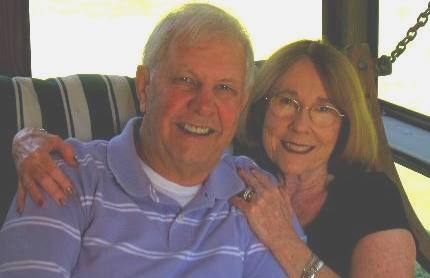 Mike & Joyce Hendrix who we are
We hope you liked this page. If you do you might be interested in some of our other Travel Adventures:
Mike & Joyce Hendrix's home page
Travel Adventures by Year ** Travel Adventures by State ** Plants ** Marine-Boats ** Geology ** Exciting Drives ** Cute Signs ** RV Subjects ** Miscellaneous Subjects
We would love to hear from you......just put "info" in the place of "FAKE" in this address: FAKE@travellogs.us
Until next time remember how good life is.