This travellog covers the first part of our two week stay on Panama City Beach at St. Andrews State Park $26.16 for water & 30-amps with a central dump station. The sites feature paved interior roads with sand campsites. St. Andrews State Park Campground has LOCATION and "price". The campground is situated on Grand Lagoon with many sites on the water and all others with a view of the water. In my opinion it doesn't matter if you have one of the sites on the water or not you are so close to the water that it doesn't matter.
If you can not find a campground like the one at St Andrews State Park you need to be looking for a 1/2 price PPA campground.
Fall and the frequent cold fronts (cold in name only) with winds blowing out of the north, bring an invasion of butterflies. To begin with there are Gulf Fritillaries then the migration of monarchs takes place. These are a mixture of Gulf Fritillaries & Monarchs, they look very similar. A stiff north wind in a cold front has pushed them to the Gulf of Mexico where they have settled down before continuing on their migration.
Look closely at this picture. There are between 8 & 10 Gulf Fritillaries on this one bush. It is a common sight here in the park. Blooming bushes and marsh grasses are literally covered with these butterflies.
You won't see this in the summer. You have to be here in mid-to-late October.
Great blue herons abound in the park where they stalk their prey in the shallows of Grand Lagoon.
If you happen to have a campsite on the water at St Andrews State park this can be a routine scene out your window.
While this might look like pyracantha it is yaupon holly and St Andrews State Park is full of it.
These berries will probably remain on the holly bushes until flocks of cedar waxwings descend on the park sometime in February.
Within a few short days all the berries will be devoured and all vehicles in the vicinity will have copious splotches of poop on them.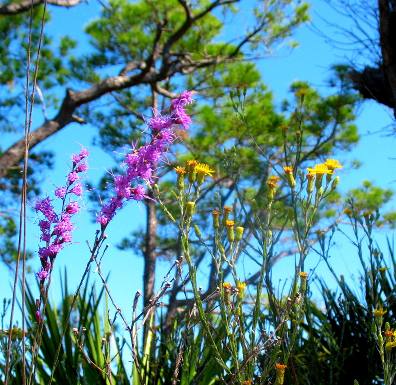 A wide variety of wildflowers flourish in St Andrews State Park.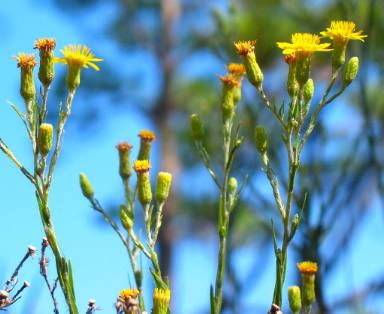 Fall is the time of year for yellow flowers to show off. I don't know why but yellow flowers sure do come to life in the Fall.
This great egret liked to hang around the pier near the campground in St Andrews State Park.
This great blue heron practically lived on the pier near the campground. While not tame it certainly wasn't very afraid of people.
This is one of the resident gators at gator pond in St. Andrews State Park. If you do not see a gator at the viewing stand try taking the short walk along the trail along the lake. It is possibly 300-yards along that trail to an opening on the lakeshore. This alligator likes to hangout and sun himself there.
I do not know what the park's policy is concerning dogs but it would not be wise to take your dog.
There is so much to see and do in and near the campground at St Andrews State Park. We enjoy the wildlfowers, watching the great blue herons and walking to gator pond in addition to myriad other things.
That is all there is.
Click here for more Panama City Beach Adventures
Click here for more Florida Travel Journals
Click here for Florida Panhandle Travellogs
Until next time remember how good life is.
Mike & Joyce Hendrix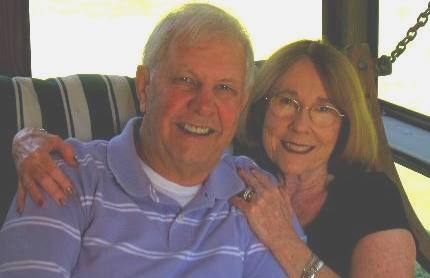 Mike & Joyce Hendrix who we are
We hope you liked this page. If you do you might be interested in some of our other Travel Adventures:
Mike & Joyce Hendrix's home page
Travel Adventures by Year ** Travel Adventures by State ** Plants ** Marine-Boats ** Geology ** Exciting Drives ** Cute Signs ** RV Subjects ** Miscellaneous Subjects
We would love to hear from you......just put "info" in the place of "FAKE" in this address: FAKE@travellogs.us
Until next time remember how good life is.