Texas Hill Country Ambiance
Places Visited:
Texas, Fredericksburg, Luckenbach, Harper, Johnson City, Kerrville, Hunt, Vanderpool, & Medina
Friday, April 1 Lady Bird Johnson City Park in Fredericksburg, Texas $20-50-amp FHU paved interior streets and pads N30° 14.550' W98° 54.687'.
Joyce had a full day planned for us. We were out the door and headed to Rather Sweet Bakery Company before most of the campground was stirring. We enjoyed breakfast in this little German bakery several years ago and Joyce was determined to indulge in their specialty pastries once again, and we did.
Wild turkey near Harper, Texas
After breakfast Joyce had a scenic drive outlined so we headed west toward Harper. A few miles out of Fredericksburg Joyce had me turn on the Old Harper Highway. It was an old two lane road that meandered through the countryside. We were rewarded almost immediately by a flock of turkey scouring the roadside for grasshoppers and other morsels. Then I spotted a lone deer resting in the shade of some post oaks. When I stopped the Saturn and backed up to get a better look about 10 of his buddies stood up ready to make a quick get away. It is totally amazing how camouflaged deer can be when lying on the ground. I only spotted that one deer when the whole group was bedded down within 15 feet of that one critter. Turkey's are that way also. When we spot one turkey almost always we can see an entire flock if we look around.
Peach trees in bloom east of Fredericksburg, Texas
We are a bit early for the big wildflower show but we are enjoying a good start. The Hill Country is ranching operations for the most part. The area around Fredericksburg is the exception. German immigrants settled the area in the mid 1800's and many still remain. Fredericksburg is known for peaches and many peach orchards are in full bloom now. A peach orchard in full bloom puts on quiet a show. In addition to peach orchards there are a number of vineyards and associated wineries. Rich green fields of oats and wheat dot the flat lands in the valleys around Fredericksburg.
In Harper Joyce has us turn to the north on a Farm to Market Road past outlying ranches. Virtually all the ranches in this area are members of a wildlife cooperative. I wonder what members of a wildlife cooperative do that other ranchers do not do. I know in some areas ranchers provide minerals and specialized feed.
Goat ranch around Harper, Texas
Deer and turkey are visible every few miles. Some ranches have flocks of goats roaming each with their Great Pyrenees guard dog protecting them from predators. We also spot donkeys and emu mixed in with the livestock. Both donkeys and emu are utilized to protect goats and sheep from coyotes, wild cats and stray dogs. In this area of Texas a stray dog is a "dead" dog. Ranchers have guns in their pick up trucks ready to shoot coyotes, stray dogs and wild cats.
When we happened upon a freshly plowed field a number of hawks were on the field and hovering just above it. We stopped to watch the activity. Neither of us immediately recognized the type of hawk, it was new to us. Our trusty bird book quickly identified them as Swainson's hawks. As best we could tell they were feeding on grasshoppers exposed by the plowing. Joyce counted seven while I was concentrating on identifying them. We never saw any more the remainder of the day. Just those in that plowed field.
In a pasture not far away we did see a single great crested caracara some times referred to as a Mexican eagle. We see caracaras in south Florida but have never seen one in the Hill Country of Texas. This particular bird was hopping around in a closely cropped pasture as if looking for grasshoppers. In south Florida we often see this long legged eagle/hawk eating carrion along with turkey vultures.
As we wandered along a series of Farm to Market roads Joyce had us moving to the east where we would finish off our sightseeing on Willow Loop a neat wildflower drive north of Fredericksburg. Our wanderings took us a few miles south of Enchanted Rock State Park. Enchanted Rock is a large granite batholith (a large body of igneous rock that intrudes into the overlying rock). Igneous rock is one of the three main classes of rock-igneous, metamorphic and sedimentary. Igneous rock solidifies from molten material or magma. It solidifies as it pushes its way from the molten core of the earth to the surface.
We saw outcroppings of pink granite. This pink granite is mined in several quarries around here for architectural stone. In addition to granite mines we passed a gypsum mine south of Enchanted Rock. I wish I understood more about how gypsum is formed.
Pink granite and bluebonnets somewhere on Willow Loop north of Fredricksburg, Texas
Along the scenic willow loop road we traverse a variety of limestone and granite outcroppings. The serpentine road wends its way across numerous almost dry creek beds each of which becomes a raging torrent when it rains. Anyone caught on this road when it rains will find themselves stranded until the water drains. All of these creek crossings have flood gauges and signs warning not to attempt to cross when water is over the road.
We grabbed a bite to eat at Mamaoita's Mexican Restaurant around 5PM then headed to Luckenbach to see what was going on. We lucked out. Tonight there were 8 to 10 musicians performing. Luckenbach is different from most venues. The musicians are not paid they just show up to jam with each other. Two or three musicians will cluster in an area and do their thing. All of the musicians perform with an acoustic guitar and no microphone. Other musicians may join in with mandolins, fiddles, banjos or harmonicas. The absence of electric amplification allows multiple performances to be going on in a relatively small area. Tonight several different groups were performing outside under the huge live oak trees. Each had their own audience. After sampling the outside groups we wandered inside where three guys were making good music around a pot bellied stove with a roaring fire in it. That pot bellied stove attracted us as much as the good music since it was getting uncomfortably cool outdoors (it is supposed to get down to 39-degrees tonight). We enjoyed the good music until 9PM when Joyce announced that it was time for me to take her to Hondo's in downtown Fredericksburg where a kicking band was supposed to be playing. She knew that the band at Hondo's did not start performing until 8:30 meaning that they wouldn't actually get started until closer to 9. True to the advertisements the band at Hondo's was good and the crowd large. Needless to say we did not get back to the motorhome until………the weeeeeeeeee hours.
Saturday, April 2 Lady Bird Johnson City Park in Fredericksburg, Texas $20-50-amp FHU paved interior streets and pads N30° 14.550' W98° 54.687'.
Needless to say we did not get an early start this morning. When we did get rolling we headed to Johnson City where a Chili Cook Off was taking place. The Chili Cook Off was boring to say the least. It is not a spectator event. You have to be one of the cooks. We wanted to sample a variety of chili. We did not get to. No one knew much about what was going on. We left and ate downtown in a restaurant that Joyce liked.
After lunch we drove out to Pedernales Falls State Park. We have always enjoyed the ride to the park. Today we spotted our first road runner of this trip on the road to Pedernales Falls but he was too quick for us to focus the camera.
One of the creeks flowing across the road has cypress trees lining both banks. Several of these cypress trees were truly big cypress trees. Somehow they escaped logging in the 1840's. They are impressive specimens.
Joyce picked a series of Farm to Market roads for us to travel on our way back to Fredericksburg. We enjoyed the Hill Country scenery as it constantly changes from one ranch to the next.
Back in Fredericksburg we stopped by the Wildflower Farm for our obligatory visit. Things have changed a bit at the Wildflower Farm. It was still crowded as usual with throngs of people milling about. This time they were charging admission to walk around the flower garden. We have been doing that for free for years. How dare them! Not much was blooming so we laughed and skipped that.
From there we headed back to the motorhome, yesterday had caught up with us and we needed to rest.
Sunday, April 3 Kerrville-Schreiner Municipal Park Kerrville, Texas $21-30-amp FHU paved interior streets and pads N30° 0.338' W99° 7.573' or 1-mile south of town on SR-173 phone 830-257-5392.
We moved 24-miles south today to Kerrville-Schreiner Municipal Park in Kerrville, Texas. Kerrville-Schreiner used to be a State Park but Texas has returned it to the City of Kerrville. From what we can see it is a BIG improvement. The state of Texas was not maintaining the infrastructure plus the states policy of leaving the property "natural" actually had a negative affect I think. The city has stepped in and made many infrastructure improvements plus they have bush hogged some of the overgrown areas making the pastures bright green with new growth and full of wildlife. In addition city employees are not anal concerning feeding of wildlife. Texas state parks strictly prohibit feeding of wildlife (deer, turkey and birds) even though I have seen hummingbird feeders out in the state park in Junction. The last time we were in this state park one of the state park systems finest spent the day riding around in his state owned pickup truck making sure no one in the park fed the wildlife. It was his mission in life. In past years the best thing about Kerrville Schreiner Park was the awesome wildlife. In the evenings herds of deer will pop out of the cedar forest to graze through the campground. Campers regularly spread deer food and corn around and the deer come right up to the RV's and eat. Some even put out water buckets. In addition to regular deer there is a small herd of black buck antelope. There are three males but the females seem to be the property of the dominant male. The other two males have to keep a respectable distance from the dominant male's harem of 20 or so females. Ain't that the way it always is, all the girls chase one guy?
We had a lunch date with Sharry & Al Buckner from Vanderpool, a small community southwest of Kerrville. Sharry is a virtual friend that subscribes to RV-Talk a list server catering to RV'ers. As always it is exciting to meet new people especially fellow RV'ers. We met at Inn of the Hills Resort in Kerrville and dined at their Alpine Lodge Restaurant. This is an upscale place with table cloths and real napkins ----- three forks if you get my drift. We enjoyed each other for several hours before parting and going our separate ways. As always it is fun to put faces with virtual names.
After lunch they headed to Home Depot and we headed for a scenic drive taking SR-39 from Kerrville to Hunt along the Guadalupe River. We had to stop in the Hunt store and see if anything had changed. Not much has changed since the late 1800's in the Hunt store. The construction of the old store is unique with vertical cedar logs placed every 18" or so with river rock and cement filling in between the cedar logs. It kind of reminds me of the 1800's French construction that we saw last summer along the Missouri River. The English construction employed horizontal logs while French construction was vertical logs. Both English & French used river mud or clay to fill in between the logs. Over time I suppose someone used cement instead of river mud when they were doing the repairs/modernization.
Huge cypress on the banks of the Guadalupe River west of Hunt, Texas
From Hunt we continued on SR-39 following the Guadalupe River as it wends its serpentine path through the Hill Country west of Kerrville. West of Hunt SR-39 passes a menagerie of ranches, Resorts, Summer Camps, dude ranches, private residences and a variety of summer homes and cottages. There is something different around every curve that is what makes this portion of the drive so much fun. Along one stretch of the Guadalupe there is a string of giant cypress trees. For some unknown reason these gentile giants escaped the clear cutting experienced elsewhere along the river.
At Ranch-187 we turned south to Vanderpool. Along Ranch-187 we passed a number of huge ranches that specialize in exotic game animals. These ranches are larger than many eastern counties, and probably some of those tiny states. In any event these ranches are identified by the tall well constructed fences. When you see a 10' to 12' fence constructed with 2" or 3" pipe you can be certain they are not trying to fence in cows or goats. We saw tons of African and Asian deer, antelope, sheep, goats, oryx and other critters that I can't identify. They weren't giraffes, zebras, elephants or rhino's but they were game animals not indigenous to this continent. Texas has several species of exotic animals where there are more in Texas than in their native countries. In some instances the native countries are using Texas stock to replenish vanishing animals.
Large herd of axis deer in someone's yard near Bandera, Texas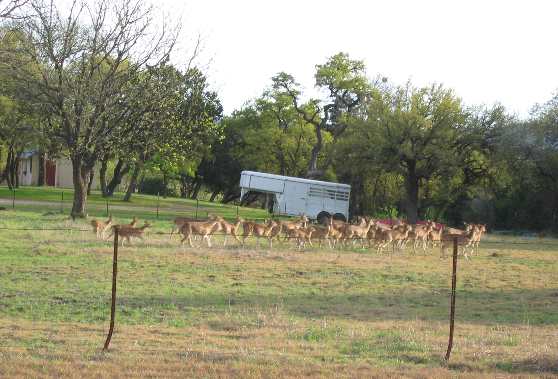 To say Texas has a bunch of these exotics is an understatement. Axis deer are so plentiful in certain areas of Texas that they are a nuisance. Just today we saw a herd of 50 or more axis deer in someone's front yard. At first we thought they were raising them but when we stopped to take a picture they all jumped the fence and headed to the woods. The picture does not do the herd justice. All Joyce could do was point the camera and shoot. They were scattering like a covey of quail. These were just the ones that Joyce caught in the pic before they disappeared across the fence into the woods.
Ranch-187 makes its way from the Guadalupe Valley to the high mesas then abruptly falls down to Lost Maples State Park a canyon with its own ecosystem all but forgotten in time.
In Vanderpool we had to stop at the country store. If you have not been there you need to put it on your list of things to do. It is right out of the early 1900's. Gasoline is not pumped. The stores gasoline tank is about 10' in the air and is gravity fed to your automobile. What a hoot. Outside the store are a large number of hummingbird feeders with hummingbirds buzzing around like a bunch of honey bees. Inside the store is a collection of mounts that is worth spending time looking at. Ahhhhh, and then there are the bathrooms. You need to stop and experience the place. Remember, Mike sent you. VBG
From Vanderpool we turned east on Farm to Market 337. This is a lonely road as was Ranch-187. You can go as slow as you want and not bother anyone. This road provides a variety of visual enjoyments as it winds through enchanting canyons, streams, awesome limestone road cuts where eons of geologic history are painted in layers upon layers of sediments. Some of these road cuts expose 100 vertical feet or more of geologic time. Hard Edwards limestone caps the different layers of Glenn Rose limestone. In these cuts you can distinctly see the layers of shale, marl and siltstone along with limestone that compose what is knows as the Glenn Rose layer. Oh what I would give to have a geologist traveling with us, one day maybe.
FM-337 also has some exotic game ranches but we didn't see many exotics on this stretch of highway today. However, it was along this stretch of road that we saw about 50 axis deer in someone's front yard. It was an unbelievable concentration of deer and all were exotics. They have adapted well to Texas.
When we reached Medina we had to make sure that the Apple Barn wasn't open. It was 7PM and they were closed but we had to make sure. Both of us were looking for one of their apple slushies. There was no apple slushie this day so we headed back to Kerrville on SR-16 which is a scenic drive par excellence as it threads its way over any number of cypress lined creeks then over a "Texas-hill". The climb up and over that "hill" makes this an exciting drive with spectacular panoramic views, road cuts, hairpin curves and steep grades. You DON'T want to traverse this portion of SR-16 in an RV. That would be the section of SR-16 between Kerrville and Medina for those of you interested.

Until next time remember how good life is.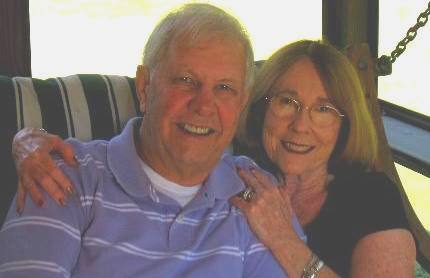 Mike & Joyce Hendrix who we are
We hope you liked this page. If you do you might be interested in some of our other Travel Adventures:
Mike & Joyce Hendrix's home page
Travel Adventures by Year ** Travel Adventures by State ** Plants ** Marine-Boats ** Geology ** Exciting Drives ** Cute Signs ** RV Subjects ** Miscellaneous Subjects
We would love to hear from you......just put "info" in the place of "FAKE" in this address: FAKE@travellogs.us
Until next time remember how good life is.