Whitehead Street Key West Part Three
Entrance to Truman Annex not far off Whitehead Street in southwestern Key West

The entrance to Truman Annex is located in southwest Key West not far off Whitehead Street. Truman Annex is navy housing and possibly a few other things but primarily navy housing.
The massive trunk and root system of this kapok tree are something to behold. Tourist walking up and down Whitehead Street routinely stop to get their picture taken with this magnificent tree.
It seems like everyone visiting Key West stops by to have their picture taken with the US-1 MILE 0 sign. If you are inclined to look for it you will find it on Whitehead Street between the U.S. Post Office and the Monroe County Courthouse.
The Mile 0 sign is 1-block south of the Post Office on Whitehead Street.
It is also in the same block as the magnificent Kapok Tree.
Known as the FIRST and LAST bar on US-1 the Green Parrot Bar is one block south of the US-1 MILE 0 sign on Whitehead Street.
The Green Parrot Bar on Whitehead Street is also an extremely popular blues bar. To say it is a "locals" favorite would be an understatement.
This cement marker painted to resemble a buoy is located at the southern end of Whitehead Street in Key West and is intended to mark the southernmost point in the Continental US. It is a huge tourist attraction and generally has a long line of folks waiting to have their pictures taken with the buoy.
At this point in the US you are standing 90-miles away from Cuba. To put that into perspective, the nearest Wal-Mart is 115-miles away in Homestead, Florida on the mainland. The nearest English speaking TV station is even further away in Miami.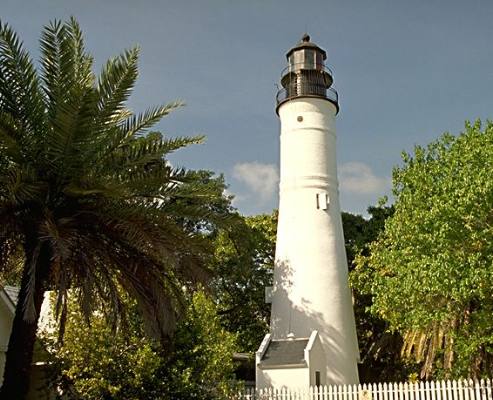 This old lighthouse on Whitehead Street is a popular tourist attraction in Key West.
One year Joyce and I are going to climb to the top of this lighthouse.
Until next time remember how good life is.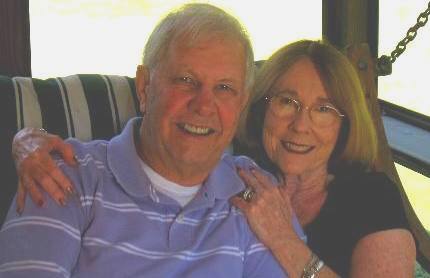 Mike & Joyce Hendrix who we are
We hope you liked this page. If you do you might be interested in some of our other Travel Adventures:
Mike & Joyce Hendrix's home page
Travel Adventures by Year ** Travel Adventures by State ** Plants ** Marine-Boats ** Geology ** Exciting Drives ** Cute Signs ** RV Subjects ** Miscellaneous Subjects
We would love to hear from you......just put "info" in the place of "FAKE" in this address: FAKE@travellogs.us
Until next time remember how good life is.