Rooster fight in Key West parking lot
One afternoon in February of 2012 Joyce and I were visiting the Key West Wildlife Rescue Center on the south end of White Street.
When we parked our Saturn in the parking lot we noticed two of Key West's famous feral chickens in a fight.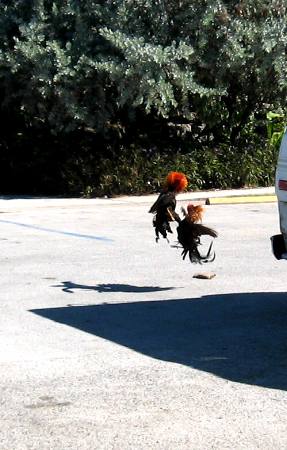 We quickly realized they weren't playing at all. This was serious, they were getting it on as some would say.
I am not real sure exactly what goes on in a full fledged cock fight but the two roosters jump high in the air and start clawing with their feet.
I am not sure but I suspect the one that hops highest has the advantage. There isn't a lull in the action.
While I can not tell the two roosters apart they both appear to be the aggressor at this stage of the fight.
Don't think they are just prancing around. These roosters are in a serious fight to determine who is going to be the "cock of the walk" in this parking lot.
Feral roosters determining who is "cock of the walk" in Key West parking lot
The fight is about over. Shortly after this picture one of the combatants disengaged and headed for safety in the bushes. The other rooster was in hot pursuit. I do not know the outcome because they were quickly out of sight.
Just another day in Paradise as they say here in Key West.
Click here to see the beginning of this cock fight
Until next time remember how good life is.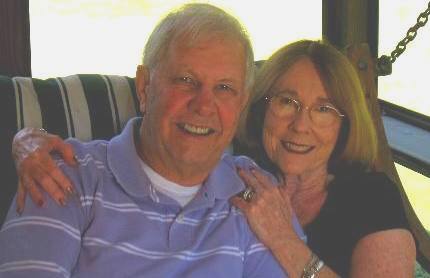 Mike & Joyce Hendrix who we are
We hope you liked this page. If you do you might be interested in some of our other Travel Adventures:
Mike & Joyce Hendrix's home page
Travel Adventures by Year ** Travel Adventures by State ** Plants ** Marine-Boats ** Geology ** Exciting Drives ** Cute Signs ** RV Subjects ** Miscellaneous Subjects
We would love to hear from you......just put "info" in the place of "FAKE" in this address: FAKE@travellogs.us
Until next time remember how good life is.