Giant Crinum Lily
Giant Crinum Lily Bloom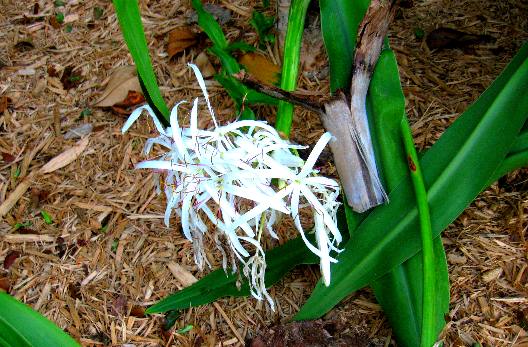 The Giant crinum lily or giant spider lily, is a huge lily. Some would say spectacularly huge lily and they would be correct. It grows to over 5' high with 5' long sword shaped leaves.
We see them most often in south Florida and other tropical or semitropical regions.
In northern Florida they will freeze back to the bulb during winter then spring to life in the late spring. Much like an amaryllis bulb.
It is beautiful plant not only for its beautiful foliage and enormous size but also for its beautiful, fragrant flowers.
Giant Crinum Lily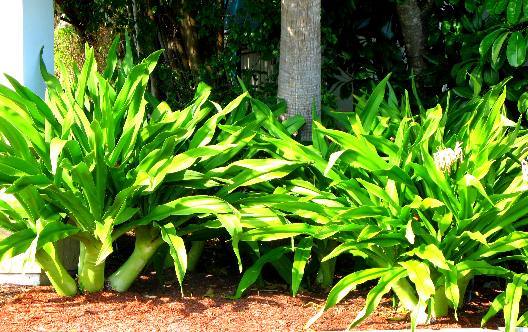 The giant crinum lily is a great specimen plant for a large, dramatic accent in a tropical garden.
Your nursery may be calling these plants giant spider lily which is pretty common as well.

Giant Crinum Lily seeds
Crinum seeds (or giant spider lily seeds) grow easily if they're ripe.
Usually at that point the pod covering will split and the seeds will just kind of "plop" out onto the ground. In this picture the green seeds are not yet ready while you can see several brown seeds to the right of the green pods. The brown "seeds" are ready to plant. Look closely and you will see another very light colored seed from a previous pod that is just to the right of the two brown seeds. That seed is ready to plant also.
Seeds are large, and can be larger than a ping pong ball. Many of the seeds I gather already have a growth bud beginning to expand.
I just put the seeds in a pot of soil and lay them on top of the soil. I make sure that the seed gets wet every day or so. Some people will put a bag or clear "cling" wrap over the top to keep the seed moist. You also need to keep the seeds and potting soil warm. Remember these are tropical plants.
Most crinum lily seeds will germinate in under a month but many take longer.
I spread the ones that do not germinate during the winter in my pots in the "flower bed" when the weather in Pensacola becomes warm enough. Some of them come up others do not. But I give them the chance and most will sprout before winter sets in.
Giant Crinum Lily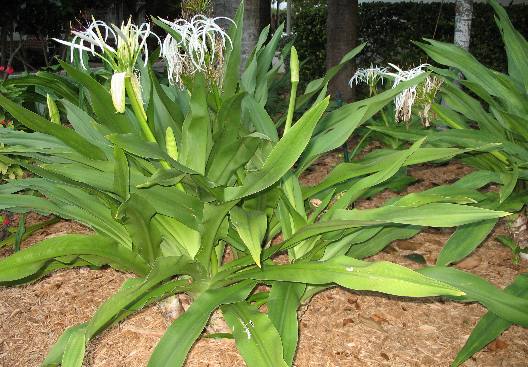 This is a specimen crinum lily. The foliage as well as the bloom are stunning. And they seem to bloom as long as it is warm.
Giant Crinum Lily Bloom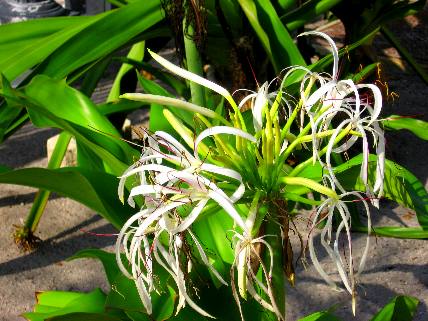 Giant crinum lilies are also known as giant spider lilies and this picture shows why.
Giant Crinum Lily
This beautiful giant crinum lily or giant spider lily was in the Key West wildlife center park on south White Street in Key West.
Until next time remember how good life is.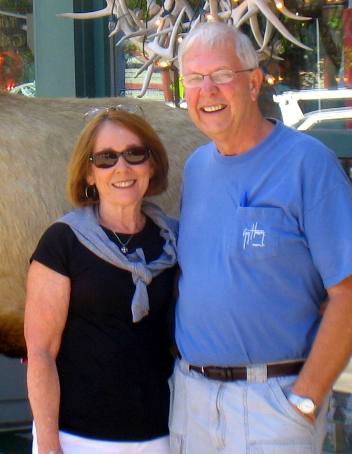 Mike & Joyce Hendrix who we are
We hope you liked this page. If you do you might be interested in some of our other Travel Adventures:
Mike & Joyce Hendrix's home page
Travel Adventures by Year ** Travel Adventures by State ** Plants ** Marine-Boats ** Geology ** Exciting Drives ** Cute Signs ** RV Subjects ** Miscellaneous Subjects
We would love to hear from you......just put "info" in the place of "FAKE" in this address: FAKE@travellogs.us
Until next time remember how good life is.