The Bull Key West
Mounted Bull skull is just part of the "ambiance" in the world famous Bull in Key West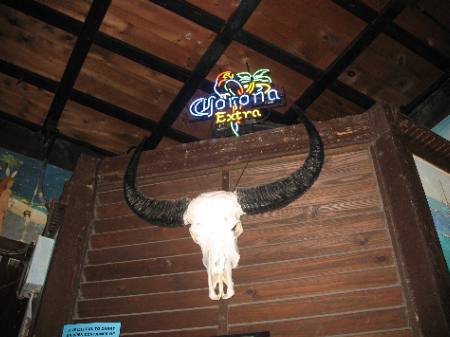 This skull is just one of several "bull" skulls on display in the Bull. This one just happens to be on display over the southeast entrance door.
Picture of the world famous Bull in Key West
Joyce took this picture of the Bull as seen from Duval street one night.
Note the Sausage Vendor that is set up in the street outside the Bull. That Sausage Vendor has been on that corner outside the Bull for as long as I can remember. While we have never eaten there we often think about it. He does a good business and his sausage onion and peppers cooking smell oh so good especially late at night.
Night time at the Bull would not be complete without the Sausage Vendor in the street. This sausage vendor has been plying his trade in this same spot for as long as I can remember. While we have never sampled one of his sausages they smell absolutely divine. I do not know how we have resisted the temptation all these years. We drool every time we smell those onions and sausages cooking.
Dawn Wilder is one of our favorite entertainers at the Bull. Dawn has gotten to know us and will sing some dance songs just for us when we are visiting.
Dawn has the voice of an angel and is as sweet as they come.
Dawn is one of those that wave to us when she sees us on the sidewalk outside.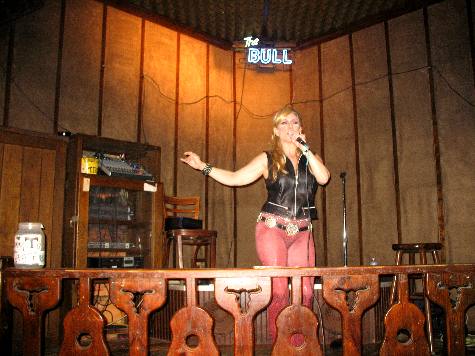 "T" Baby is another of our favorite performers in Key West. "T" Baby like Dawn will sing some dance music when we visit.
It is nice to have entertainers recognize you and play songs just for you.
Stairs leading to the Whistle Bar on the 2nd floor of the Bull in Key West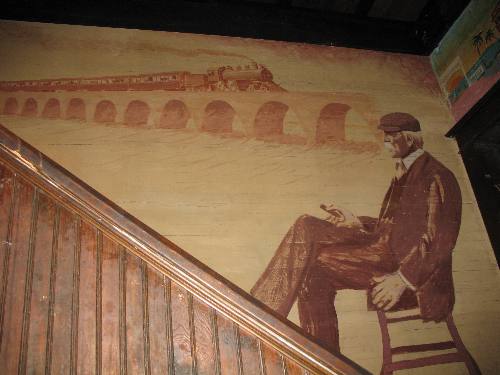 Yea, that is the stairs leading to the famous Whistle Bar on the 2nd floor of the Bull but that is also a picture of Henry Flagler the man responsible for bringing the RR to Key West. The bridge you see in this picture is still there but no longer carrying traffic.
Earnest Hemingway's picture is on the west wall of the Bull in Key West, Florida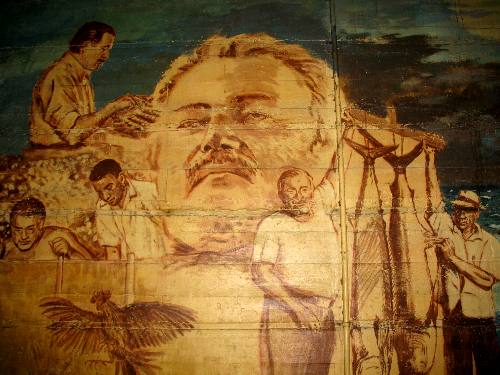 Earnest Hemingway is just one of many famous people who helped add "color" to Key West.
As you can see Hemingway was into fishing and cock fighting.
The old roosters used in the cock fights still roam the streets of Key West where they are protected and are part of the ambiance
Until next time remember how good life is.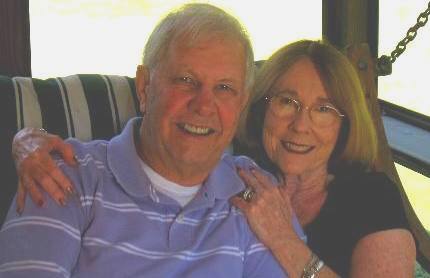 Mike & Joyce Hendrix who we are
We hope you liked this page. If you do you might be interested in some of our other Travel Adventures:
Mike & Joyce Hendrix's home page
Travel Adventures by Year ** Travel Adventures by State ** Plants ** Marine-Boats ** Geology ** Exciting Drives ** Cute Signs ** RV Subjects ** Miscellaneous Subjects
We would love to hear from you......just put "info" in the place of "FAKE" in this address: FAKE@travellogs.us
Until next time remember how good life is.