Schooner Western Union
Joyce could not resist taking a picture of the Schooner Western Union each time she strolled Harbor Walk . The American Flag flying on the stern of the Western Union is so very beautiful.
It is difficult to capture the beauty of the schooner Western Union as it sits in the Key West Bight Marina. It is so massive and the mast are so high.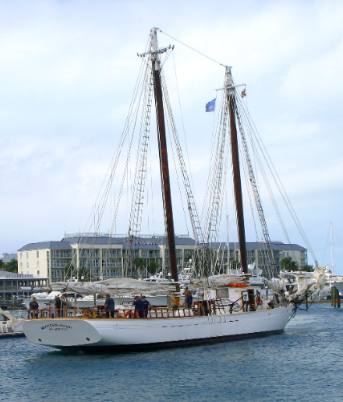 At last Joyce is capturing a good photograph of the schooner Western Union. One morning as we strolled along Harbor Walk the tall sailing ship Western Union was returning to Key West Bight Marina to dock after being out for a Coast Guard inspection.
Joyce can't take credit for this photograph of The Schooner Western Union. However it is indeed a beautiful photograph. Look at the American Flag flying atop one of the sails.
The Schooner Western Union heading out for a sunset cruise. This is indeed a great photograph but Joyce can't take credit for it because the Schooner Western Union was not sailing during January and February the winter of 2011. It was still under Coast Guard inspection, but the staff keep telling us it would be sailing most any day.