Sunset Key Vehicle Ferry in Key West, Florida
We are dry camping along with some 700 other RV'ers at the Navy Base here in Key West. Actually, there are two bases within the NAS Key West complex that make up the 700-plus campsites. The two locations are at Sigsby and Trumbo Point. Sigsby is located 3 to 4 miles from "Duval Street" in Key West while Trumbo Point Campground is located 6 to 8 blocks from "Duval Street". We are staying at Trumbo Point, an easy walk to Duval-Street. But remember this is Dry Camping. There is central dump station and fresh water. Generators can run from 6am to 10PM. Life is good.
Commercial Campgrounds in Key West start at $100 a night and are located about 5-miles from Duval Street. Parking in Key West starts at $13 a day and goes up. The $13 parking site is about 6 blocks from Duval Street. The closer you get to Duval Street the more expensive the parking site.
I am so intrigued with this ferry that services Sunset Key. This "landing craft" has serviced Sunset Key for many years. It just so happens that it loads and unloads at a ramp that we pass by on our way to town so we pass by several times a day. I just can not help myself, I have to stop and watch the operation and see what type of truck is getting on or off.
Sunset Key Vehicle Ferry loading in Key West
It looks like a garbage truck this trip. Note that the truck drove on while on Sunset Key so it will have to back off now that it is back in Key West.
Here is that same truck as it is backing off.
This is what the Sunset Key vehicle ferry looks like when empty.
Until next time remember how good life is.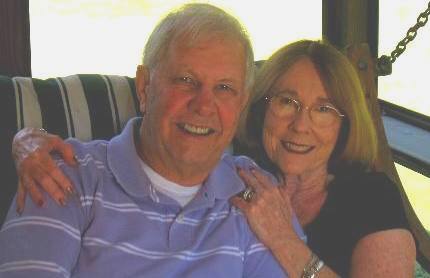 Mike & Joyce Hendrix who we are
We hope you liked this page. If you do you might be interested in some of our other Travel Adventures:
Mike & Joyce Hendrix's home page
Travel Adventures by Year ** Travel Adventures by State ** Plants ** Marine-Boats ** Geology ** Exciting Drives ** Cute Signs ** RV Subjects ** Miscellaneous Subjects
We would love to hear from you......just put "info" in the place of "FAKE" in this address: FAKE@travellogs.us
Until next time remember how good life is.