Key West Sunsets
January 21st and 22nd, 2009
This travellog covers part of our stay in Key West.
We are dry camping on the Navy Base at Trumbo Point in Key West. I am a retired DOD civilian and the Navy allows retired DOD civilians to camp in the Navy facilities as long as there is space available. We are paying $12 a night to dry camp on a grass field along with over 600 other RV's. All I can say is: It is wonderful.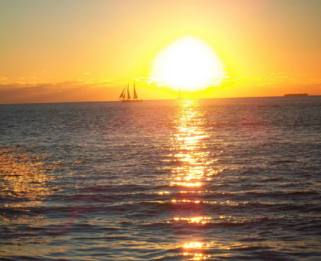 Sunset at Mallory Square in Old Town Key West is an event were hundreds gather for the ritual before scattering out to their favorite eatery or watering hole.
It would be difficult to get a sunset picture from Mallory Square without a sail boat in it. If you like you can be on one of those sail boats that offer sunset sails for a nominal price that can include a meal, drinks and Buffetesque entertainment.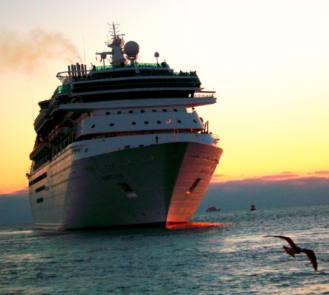 This and other cruise ships depart from Key West almost every night at sunset. I am not sure where this cruise ships depart from but they spend the day in Key West where they dump hundreds if not thousands of tourist into Old Town Key West for the day.
Just another sunset at Mallory Square with sailboats and birds.
One night we stayed home and did not head to Mallory Square for the sunset. Joyce stepped outside our motorhome and took these pictures of the sunset over the dry camping area at Trumbo Point Campground.
Our motorhome was situated under that large osprey nest you see in the middle of the picture. Osprey's have a shrill squawk and they continually communicate between the mated pair. There are babies but we can not see them.
Until next time remember how good life is.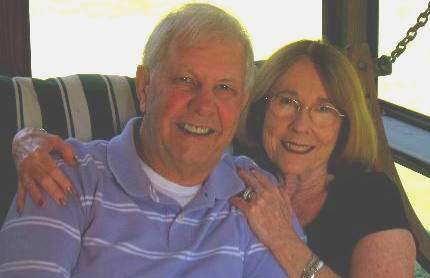 Mike & Joyce Hendrix who we are
We hope you liked this page. If you do you might be interested in some of our other Travel Adventures:
Mike & Joyce Hendrix's home page
Travel Adventures by Year ** Travel Adventures by State ** Plants ** Marine-Boats ** Geology ** Exciting Drives ** Cute Signs ** RV Subjects ** Miscellaneous Subjects
We would love to hear from you......just put "info" in the place of "FAKE" in this address: FAKE@travellogs.us
Until next time remember how good life is.