January 21st and 22nd, 2009
This travellog covers part of our stay in Key West.
We are dry camping on the Navy Base at Trumbo Point in Key West. I am a retired DOD civilian and the Navy allows retired DOD civilians to camp in the Navy facilities as long as there is space available. We are paying $12 a night to dry camp on a grass field along with over 600 other RV's. All I can say is: It is wonderful.
No Joyce did not catch that blue marlin. It was a fiberglass replica hanging at the Key West Bight Marina dock just for pictures like this.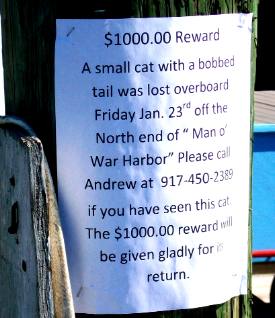 I have not seen a $1,000 dollar cat before but there must be one. And just think some crabs had some EXPENSIVE cat for lunch. Such a shame.
Key West is crowded, very crowded. Living spaces are at a premium. Working class people live on derelict boats anchored everywhere you look. These dinghies are what workers use to move between town and their floating homes. Trust me this is just a sample of the dinghy docks. There are hundreds more.
B.O.'s Fish Wagon is a funky outdoor sea food restaurant/bar on Caroline Street near Key West Bight Marina & docks.
Joyce is standing on the corner outside B.O.'s Fish Wagon. Note how the patron behind her is sitting on his bicycle at the sidewalk bar. Other patrons are sitting on the other side of the bar watching traffic on the sidewalk while munching on sea food and sipping their favorite brew.
Until next time remember how good life is.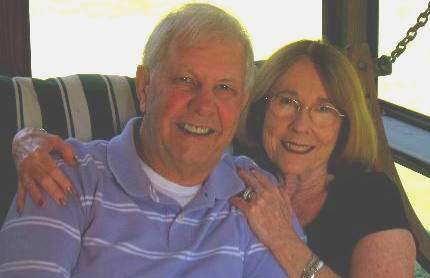 Mike & Joyce Hendrix who we are
We hope you liked this page. If you do you might be interested in some of our other Travel Adventures:
Mike & Joyce Hendrix's home page
Travel Adventures by Year ** Travel Adventures by State ** Plants ** Marine-Boats ** Geology ** Exciting Drives ** Cute Signs ** RV Subjects ** Miscellaneous Subjects
We would love to hear from you......just put "info" in the place of "FAKE" in this address: FAKE@travellogs.us
Until next time remember how good life is.