Sunset Key Vehicle Ferry
January 21st and 22nd, 2009
This travellog covers part of our stay in Key West.
We are dry camping on the Navy Base at Trumbo Point in Key West. I am a retired DOD civilian and the Navy allows retired DOD civilians to camp in the Navy facilities as long as there is space available. We are paying $12 a night to dry camp on a grass field along with over 600 other RV's. All I can say is: It is wonderful.
This is a ferry boat of sorts. Of course it is an old WW2 landing craft that has been converted to commercial use.
It is used to ferry a variety of maintenance people and equipment to Sunset Key one of the private islands near Key West.
Notice that this fellow is coming in under power.
The captain starts letting down the front ramp before reaching shore. There is no crew other than the captain.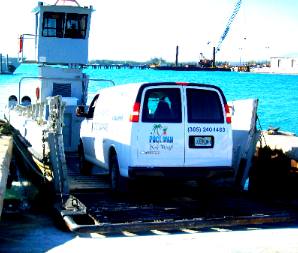 The captain runs the front of the landing craft up on what appears to be a boat ramp. This pool service vehicle rolled off within seconds of the craft touching land.
When this vehicle loaded on Sunset Key he drove on. Now the driver will have to back off..
Thirty seconds after touching the ramp the landing craft is empty and ready to receive another load.
It is amazing to us the number of vehicles that use the Sunset Key Vehicle Ferry.
The other day we watched as a propane truck was unloaded. It all happened so fast I did not get any pictures. When we saw the landing craft heading our way today I grabbed the camera and started snapping. The propane truck had backed on at the other end and drove off on this end in a split-second.
How would you like to pay for filling this yacht up with diesel. Two thousand gallons at $5 a gallon would probably be about right. Say ouch!
Until next time remember how good life is.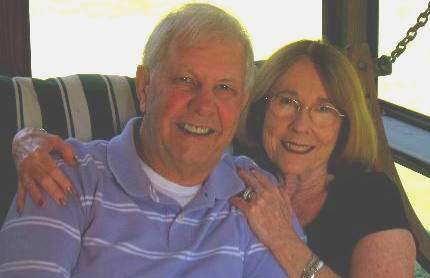 Mike & Joyce Hendrix who we are
We hope you liked this page. If you do you might be interested in some of our other Travel Adventures:
Mike & Joyce Hendrix's home page
Travel Adventures by Year ** Travel Adventures by State ** Plants ** Marine-Boats ** Geology ** Exciting Drives ** Cute Signs ** RV Subjects ** Miscellaneous Subjects
We would love to hear from you......just put "info" in the place of "FAKE" in this address: FAKE@travellogs.us
Until next time remember how good life is.