Key West
Key West, Florida Landmarks
January 25th through 29th, 2009
This travellog covers several days of exploring Key West.
We are dry camping on the Navy Base at Trumbo Point in Key West. I am a retired DOD civilian and the Navy allows retired DOD civilians to camp in the Navy facilities as long as there is space available. We are paying $12 a night to dry camp on a grass field along with over 600 other RV's. All I can say is: It is wonderful.
Mallory Square crowd gathering for the nightly sunset celebration a Key West, Florida tradition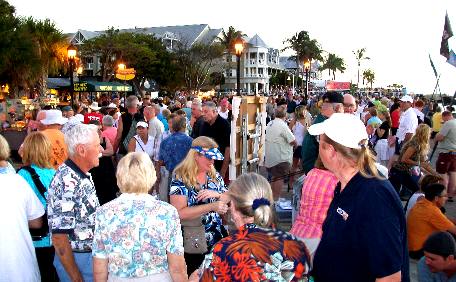 Joyce shot this picture of the crowd gathered at Mallory Square for the evening sunset ritual. There is actually three to five times this many people you just can't get them all in a single picture.
Key West is warm all winter long thus making it a magnet for snowbirds to escape the agony in the frozen north. The island of Key West is small and parking is scarce, as in very scarce. There is not any space, or tolerance by locals, for folks that want to live in their vehicles on city streets. None of us would want individuals living out of their vehicles in front of our homes and businesses. Signs like this are fairly common in places that have severe problems.
Stealth overnighting in Key West is difficult. The city has to have this policy since there isn't any room and there are so many individuals trying to do it that it just can not be allowed.
That is a nice royal palm tree behind the sign.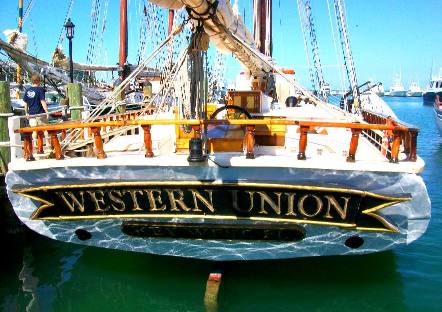 This grand old sailing ship is available for evening sunset cruises and takes passengers daily. It was built as a work boat that laid undersea cable for Western Union.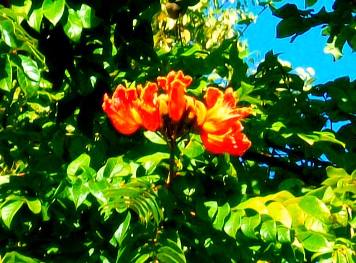 This bloom is on an African Tulip tree growing on the Earnest Hemingway estate in Key West.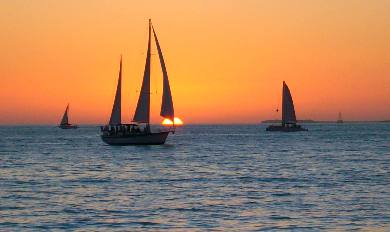 The big event only lasts a few minutes but this Key West sunset does not disappoint.
This is the sign outside the Southernmost House pictured above.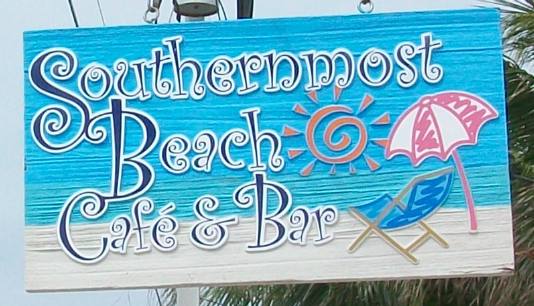 Actually the Southernmost Beach Cafe & Bar is a popular dining place and hang out. Tourist as well as local seem to enjoy the place.
It is located between the Southernmost House and the Southernmost On The Beach Hotel in Key West.
And here you have it this is the welcoming sign for the Southernmost Beach in the Continental USA.
When you visit Key West you just have to take a walking tour of Truman Annex (a large, upscale) residential complex and Harry Truman's"Little White House".
Until next time remember how good life is.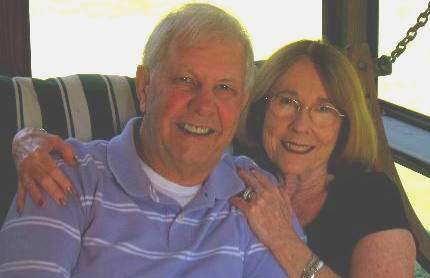 Mike & Joyce Hendrix who we are
We hope you liked this page. If you do you might be interested in some of our other Travel Adventures:
Mike & Joyce Hendrix's home page
Travel Adventures by Year ** Travel Adventures by State ** Plants ** Marine-Boats ** Geology ** Exciting Drives ** Cute Signs ** RV Subjects ** Miscellaneous Subjects
We would love to hear from you......just put "info" in the place of "FAKE" in this address: FAKE@travellogs.us
Until next time remember how good life is.