Arches National Park Moab, Utah
Arches National Park Moab, Utah
May 21, 2007.
There are multiple commercial campgrounds in Moab. All of them appear to be good or at least adequate------no slums anyway. We decided to stay in OK RV-Park & Canyonlands Stables 3310 Spanish Valley Drive 435-259-1400 because it was a PPA park thus 1/2 price. Even at half price it was $15.50 per-night for FHU with 30/30 amps and cable included. Most RV-Parks in the area are going to be around $25 plus a stiff tax. This park had some shade so we picked it but the nice Spanish Trail RV-Park has nice shade as well and both are within a mile of each other. All of the parks in Moab appear to have gravel interior roads and sites.
This is part-6 of a 7-part series on Arches National Park. Here is the links to the first 5:
Arches NP-a ** Arches NP-b ** Arches NP-c ** Arches NP-d ** Arches NP-e
Volcanic Ash
On the left is volcanic ash. I suspect this ash is part of the 150-million year old Morrison Formation. Specifically the Brushy Basin Member of the Morrison Formation (famous for dinosaur fossils) because it is visible as greenish mudstones, originating as volcanic ash that settled into a large alkaline lake.
Back side of a fault in Arches National Park
Around every corner in Arches National Park is another amazing geological wonder. This it the backside of a fault. Notice how these sedimentary layers of rock are angled almost vertical. Even for someone who knows almost nothing about geology I can spot this like it has a spotlight on it.
Delicate Arch Arches National Park
This is Delicate Arch. Carved in Entrada Sandstone. Remember that Entrada Sandstone was deposited as desert sand dunes around 175-million years ago.
Also keep in mind that Arches National Park features rock formations that are millions of years younger and older than this Entrada Sandstone.
Navajo Sandstone and Entrada Sandstone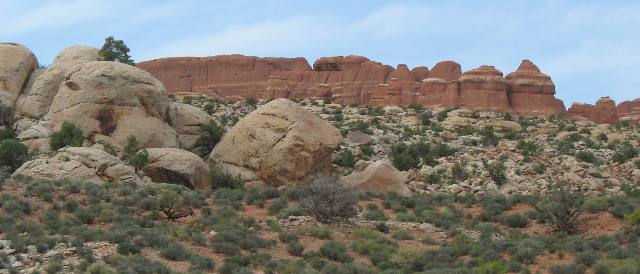 Besides the uniqueness of the rock formations in this picture I think it is fairly easy to determine the formations represented. The light colored rocks are 200-million year old Navajo Sandstone while the red top layer of rock is 175-million year old Entrada Sandstone.
These are hoodoos but I am not sure what rock formations they are carved out of but I would bet it is Entrada Sandstone.
Skyline Arch -- Arches National Park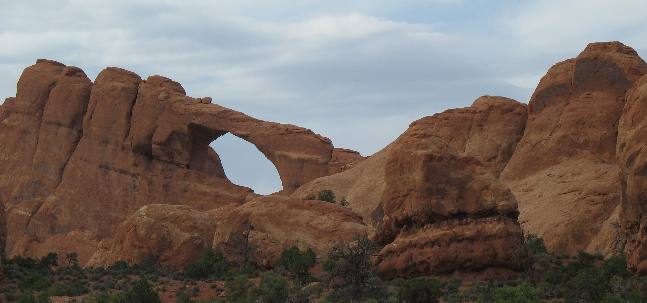 Arches usually form slowly, but quick and dramatic changs do occur. In 1940, a large boulder suddenly fell out of Skyline Arch, roughly doubling the size of this opening.
Again this arch has been carved in 175-million year old Entrada Sandstone.
Sandstone bluff
More of Arches NP here:
Arches NP-a ** Arches NP-b ** Arches NP-c ** Arches NP-d ** Arches NP-e ** Arches NP-f ** Arches NP-g
Here are some more of our Travel Adventures nearby:
The John Wesley Powell Museum in Green River, Utah
Until next time remember how good life is.
Until next time remember how good life is.
Mike & Joyce Hendrix who we are
We hope you liked this page. If you do you might be interested in some of our other Travel Adventures:
Mike & Joyce Hendrix's home page
Travel Adventures by Year ** Travel Adventures by State ** Plants ** Marine-Boats ** Geology ** Exciting Drives ** Cute Signs ** RV Subjects ** Miscellaneous Subjects
We would love to hear from you......just put "info" in the place of "FAKE" in this address: FAKE@travellogs.us
Until next time remember how good life is.