Arches National Park Moab, Utah
Arches National Park Moab, Utah
May 21, 2007.
There are multiple commercial campgrounds in Moab. All of them appear to be good or at least adequate------no slums anyway. We decided to stay in OK RV-Park & Canyonlands Stables 3310 Spanish Valley Drive 435-259-1400 because it was a PPA park thus 1/2 price. Even at half price it was $15.50 per-night for FHU with 30/30 amps and cable included. Most RV-Parks in the area are going to be around $25 plus a stiff tax. This park had some shade so we picked it but the nice Spanish Trail RV-Park has nice shade as well and both are within a mile of each other. All of the parks in Moab appear to have gravel interior roads and sites.
Arches National Park
When in Moab one must take at least one drive through Arches National Park. Today is our day for that obligatory drive. Sit back and enjoy it with us.
Rock formations in Arches National Park
Pay close attention to the information presented above. These are the rock formations that we will be viewing as we drive through Arches National Park today.
I hope you remember the Cedar Mountain Formation (when we were in Natural Bridges National Monument they were referring to this formation as Cedar Mesa Formation not Cedar Mountain Formation). Cedar Mountain Formation is what the Natural Bridges were formed in.
Remember that Dakota Sandstone and Mancos Shale lay on top of the Cedar Mountain Formation thus are younger rocks by millions of years.
These sediments were deposited around 90-million years ago when this area was underwater as one of the greatest seas of all times encroached from the north. The open water of this sea stretched from what is now central Utah to the western Appalachians and from the Arctic to the Gulf of Mexico. To the west, in present-day Nevada, rose great Andean-style mountains.
Morrison Formation
A very large shallow alkaline lake developed in the current-day Four Corners area 150-million years ago. Ash from volcanoes in what is now Nevada fell into the lake to create the blue-green Shales of Brushy Basin Member of the Morrison Formation.
Rock formations in Arches National Park
Shifting continental plates created uplands and mountains in present-day Nevada 175-million years ago. Sand dunes bordered the southeast margin of the large sea to the north. These sand dunes eventually became the Entrada Sandstone, the primary layer of rock exposed in Arches National Park today.
Rock fromations of Arches National Monument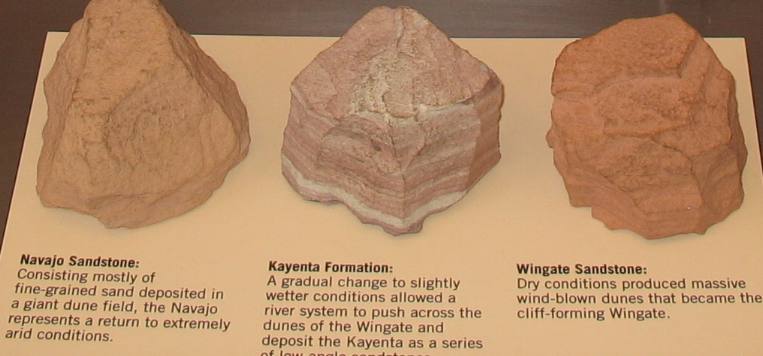 Then the climate became very arid around 200-million years ago. A great Sahara-like desert spread much of the western interior, depositing thick layers of sands that became today's Wingate and Navajo layers
Chinle Formation
Rivers again flowed across across this area covering much of the western inter around 215-million years ago. These major rivers with extensive floodplains originated in mountains to the south and remnants of the Appalachian Mountains far to the east.
More of Arches NP here:
Arches NP-a ** Arches NP-b ** Arches NP-c ** Arches NP-d ** Arches NP-e ** Arches NP-f ** Arches NP-g
Here are some more of our Travel Adventures nearby:
The John Wesley Powell Museum in Green River, Utah
Until next time remember how good life is.
Mike & Joyce Hendrix
Until next time remember how good life is.
Mike & Joyce Hendrix who we are
We hope you liked this page. If you do you might be interested in some of our other Travel Adventures:
Mike & Joyce Hendrix's home page
Travel Adventures by Year ** Travel Adventures by State ** Plants ** Marine-Boats ** Geology ** Exciting Drives ** Cute Signs ** RV Subjects ** Miscellaneous Subjects
We would love to hear from you......just put "info" in the place of "FAKE" in this address: FAKE@travellogs.us
Until next time remember how good life is.