Hoodoo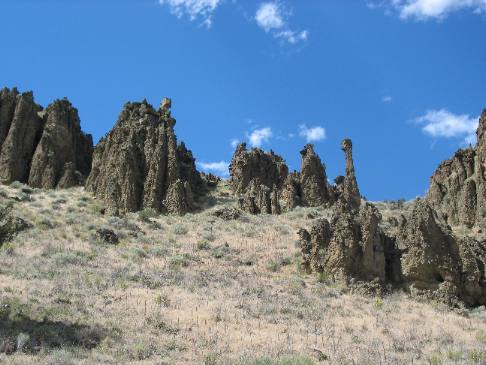 In eastern Oregon near John Day we spotted thes dikes of basalt creating hoodoos.
Hoodoos are fairly common in the western United States but are most commonly formed in strata of sedimentary rock with a hard caprock protecting the column or pillar.
But a hoodoo is a column of rock that has been weathered into a strange shape and these basalt dikes have certainly weatherd into strange shapes.
Hoodoo in the making
I think this rock formation would qualify as a hoodoo. It is protected by a hard caprock and it is taking on a strang shape. We saw this hoodoo near Mexican Hat, Utah.
This hoodoo inspired the moniker for the town we are headed to: Mexican Hat.
The hat is also a fine example of a "caprock" as used in geological terms.
Mexican Hat Rock example of a "caprock" protecting the softer layers below it
This is a better view of the eponyous Mexican Hat Rock. The "hat" is a fine example of a geological caprock. While the column protected by the caprock is a classic hoodoo.
Also look beyond the Mexican Hat Rock at the sedimentary rock in the bluff. Notice how the sedimentary layers are almost vertical on the left side of the picture. That is a fault line, probably a block fault where the right side faulted up and the left side faulted down.
Mike & Joyce Hendrix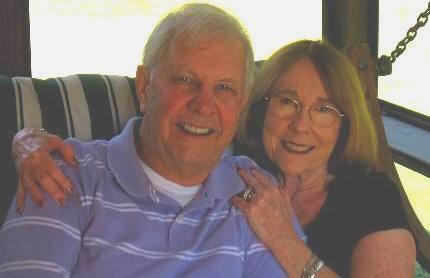 Mike & Joyce Hendrix who we are
We hope you liked this page. If you do you might be interested in some of our other Travel Adventures:
Mike & Joyce Hendrix's home page
Travel Adventures by Year ** Travel Adventures by State ** Plants ** Marine-Boats ** Geology ** Exciting Drives ** Cute Signs ** RV Subjects ** Miscellaneous Subjects
We would love to hear from you......just put "info" in the place of "FAKE" in this address: FAKE@travellogs.us
Until next time remember how good life is.