Arches National Park Moab, Utah
Arches National Park Moab, Utah
May 21, 2007.
There are multiple commercial campgrounds in Moab. All of them appear to be good or at least adequate------no slums anyway. We decided to stay in OK RV-Park & Canyonlands Stables 3310 Spanish Valley Drive 435-259-1400 because it was a PPA park thus 1/2 price. Even at half price it was $15.50 per-night for FHU with 30/30 amps and cable included. Most RV-Parks in the area are going to be around $25 plus a stiff tax. This park had some shade so we picked it but the nice Spanish Trail RV-Park has nice shade as well and both are within a mile of each other. All of the parks in Moab appear to have gravel interior roads and sites.
This is part-2 of our Arches National Park visit. The other parts are here:
Moenkopi Formation
The Ancestral Rockies had eroded to low hills about 240-million years ago. Streams originating in present-day Texas and Mexico carried sediments westward across broad floodplains to coastal mud flats that reached several hundred miles inland from the open sea. The sea eventually retreated to the west.
Cutler Formation
Then 275-million years ago the Uncompahgre Uplift rose rapidly and became the source of sediments that completely filled the adjacent Paradox Basin. Streams deposited coarse material closer to the mountains as alluvial fans; finer materials were transported to the south, covering most of what is now southern Utah and northern Arizona.
Honaker Trail & Paradox Formations of Arches National Park
315-million years ago the high Uncompahgre Uplift, part of the Ancestral Rockies, formed just northeast of what is now Arches National Park. A deep trough formed adjacent to the uplift. Known as the Paradox Basin, it was repeatedly flooded by salt water as ocean levels rose and fell.
Sedimentary Rock Layers of Arches National Park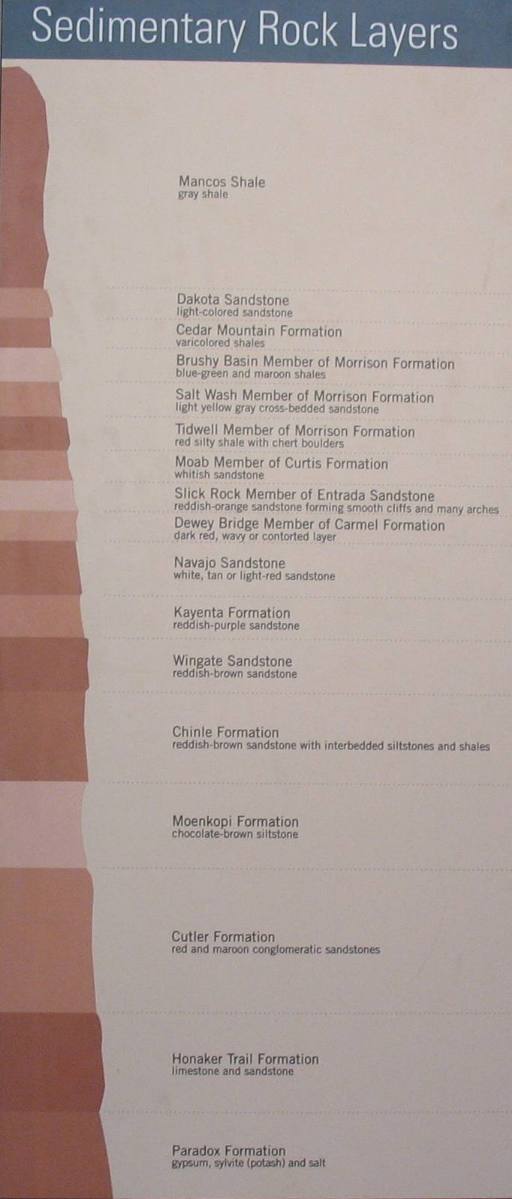 Now it is time to put all that information into perspective. To the left is a pictorial that puts together all the rock formations we covered above. Remember the youngest rock is on the top while the oldest sediments are on the bottom.
Layers upon layers of sedimentary rock in Arches National Park
This picture is just inside the entrance to Arches National Park. Can you see the different types of sedimentary rocks and how they sit one on top of the other? Now the much bigger question, can you tell which of the above rock formations are represented here?
More of Arches NP here:
Arches NP-a ** Arches NP-b ** Arches NP-c ** Arches NP-d ** Arches NP-e ** Arches NP-f ** Arches NP-g
Here are some more of our Travel Adventures nearby:
The John Wesley Powell Museum in Green River, Utah
Until next time remember how good life is.
Mike & Joyce Hendrix
Until next time remember how good life is.
Mike & Joyce Hendrix who we are
We hope you liked this page. If you do you might be interested in some of our other Travel Adventures:
Mike & Joyce Hendrix's home page
Travel Adventures by Year ** Travel Adventures by State ** Plants ** Marine-Boats ** Geology ** Exciting Drives ** Cute Signs ** RV Subjects ** Miscellaneous Subjects
We would love to hear from you......just put "info" in the place of "FAKE" in this address: FAKE@travellogs.us
Until next time remember how good life is.