Hoodoos of Arches National Park
Hoodoos are erosional remnants of mainly sedimentary rocks that have eroded into weird shapes. They are nothing more than erosional remnants that take on strange shapes.
With some imagination, especially at night, hoodoos can look like all kinds of creatures, even people.
A hoodoo is a slender pinnacle that is capped by a resistant rock layer, either sandstone or limestone, which is underlain by softer shales. It forms as the shales are eroded away, while its vertical integrity is maintained by the caprock.
Hoodoos are erosional towers left in place when a hard cap rock (generally a boulder or cobble) protects a column of more erodable sediment beneath. Thus, while the material surrounding the hoodoo is washed away by direct rainfall and surface erosion the hoodoo stands as a small tower.
Hoodoos carved in Entrada Sandstone.
Note the hard caprock that protects each of these hoodoos.
These are hoodoos but I am not sure what rock formations they are carved out of but I would bet it is Entrada Sandstone.
Hoodoos are pillars of eroded rock, typically sedimentary rocks, that are protected at the top by a more highly resistant boulder.
Mike & Joyce Hendrix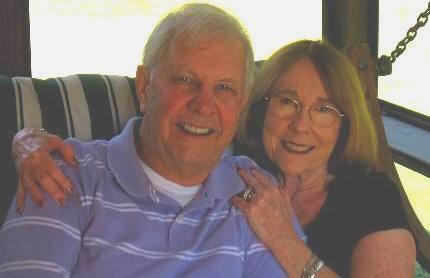 Mike & Joyce Hendrix who we are
We hope you liked this page. If you do you might be interested in some of our other Travel Adventures:
Mike & Joyce Hendrix's home page
Travel Adventures by Year ** Travel Adventures by State ** Plants ** Marine-Boats ** Geology ** Exciting Drives ** Cute Signs ** RV Subjects ** Miscellaneous Subjects
We would love to hear from you......just put "info" in the place of "FAKE" in this address: FAKE@travellogs.us
Until next time remember how good life is.