Moab, Utah
May 21, 2007.
There are multiple commercial campgrounds in Moab. All of them appear to be good or at least adequate------no slums anyway. We decided to stay in OK RV-Park & Canyonlands Stables 3310 Spanish Valley Drive 435-259-1400 because it was a PPA park thus 1/2 price. Even at half price it was $15.50 per-night for FHU with 30/30 amps and cable included. Most RV-Parks in the area are going to be around $25 plus a stiff tax. This park had some shade so we picked it but the nice Spanish Trail RV-Park has nice shade as well and both are within a mile of each other. All of the parks in Moab appear to have gravel interior roads and sites.
Agave bloom
The bright yellow stalk is on a type of agave that I am not familiar with
Pink cactus bloom
The pink flower is on a cactus.
Closeup of agave bloom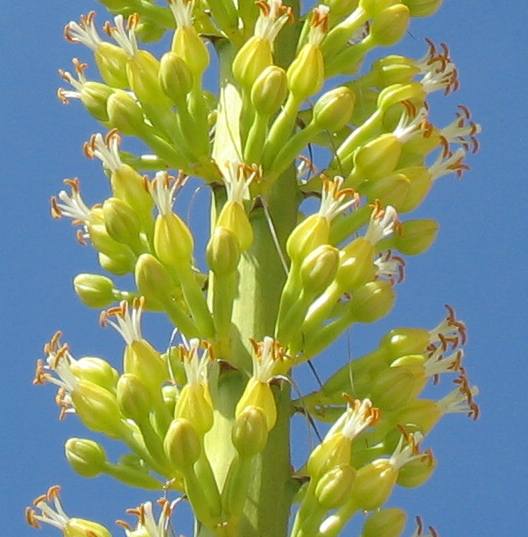 This is a close-up of that beautiful agave flower stalk. We saw this at the Moab visitor center in downtown Moab.
Cholla fruit & bloom
Cholla bloom
If you liked this Travel adventure you will also be interested in these Travelogues:
The John Wesley Powell Museum in Green River, Utah
You will want to check out our Travel Adventure at Arches National Park
Until next time remember how good life is.
Until next time remember how good life is.
Mike & Joyce Hendrix who we are
We hope you liked this page. If you do you might be interested in some of our other Travel Adventures:
Mike & Joyce Hendrix's home page
Travel Adventures by Year ** Travel Adventures by State ** Plants ** Marine-Boats ** Geology ** Exciting Drives ** Cute Signs ** RV Subjects ** Miscellaneous Subjects
We would love to hear from you......just put "info" in the place of "FAKE" in this address: FAKE@travellogs.us
Until next time remember how good life is.