June 30th through July 4th 2006: Greeley, Colorado (50-miles north of Denver).
We are in Greeley RV-Park N40° 23.590' W104° 40.311' phone: 970-353-6476. They have gravel interior roads and gravel pull-thru sites with mature shaded trees; 50-amps, water and sewer, $24.00 per-night. We normally like to stay in PPA (Pass Port America) 1/2 price camprounds but did not see one in Greeley where we wanted to be.
We have chosen Greeley as our place to "lay-low" over the 4th of July when everyone that has an RV in North America decides to use it. We have found that on national holidays if we are not safe and secure in an RV-Park we will find ourselves without a place to stay. We knew Greeley was having a Stampede and thought it would provide some entertainment over the 4th but had no idea how much entertainment.

Greeley did not hold much significance for us except being the setting for James Michener's epic Centennial from the 1970's which was made into a movie or TV-series in the mid-late 1970's. On one of our earlier trips we listened to Centennial as a book on tape and it was so fascinating. Now we are experiencing some of the places and things that Michner wrote about.
In addition to visiting the local history museum we took in Centennial Village where they have preserved much of the areas history.
Centennial Village Museum is northern Colorado's premier outdoor museum with over 30 structures set on eight acres.
It is located on the south side of Island Grove Regional Park, it interprets the settlement history of Greeley and areas of Weld County from 1860 to about 1920.
Note that the 1860 date is just a few years prior to the Civil War....I just wanted to give you a time reference.
Mullein or Verbascum is commonly known as Cowboy Toilet Paper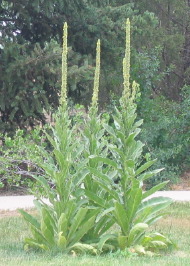 We were introduced to this plant at Centennial Village.
It is an evasive plant that was used by the early settlers as an early form of toilet paper. When we feel the leaves we can tell why (that might be a charmin bush) VBG.
I have since learned that this is verbascum. Travelers on the overland trail used the leaves of this plant for toilet paper.
The leaves are a rubefacient, which means that if you rub them against your skin it will become red and irritated. Pioneer women used this property to as a natural sort of makeup for rosy cheaks, which is how mullein acquired the name 'Quaker rouge'.
Throughout the midwestern States, including Texas, Colorado, New Mexico and Arizona, Mullein is commonly known as Cowboy Toilet Paper. Do you suppose the cowboys using verbascum as toilet paper are the ones that came up with the saying he has the "red-ass"?
Later we heard locals refer to this plant as the "Charmin" plant. Of course that moniker refers to the popular, super soft, brand of toilet paper.
Tiger lily bed at Centenial Village
This bed of tiger lilies was in full bloom at Centenial Village.
Honro: A Mexican Adobe Oven
We have written about these before. It is a honro ------- a Mexican outdoor oven made of adobe.
Horno is the usual Spanish word for oven or furnace. The Spanish introduced the horno to this part of the world in the 1600's when they settled this area.
The horno is constructed in a beehive shape and uses wood as the only heat source.
Horno's are still used in parts of New Mexico and Arizona. I remember seeing hornos in use in New Mexico at the Sky City Pueblo of Acoma. Native women were selling Mexican flat bread or something to that effect that they baked in their hornos.
The women build a fire inside the horno and, when the proper amount of time has passed, remove the embers and ashes and insert the bread to be cooked. After the right amount of time, the cooked loaf of bread can be removed.
To cook corn, the embers are doused with water and the corn is then inserted into the horno where it will be cooked in the steam.
Meats generally require more heat. More wood is added and the oven is brought to a temperature of around 650 degrees. At this time the coals are pushed to the back of the oven, and the meat placed inside.
The smoke-hole and door are sealed with mud.
I think I remember being told that the door was sealed for most cooking procedures.
I can not imagine this much labor to cook food......but it is the way things were done in this part of the world before modern appliances.
Hornos are still in common use in remote areas of South America.
Ice cream vendor in Greeley
We have not seen an ice cream vendor like this before.
And last but certainly not least was this ice cream man peddling ice cream in the crowd gathered for the Greeley 4th of July Stampede Rodeo Parade.
Even though I can't read Spanish I knew what he was selling and so did everyone else.
Zacatecas is a state of Mexico, located in the northern region of Mexico -- and I thought it was ice cream. The things I don't learn.
What a week. It can't get any better.
Here are some of our other Travel Adventures near Greeley:
Ault, Colorado Agriculture ** Greeley Parade in 2009 ** Greeley Stampede Parade 2009 ** Commanche Peak Wilderness **
Fort Collins and the Poudre River ** Poudre Canyon Scenic Drive ** Poudre River Scenic Drive ** Greeley Agriculture **
Greeley Feed Lots ** Greeley Grain Elevators ** Centennial Village ** Longhorn Cattle in Greeley Parade ** Greeley's 2006 Parade
Until next time remember how good life is.
Mike & Joyce Hendrix who we are
We hope you liked this page. If you do you might be interested in some of our other Travel Adventures:
Mike & Joyce Hendrix's home page
Travel Adventures by Year ** Travel Adventures by State ** Plants ** Marine-Boats ** Geology ** Exciting Drives ** Cute Signs ** RV Subjects ** Miscellaneous Subjects
We would love to hear from you......just put "info" in the place of "FAKE" in this address: FAKE@travellogs.us
Until next time remember how good life is.