Ault, Colorado Agriculture
Ault, Colorado is located halfway between Denver, Colorado and Cheyenne, Wyoming. That puts it about 70-miles north of Denver. It is on the dry plains east of the front range of the Rocky Mountains. Ault, Colorado is located in Weld county and Weld county is billed as being the 3rd largest agricultural producer in the country. The number 1 & 2 counties are in California. Weld County only receives about 13" of rain a year but utilizes irrigation provided by the Poudre River.
Sheep feed lot near Ault, Colorado north of Greeley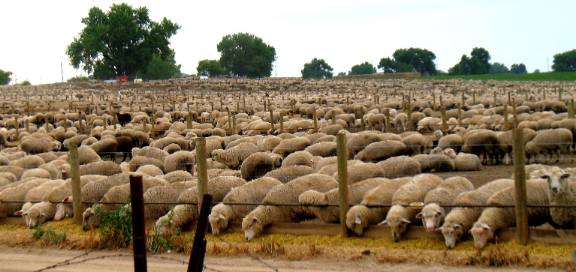 Feed lots are a big business in this county and this sheep feed lot is no exception. We have seen many cattle feed lots. This is the first "sheep" feed lot we have seen. One thing is for sure. They have thousands of sheep being readied for market.
Feed lot for sheep near Ault, Colorado north of Greeley
I wonder how many sheep were in this feed lot. It stretched along the highway for what seemed a half mile or so and look at this picture and determine how far from the highway you think it goes back. I know it goes back from the highway at least 1/4th-mile if not more. This is a BIG operation.
Sheep at the feed trough near Ault, Colorado north of Greeley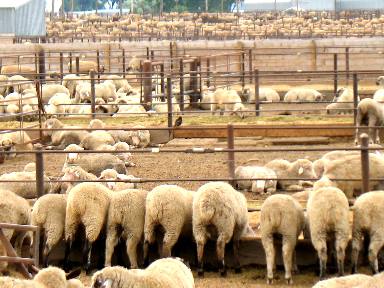 These sheep were doing what they are supposed to do in a feed lot.
Looks like a bunch of folks at a buffet doesn't it? VBG
Absolutely beautiful field of corn near Ault, Colorado off the Greeley, Highway
Of course they have to grow food for the feed lots and that is what this corn field is doing. One thing is for sure, this corn is not going to be transported very far before it is consumed.
Old grain elevator in Ault, Colorado on the Greeley, Highway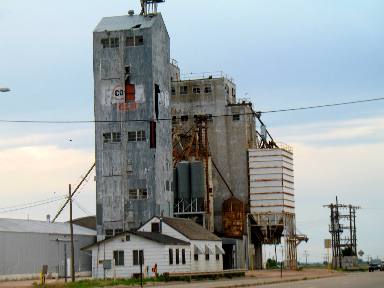 This old grain elevator was in Ault, Colorado. I do not think it is operating any longer.
Wheat and onions growing side by side in Ault, Colorado utilizing irrigation from the Poudre River
This is wheat on the left and onions on the right. We seem to see a variety of crops being grown in Ault.
Rocky Mountains north of Ault, Colorado as seen from the highway to Cheyenne, Wyoming
As we headed north of Ault on US 85 toward the Wyoming border in Cheyenne we had the front range of the Rockies on our western flank.
Look closely and you can see the snow capped mountains.