July 1 through 6, 2009
We are staying in Greeley RV Park with FHU, dirt interior streets some shade and an OK place. Nothing great but OK for what we need.
Several years ago we had mechanical problems with our motorhome while visiting Golden, Colorado a week before the 4th of July weekend. We found a place that would do the repair and scheduled their nearest open date which happened to be the really close to the 4th of July weekend. When we arrived for the repair the mechanic said they didn't do that type of work and suggested I should try the Chevrolet dealer. We did and the Chevrolet dealer fixed the problem however, we did not have a campground to spend the night much less over the 4th of July weekend. It was late in the day and we knew we had a campground problem on our hands. Joyce started making phone calls. She found a campground -- Greeley RV Park in Greeley, CO only about 60-miles to the north of Denver/Golden and they had ONE vacancy. We took it over the phone and headed to Greeley. Once in Greeley we found out that the "Greeley Stampede" was going on. It turned out that the Greeley Stampede was a big deal consisting of a week long celebration consisting of a carnival, animal displays normally reserved for fairs, daily rodeos, major country music concerts, Western Art Show, demolition derby and one of the largest parades in the west. We participated in everything and thoroughly enjoyed ourselves.
Now, fast forward to this year when we were planning our route from Nashville, Tennessee to the Tetons in late June we decided to stop in Greeley, Colorado for the Greeley Stampede. Now you know why we are here. As you can surmise from this explanation we really had a good time at the Greeley Stampede when we were here before. I will give you a hint, we had a good time this year as well. VBG
This travel log is dedicated to the Greeley Stampede 4th of July Parade.
This herd of longhorn cattle start the parade each year. They look so menacing but in reality are very docile. A few cowboys lead the herd down the street while a block or so of these longhorns meander down main street.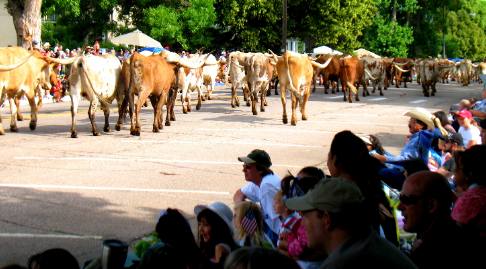 It is truly an amazing sight to see this many cattle meander down main street. As you can see the longhorn herd stretches out of sight.
There are more horses in this parade than a city slicker can believe. This pretty girl is the Rodeo Queen. There must have been 10 or more rodeo queens in this parade. I remember seeing Rodeo Queens representing Alabama, Florida, Tennessee and I think Mississippi in addition to other states that I do not remember.

This is a group of girls/women who do formation riding in rodeos.
This is Bucky Covington who you may remember from American Idol. He is currently a Country Music star and was performing a concert along with Blake Shelton in the Rodeo arena that night. To be honest his show was lacking. Blake Shelton on the other hand rocked the arena with a knockout performance. Blake needs to get someone else to open for him.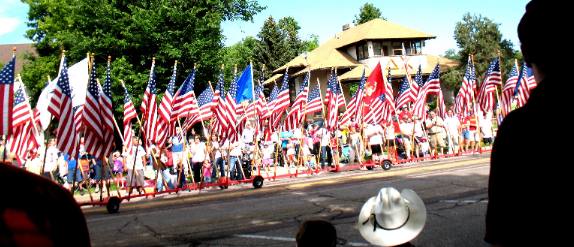 Western agriculture based towns are all very patriotic and Greeley is no exception.
I wonder how many draft horses pulling wagons were in this parade? Too many to get pictures of them all.