We are on our way from Nashville, Tennessee to Grand Teton National Park in Wyoming. We decided to route ourselves through Greeley, Colorado so that we could join the festivities of Greeley's Stampede Rodeo and all the events that happen that week. One of the main events is the Greeley Stampede 4th of July Parade. If you are from back east this is a different kind of parade, much different. That is why we enjoy it.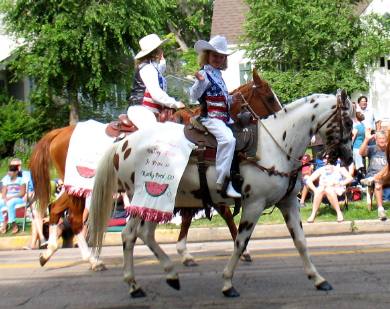 Young girls, like this one, riding pretty horses were a common sight. It seems these folks have a certain "dress/attire" that is special for this 4th of July Parade. Everything is sparkling clean and fancy.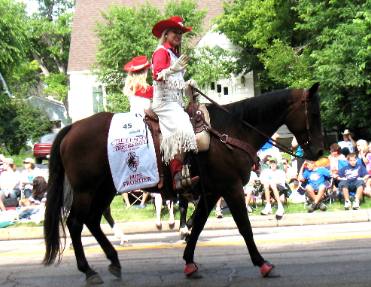 There were fat old men riding horses too but the pretty girls make better pictures. VBG
This girl was representing Cheyenne Frontier days. I think she was Miss Cheyenne Frontier Days or some such. Joyce and I are going to enjoy Cheyenne Frontier Days later this month.
For those of you not familiar with this area Cheyenne, Wyoming is only about 70-miles north of Greeley and the two towns are very connected. This is almost a "local" event for the folks in Cheyenne.
This is the Wells Fargo stage being pulled by a team of horses.
I think these are Belgian draft horses. Someone correct me if I am wrong.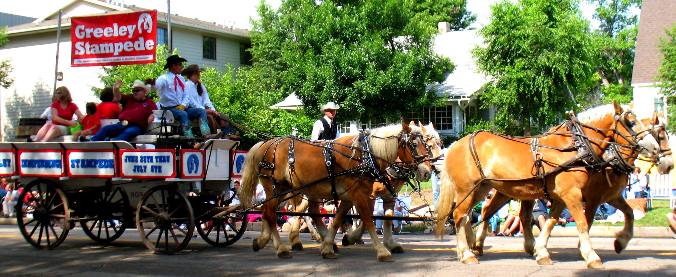 Another team of draft horses pulling a wagon.
I think these huge draft horses are Belgians also. Again, correct me if I am wrong.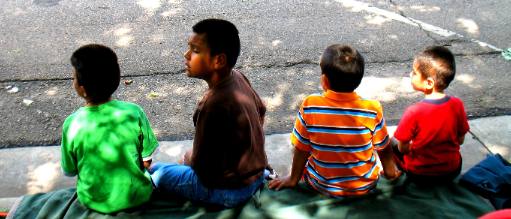 These young Hispanic boys sat quietly on the curb for the entire parade. They were as cute as can be. They didn't sit there when the herd of Texas long horn cattle came down the street. It was rather funny how everyone cleared out of the way for them.
This is one of the ice cream carts that can be seen throughout Greeley. They are very popular.
Ok, the parade was a good one with over 150 entries. Lord knows that every horse in Colorado and Wyoming was in this parade.