Sky City Acoma Pueblo
May 2, 2007.
We moved the motorhome to exit 108 on I-40 where we stopped in the Dancing Eagle RV-Park next to Dancing Eagle Casino and across from the Dancing Eagle Travel Plaza. We stopped here so we could visit the Sky City Acoma Pueblo 12-miles south of exit 108 on New Mexico 23. Dancing Eagle RV-Park has 50-amps and water for $10. An open wifi signal is available from either the casino or travel plaza. Dry camping spots were available at both Dancing Eagle Casino and across the street at Dancing Eagle Travel Plaza (truck stop).
Sky City Pueblo of Acoma
This is where we are headed. This is our destination today.
Sky City Pueblo of Acoma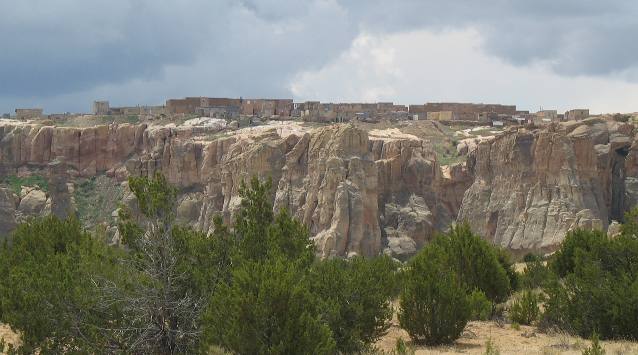 We spot Sky City at a distance perched atop this mesa.
This mesa has been home to the Acoma for 850 years, possibly making it the oldest continuously inhabited settlement in the United States.
Sky City looms 370 feet above the desert floor. For almost 2,000 years, Sky City has served as the physical and spiritual homeland for the Acoma people. The history of the Acoma people and the Pueblo dates back to as early as 1100 A.D.
Pueblo of Acoma

This information was presented in the NW New Mexico Visitor Center in Grants so I guess it may be accurate. I was hesitant to state emphatically that the Pueblo of Acoma (Sky City) is the oldest continuously inhabited village in the U.S. but at least this source seems to agree.
Acoma Pueblo families live in places like this not on the Pueblo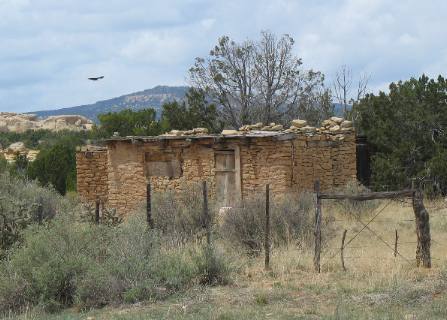 Most Acoma Pueblo families do not live on the Mesa but reside somewhere in the valley like this place.
Adobe building on Sky City Pueblo of Acoma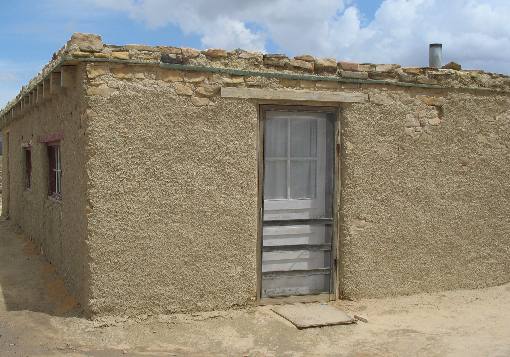 Sky City has over 300 structures made of adobe (mud brick) and sand stone...or a combination of both. All homes are owned by Acoma females who pass them on to their youngest daughters. Even though most of the Acoma people don't live at Sky City full time, they return for various special cultural occasions to celebrate at their ancestral homes.
This is one of the newer structures on the mesa. I can tell that by the Vigas. The vigas in this structure were purchased from a modern lumber supply company. Older vigas were made of logs.
Of course this structure might have been remodeled with new vigas at some point.
Adobe brick construction Sky City Pueblo of Acoma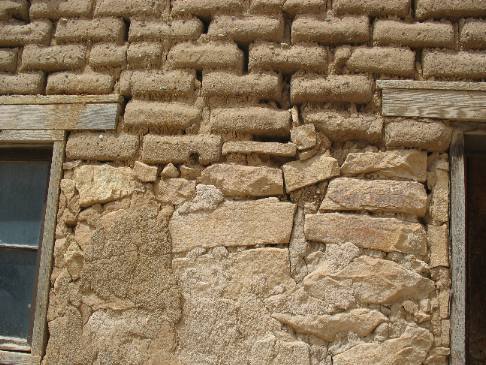 Several different methods of construction are represented here. On the bottom is sandstone construction, with adobe applied between the sandstone blocks as a form of mortar. The top portion is adobe bricks mortared together with adobe. These adobe bricks need to have a new coat of adobe plaster applied.
Bell Tower on church at Sky City Pueblo of Acoma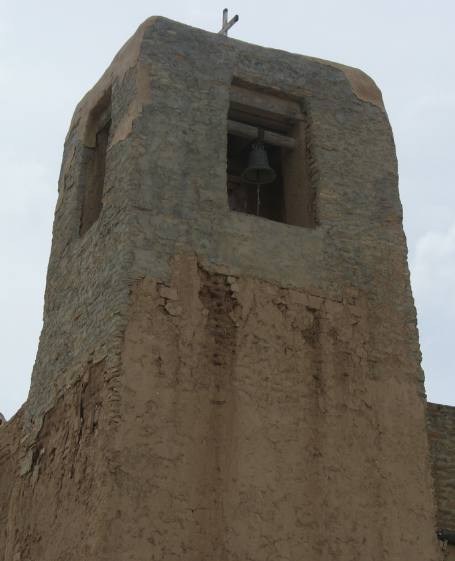 This is the bell tower on the church built between 1629 and 1641 by the Acoma Indians under the direction of Franciscan Padre Juan Ramirez.
Don't even let those dates of 1629 to 1641 slip by without putting them into perspective with other events happening in the world.
Jamestown, the first permanent English colony on the continent was founded in Virginia in 1607.
Quebec was founded in Canada as the first permanent French colony on the continent -- that would be 1608.
English Pilgrims land at Plymouth, Massachusetts in 1620.
During the 1650's horses stolen from ranches in New Mexico begin to transform the culture of the Plains, enabling Native Americans to hunt buffalo more efficiently and to range farther in battle with their enemies. Within another generation the horse will spread from New Mexico through the region west of the Rocky Mountains to the tribes of the Northwest. You will remember that Lewis & Clark purchased horses from tribes of the Northwest on their epic journey across the continent in 1804-1805.
This should give you a good idea of how old this Catholic Church building is. Next you can marvel that is still standing and in use today. Can you think of a building back east that dates to anywhere near this Church?
Bell Tower and church at Sky City Pueblo of Acoma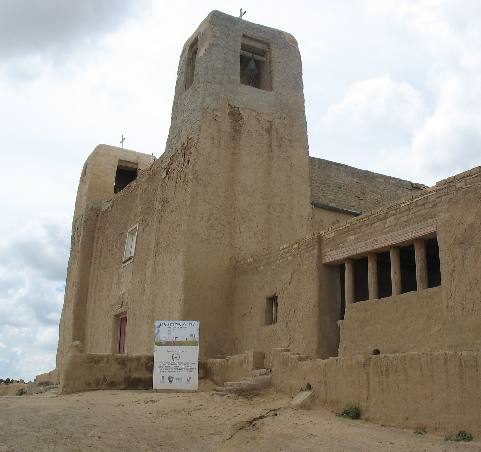 This is the church made of adobe with walls 12' thick at the bottom. It is cool in the church because of the thick walls. Massive pine logs span the width of the church to support the ceiling. We couldn't take pictures inside the church or I would have shown these vigas and the cross pieces.
Our docent explained how their ancestors hauled earth and stone, in fact all building material for the church, up to the 375 foot-high mesa from the valley below. The massive vigas (ceiling beams) were hauled from Mt. Taylor 30-miles away, on the backs of many men. Remember that this church was constructed between 1621 and 1649. It took that long because it was truly a monumental endeavor to construct. The huge vigas (ceiling beams) span across the top of this structure from side to side. In other words those are massive beams probably 60 to 80-feet in length. Since we could not take pictures inside the church there is no way I can describe them except to say that they were placed across the side walls on what looked to be 24" to 36" centers. Bottom line, there has to be 30 to 50 of these massive vigas (ceiling beams).
My mind was in an "oh, my gosh" state contemplating the logistics involved with transporting those massive logs over 30-miles. Then the logistics of getting those beams from the valley floor to the top of this mesa 375' above the valley floor. I guess it was child's play to place those vigass on top of the walls considering what they had just accomplished by transporting the logs from Mt. Taylor to the top of this Mesa. Totally unbelievable yet it is here for all to see and marvel at.
Periodically, church members re-plaster the church's dirt floor with dirt that has been worn and swept up, so that the footprints of their ancestors remain in the church.
The outside walls of the church must be re-plastered periodically with fresh adobe in order to maintain it.
Sandstone and adobe construction at Sky City Pueblo of Acoma
Since these buildings date from the 1600's a number of different construction methods are evident. To begin with it appears buildings were constructed with sandstone. Later the sandstone pieces were held together with a mortar made of mud. Later came adobe. Note how these buildings have more modern windows and doors. This building even has smoke stacks for wood burning stoves.
Some of the buildings still had micah windows. Micah is a flat sheet like rock that is opaque. I guess this is what people used for window material before glass.
Outhouse at Sky City Pueblo of Acoma
There is no running water on the mesa. Out houses are still used. This is an old model.
Outhouses of Sky City Pueblo of Acoma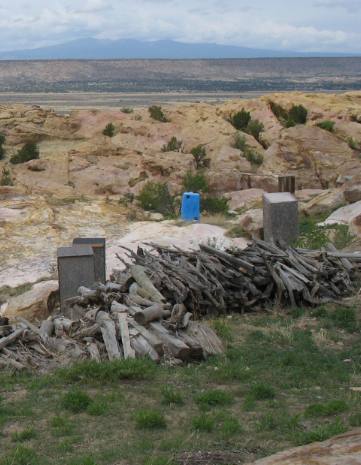 These out houses are a combination of new and old.
Horno Sky City Pueblo of Acoma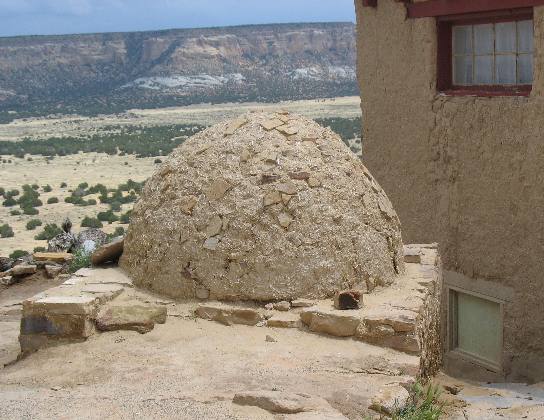 This is an oven or horno in Spanish. It is used to cook bread. Yes this one is an operational horno. In fact some of the residents were selling apple and cherry pastries. Joyce says they were fry bread wraps of some sort. Whatever, they were cooked in a horno like this one.
Keep in mind there is no electricity or running water on this mesa. The 30 or so families that still reside on the mesa use Coleman lanterns for light and burn wood for heat.
Adobe & rock construction Sky City Pueblo of Acoma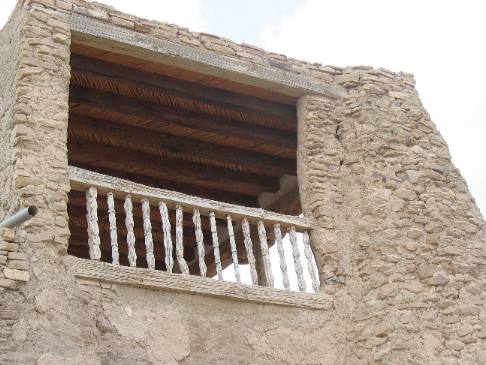 This was a 3rd story porch. The wood pieces seemed to date this particular structure.
Many families reside elsewhere, but maintain a home on the mesa.
Adobe brick construction Sky City Pueblo of Acoma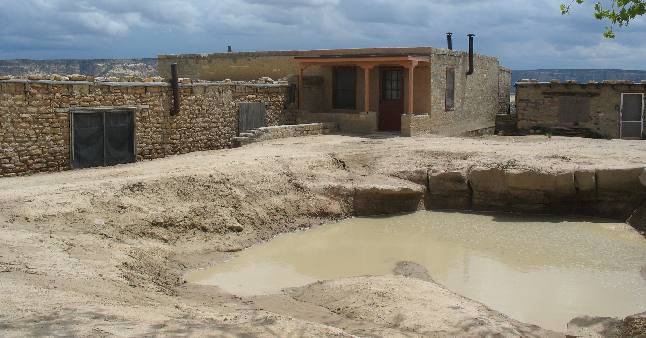 All of these buildings have modern fire place chimneys. Note the glass in some of the structures. One building has a modern wood porch with lumber that looks like it came from a lumber yard. In the old days they used to drink the water that gathered in these catchments or cisterns. It rained hard last night thus the muddy water in this catchment.
Adobe construction Sky City Pueblo of Acoma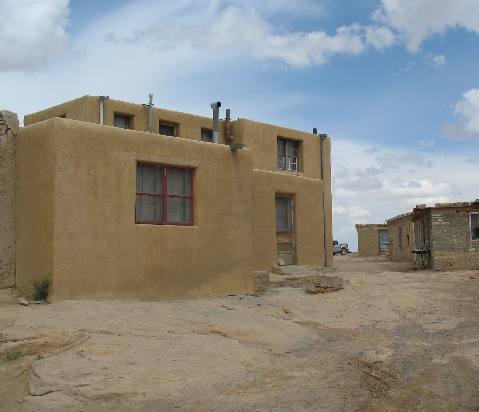 The residents of this building have covered it with a fresh layer of adobe or plaster. This is one of the nicer buildings on the mesa. Still it is heated with wood and Coleman lanterns are used for light and there is no running water.
Vega roof supports Sky City Pueblo of Acoma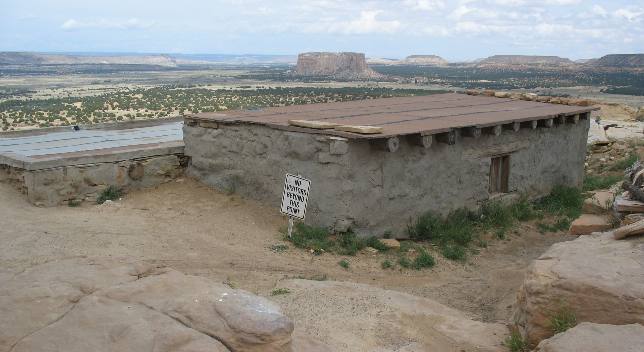 This building has replaced the adobe mortar with what appears to be cement. The traditional adobe roof has been replaced with rolled roofing. vigass still support the new style roof.
I think that is Enchanted Mesa in the background.
Adobe construction Sky City Pueblo of Acoma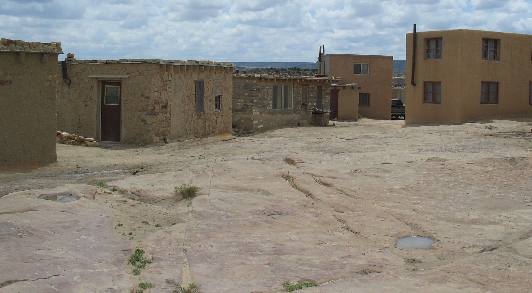 Some buildings are being maintained while others are not maintained nearly as well.
Sandstone & Adobe construction Sky City Pueblo of Acoma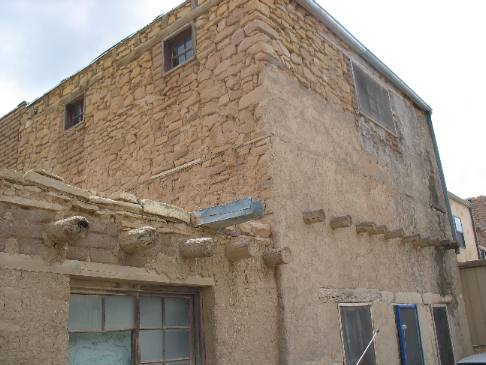 The Acoma are a matriarchal society, with a twist...the youngest daughter inherits everything. After all it is the youngest daughter that most likely will be the best able to care for aging parents. Vigas can be seen protruding from the ceilings of these buildings.
Adobe brick construction Sky City Pueblo of Acoma
These buildings are constructed with sun dried adobe bricks. Note the log vigas protruding from the walls. This section of buildings is 3 stories high.
Sandstone construction Sky City Pueblo of Acoma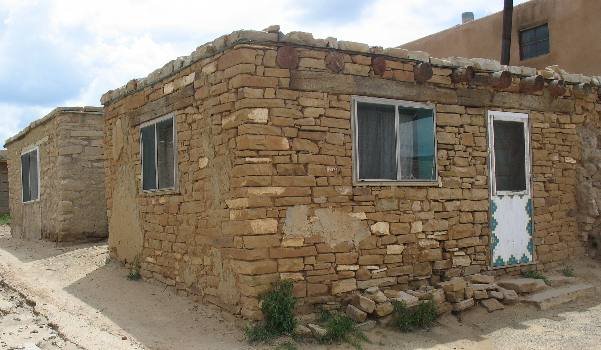 This building is constructed with sandstone but on this particular building I do not see adobe mud being used as mortar. It is a rather old building as evidenced by the log vigas
View from Sky City Pueblo of Acoma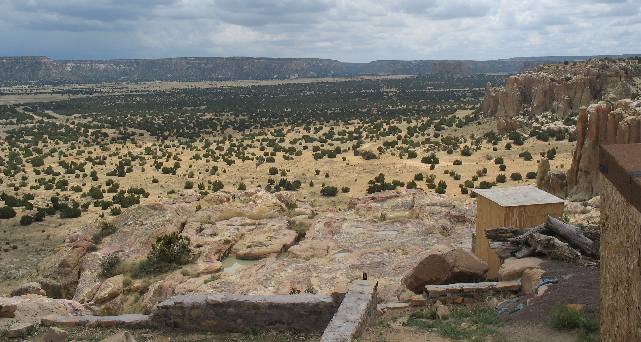 View from Sky City mesa looking down on the valley where natives of this mesa would grow crops of corn and beans.
If you are looking for more information on Sky City and the Acoma people try calling the Acoma Visitor's Center at 800-747-0181.
Working windmill on Acoma Indian Reservation near Sky City, NM
This is a meshing of the old and the new. The windmill represents the old while the steel tank represents the new. We saw this on the Acoma Indian Reservation near Sky City.