Places Visited:
Texas: Kerrville, Medina, Bandera & Rio Bonita Ranch
Monday, April 4 Kerrville-Schreiner Municipal Park Kerrville, Texas $21-30-amp FHU paved interior streets and pads N30° 0.338' W99° 7.573' or 1-mile south of town on SR-173 phone 830-257-5392.
Kerrville-Schreiner Municipal Park in Kerrville, Texas
Kerrville-Schreiner Municipal Park is a special place for us. The wildlife here is so enjoyable. Deer wander right up to the RV and a small herd of blackbuck graze in the pasture near the highway most of the day.
Joyce took this pic out our dining room window one morning. This is not unusual they stay in the area all day. The park is full of deer and other wildlife especially rabbits.
We took care of domestic duties and wrestled with prescriptions until time for lunch. Joyce had Joe's Jefferson Street Café on her mind and a team of wild horses couldn't change it. Joe's it was. Joe's is housed in an 1895 Victorian house that has been well maintained for over 100 years. A series of wealthy individuals inhabited the stately old home until 1977 when it became a restaurant. The house has been virtually unchanged. Joe's is a favorite of local society women and the suit and tie business community. They have daily luncheon specials all the way to poached salmon and other entrees of that ilk.
After lunch we headed south on SR-16 across that "hill" with the steep grades and numerous switchbacks. Neither of us would say it but we were both looking forward to an apple slushie at the Apple Barn in Medina. It was one of those "understood" things that mates share. The apple slushie was every bit as good as our expectations. Then it was off to Bandera where Joyce wanted to sashay down the isles of those specialty shops full of cow-girl attire. Well, ------------- she perused the offerings in a variety of Texas specialty shops before tiring of her game.
Joyce in the Old Spanish Trail Cafe in downtown Bandera, Texas
We finished off downtown Bandera by stopping in the Old Spanish Trail Café for some Ice Cream. The Old Spanish Trail Café is a "locals" place with lots and lots of history. John Wayne paraphernalia adorns the walls, long ago he made some westerns in Bandera and frequented the Old Spanish Trail Café and they have not forgotten. A unique bar located on one side of the building has a row of saddles for seats. We like to see this western motif but have never seen anyone actually sitting one of those saddles at the bar.
Joyce climbed on one of the saddles for this pic
The City of Bandera maintains a large park along the Medina River in downtown Bandera that is lined with stately old cypress trees. If you are ever in Bandera you should drive through the park and enjoy the view. Bandera is unique in a number of ways but bills itself as the cowboy capital of the U.S. Local advertisements tout the area as having more dude ranches than any place in the country. They also claim that Bandera has more Rodeo Champions per-capita than any other place in the United States. Besides that one of the Dixie Chicks, Emile Robinson, has a ranch between Bandera and Medina.
Bandera is also home to one of Texas oldest honky-tonks in Arkey Blue's Silver Dollar Bar. In the North East Arkey Blue's would be referred to as a rathskeller since Arkey Blue's is in a basement. You enter Arkey Blues from Main Street and immediately go downstairs into the dimly lit bar and dance floor. The back door empties into a ground level parking lot so possibly the entrance is actually where a second story should be in which case it would not be a rathskeller. Anyway, it is a fun place to visit especially at night when they have a country band. Ask me how we know. VBG
Cowboy taking care of business at the Bandera County Courthouse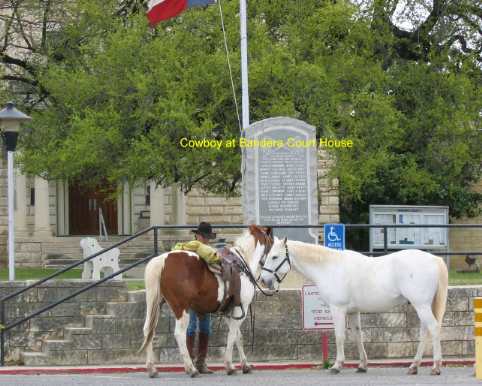 Whether Bandera is the "Cowboy Capitol" or not is probably open to debate but on the way into Bandera this morning we passed a cowboy mounting his horse outside the County Court House. We stopped for Joyce to get a picture of this Cowboy that had come to town on his horse to conduct business at the court house. You gotta love it.
An hour or so later as we drove back to Medina we saw this cowboy and his horses about 5-miles out of town, his business obviously finished and on his way home.
From Bandera we ventured over to the small crossroads community of Tarpley just to see what the "scenic drive" down Ranch-470 would reveal. We saw a good number of blackbuck antelope and a few axis deer but not much else. There are a few of those exotic game ranches on that road but we were unable to spot anything other than antelope and axis deer. We must be getting finicky about what will excite us. In Tarpley we decided we had had enough and headed back to the motorhome.
Tuesday, April 5 Kerrville-Schreiner Municipal Park Kerrville, Texas $21-30-amp FHU paved interior streets and pads N30° 0.338' W99° 7.573' or 1-mile south of town on SR-173 phone 830-257-5392.
Comfort, Texas Hotel
This was Joyce's day to do the historic town of Comfort. Comfort is an old and well preserved community founded in 1854 by German freethinkers. Many old native limestone buildings from the 1890's to 1920's are proudly preserved in downtown Comfort. Most of the old historic buildings have businesses in them. In the small downtown area there are approximately 15 antique shops all within a 4 block area. Joyce had a good time wandering around in the antique and curio shops before locating a place for lunch.
One old country store, Ingenhuett's at 136 years old is the oldest continuously operating general store in Texas. Comfort has the distinction of having the only monument to the Union south of the Mason-Dixon Line. When the War Between the States broke out, the men of Comfort left for Mexico, because they didn't want to be conscripted by the Confederate army. Comfort residents at the time felt that the United States was their new country and they did not want to fight against her. Of the 80 men who left, Confederate soldiers killed 46. Truer Der Union monument in Comfort honors these men.
Comfort also has one of the last two remaining bat roost towers in the U.S. and the last of seven built in Texas. The towers were built to attract bats to the area to reduce the mosquito population and help prevent malaria.
From 1845 to 1861 large numbers of German Freethinkers immigrated to the Texas Hill Country especially the area around Comfort. Freethinkers were predominantly German intellectuals who advocated reason and democracy over religious and political autocracy. Many had been active in the 1848 German Revolution and sought freedom in America. Freethinkers valued their newfound freedoms of speech, assembly and separation of religion and government. Instead of religious dogma, Freethinkers believed in individual philosophy. They advocated equal rights for all persons, and their moral values were dominated by respect for life and nature. Many were active in the political issues of the day including the rejection of secession and abolition of slavery. Loyalty to the Union during the Civil War cost many of them their lives (46 of 80) and freedoms. Some migrated to the nearby urban areas while others returned to Europe.
That information on the Freethinkers was on a large Texas Historical plaque in the downtown area. As I read it I couldn't help but think that their values were the American values yet they died for those values here in America not back in Germany. There is a lot of American history that we do not hear much about.
The drive from Kerrville to Comfort was along a well watered valley where farming was prevalent. We saw six or so large irrigation systems. Several large fields were planted in wheat or oats while several more were freshly plowed. Several fields were obviously hay operations. There were several large pecan orchards along the way also. From Comfort we made our way to the crossroads community of Waring where we stopped in their historic old country store. The Country Store in Waring is noted for their Wednesday night Steak dinner and entertainment. People come from as far away as San Antonio for this event. We may do that then again we may not. From Waring we followed the serpentine River Road along Guadalupe River to Sisterdale. Along the Guadalupe River Valley farming operations dominate the landscape with wheat & oat fields standing out.
Cypress trees lining the Guadalupe River near Wearing, Texas
The Guadalupe is easy to follow even when the road wanders away from it. The rows of huge cypress trees that line both banks make the river's path visible as it wends its way across the countryside.
Sisterdale's call to fame would be the historic country store that is still operating and the small winery at the edge of town.
Wednesday, April 6 Kerrville-Schreiner Municipal Park Kerrville, Texas $21-30-amp FHU paved interior streets and pads N30° 0.338' W99° 7.573' or 1-mile south of town on SR-173 phone 830-257-5392.
Today is a day dedicated to good friends. There is really nothing like friends, and good friends are even better than that. We had originally planned to be heading the motorhome west to probably Sonora today. However, we got a phone call from friends in Ft. Pierce, Florida. They were arranging for us to visit the famous Rio Bonito Ranch west of town, would we stay in Kerrville for another night? You betcha! How did we get so lucky? It just so happened that friends Dale and his wife Cheryl are old, old friends from our time in the Navy in Brunswick, Georgia. Dale married Cheryl and I married Joyce while stationed at Glynco Naval Air Station in Brunswick, Georgia back in the late 60's. We have been friends ever since. Dale and Cheryl's son Wayne worked at the Rio Bonito ranch years ago when he was in his 20's and still had connections with the ranch owners. That is how this opportunity came about, well that and a number of phone calls.
Cheryl called to give us the Gate Code so we could get on the ranch and tell us to be there at 10:00 so we could eat breakfast/lunch with everyone when they come in from the morning hunt. The ranch is a big time hunting lodge as in 16,500 acres, 27-miles of fence to get around the property. This is prime white tail deer and turkey habitat in addition to the 16-species of exotic game. We didn't want to be late and arrived at the main gate a little after 9:00 this morning.
Scissors tailed flycatcher
Not wanting to be too early we goofed off around the front gate until around 9:20 watching a variety of birds we do not see in Florida like vermillion fly catcher and scissors tail fly catcher.
Front Gate to Rio Bonito Ranch
The road from the front gate to the Lodge is only 5-miles long but it is privately maintained if it is maintained at all. We started down the road in our Saturn making about 5-mph dodging holes that would gobble our Saturn in a heartbeat.
Entrance to the Lodge at Rio Bonito Ranch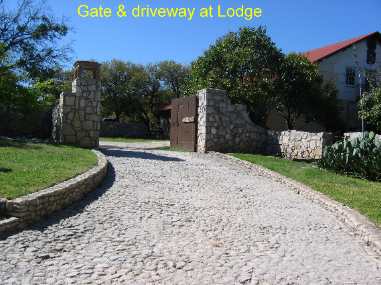 We arrived at the Lodge a few minutes after 10:00. Thankfully, the boss, Gwen, was not there to meet us so we visited with lodge guests that had skipped the early hunt this morning. They had bagged trophy game on the hunt yesterday afternoon and were too tired to get up for the early hunt this morning.
Inside the Lodge at Rio Bonito Ranch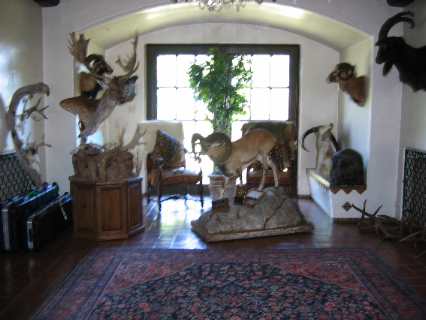 While we waited for the rest of the hunting parties to return we toured the old 28,000 square foot hacienda style mansion that serves as the hunting lodge. The place has 19 bedrooms! They serve 3-meals a day many consisting of savory dishes of exotic game.
Dining table at the Rio Bonito Ranch Lodge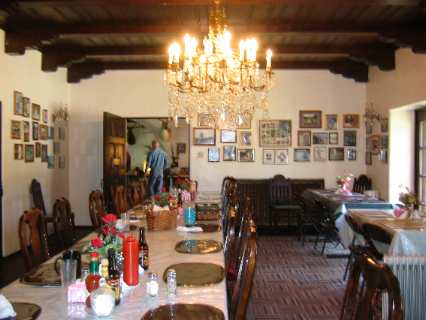 When everyone arrived from the morning hunt we had breakfast around a beautiful antique table that seats 20 guest.
Several hunting parties had their wives and children with them. Some grandfathers had grandsons with them. It is a classic setting in a beautiful area and the Lodge is so special. Trophy mounts cover the walls. Exquisite ranch furniture sets off the lobby of the lodge. The ranch is crawling with Whitetail deer and Rio Grand Turkey in addition to axis, Sika and fallow deer, ibex, aoudad sheep, Barbado rams, Texas Dall ram, Catalina goat, Mouflon ram, Corsican ram, black Hawaiian rams and wild Russian boars/hogs. In addition they have addax, eland, silk, oryx, black buck antelope, axis deer, buffalo, elk, fallow deer, red deer, Nelgai and big horn rams.
It is amazing how many of these exotics are roaming the 16,500 acres around this place. When Raymond took us on a tour of the property in one of their special 4X4 Suburbans we were able to see many of these exotics plus a good number of wild turkey. I just thought the main road from the gate to the lodge was not maintained, my bad, it was in wonderful shape. Raymond took us on paths/trails I wasn't sure the 4X4 Suburban was going to survive but it did. One of the hunting parties out this morning broke down and another vehicle had to be sent to rescue them. I can see how this could easily happen. Raymond told us they do not allow hunting from vehicles.
Dam and the lake it created on the Rio Bonito Ranch
This dam was built by the Hacienda owner back in 1920 in the hopes of using the water for an electric generator. A subsequent drought made electrical generation infeasiable. The lake that was created is still used today. Raymond told us that when it rained so much water comes this way that over 2' of water would flow over the entire length of that dam. The thought of that is so awesome.
End of a successful hunt at Rio Bonito Ranch
On the way out to the front gate we passed one of the big Suburbans with a load of hunters and the beautiful ram one of them had taken. I couldn't identify exactly which species but it had big rounded horns indicating some type of exotic ram.
Wild emu at the Rio Bonito Ranch
Then an emu jumped up from its resting place to give our Saturn the once over as we slowly passed.
We really had a good time. They treated us like special guests even though we weren't part of the "guests" that were paying to stay at the lodge. If you are a hunter or know someone who is that is looking for an opportunity to go Trophy Game Hunting both Native and Exotic they could not find a finer place. More information can be found at www.riobonito.com or exotics@riobonito.com phone 1-800-864-4303 tell Gwen & Raymond you read about them in our travelogues. The ranch is a wonderful setting for a church group in the summer when things are off season as far as hunting goes. It is also a wonderful setting for "business groups" where the partners in a firm get away (possibly with their families) to plan the coming year or have their annual meeting. The lake and lodge would make an outstanding setting.

Until next time remember how good life is.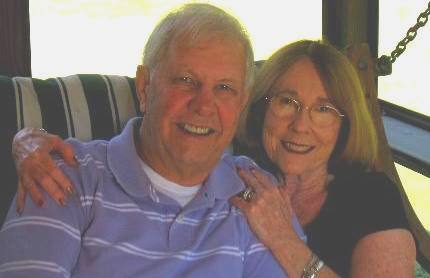 Mike & Joyce Hendrix who we are
We hope you liked this page. If you do you might be interested in some of our other Travel Adventures:
Mike & Joyce Hendrix's home page
Travel Adventures by Year ** Travel Adventures by State ** Plants ** Marine-Boats ** Geology ** Exciting Drives ** Cute Signs ** RV Subjects ** Miscellaneous Subjects
We would love to hear from you......just put "info" in the place of "FAKE" in this address: FAKE@travellogs.us
Until next time remember how good life is.