Places Visited:
Thursday, April 7 Sonora Best Western RV-Park Sonora, Texas $18-30-amp FHU dirt/gravel interior streets and pads N30° 34.564' W100° 38.957' with high speed wireless available in the lobby. This place isn't a destination campground but in this part of Texas it isn't a bad place to stop for the night.
It was time to leave Kerrville. We could stay here all summer but we would never get to California and that is our destination. Our son is constantly kidding us about not making it out of Texas, at the end of every phone conversation he has this routine he goes into about us still being in Texas then ends it with a wicked giggle. Hopefully, we will only hear that wicked giggle for a few more days. We headed for Sonora about 110-miles west of Kerrville on I-10.
Roadcut on I-10 somewhere around Junction, Texas
We stopped by Junction, Texas for lunch then continued on our way to Sonora.
Our next stop was the small town of Sonora. We had called ranching friends before we left Kerrville this morning and made arrangements to visit with them on their ranch outside Sonora. They were shearing Angora goats today and would not be able to join us for dinner but did want us to stop by the ranch which we did as soon as we got the motorhome set up in the campground.
My Mother went to college at Southwestern in Georgetown, Texas, with Sandie, the matriarch of the Ranch we are visiting. Sandie is a spunky lady in her 80's that still runs this big ranch along with Maggie her daughter who lives about a mile away on the ranch. It is easy to get to Sandie's house because she lives near the paved road and there are no gates to open in order to get to her house. Maggie on the other hand lives near the main barn. To get there you have to open and close three gates.
We visited with Sandie at her house then she put us in her big SUV and we went to see Maggie. We met Maggie between gates 2 and 3 on the way to her house. The shearing was completed and the shearers had returned home. The goats had been turned out to pasture and Maggie had a livestock trailer behind her huge 350 dually truck. She was delivering a load of horses and meat goat rams to another ranch. We exchanged pleasantries and she invited us to stop back by in August when they would be shearing again then she was off again delivering livestock. Ranchers work from can to can't and this night would be no different.
Sandie took us on a tour of their 6,500 acre ranch explaining to us that theirs was a small ranch out here. That doesn't sound small to me. They have cattle, angus/brahma mix, meat goats, angora goats (mohair wool) and sheep. The ranch is also crawling with whitetail deer and Rio Grande Turkey. On our tour of the ranch we saw all of these.
Angora goats on ranch south of Sonora, Texas
Angora goats supply the wool to make mohair products. Shearers were at the ranch earlier today. These angora goats were some of the ones that got "clipped" this morning.
Angora goats on ranch south of Sonora, Texas
Ranch south of Sonora, Texas
The last time we visited the ranch it was brown and dry. This time it is lush and green. The grass is deep and beautiful. They have cleaned out a lot of the underbrush and the place is looking very good. Sandie said she liked driving over the ranch and this gave her a chance to do it. Although gas companies have wells all over the ranch Sandy does not like them. They do not have the same love for the land that she does. They don't care whether there is grass or not, all they want is the gas. It is a love/hate relationship. They like the money but hate what the gas company does to their property.
We are pinching ourselves to make sure it is true -- this is two days in a row that we have experienced top notch ranch tours. One of a working ranch that specialized in providing hunting packages for whitetail deer, turkey and a host of exotics and this one that had a diverse variety of domestic ranch animals. Both were in similar settings. Both were big by eastern standards. The folks out here are the nicest people in the world. They have big smiles, they truly love the land, and they welcome visitors like no one else.
What a wonderful two days we have experienced. But we move on tomorrow. We have to relentlessly push west. How many more days do we have to listen to "you're still in Texas" followed by that wicked giggle?
Until next time remember how good life is.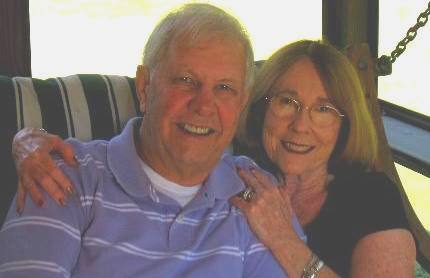 Mike & Joyce Hendrix who we are
We hope you liked this page. If you do you might be interested in some of our other Travel Adventures:
Mike & Joyce Hendrix's home page
Travel Adventures by Year ** Travel Adventures by State ** Plants ** Marine-Boats ** Geology ** Exciting Drives ** Cute Signs ** RV Subjects ** Miscellaneous Subjects
We would love to hear from you......just put "info" in the place of "FAKE" in this address: FAKE@travellogs.us
Until next time remember how good life is.