Brunswick, St. Simons Island and Jekyll Island, Georgia
Brunswick, St. Simons Island and Jekyll Island, Georgia
This is the first travelogue for 2003. We have been in Panama City, Florida in our motorhome for a week or so visiting with family. We were staying at a private RV-Park on Panama City Beach earlier in the week when the big "freeze" came through. If you live in the "eastern" U S you know what I am talking about when I say "the big freeze". On Thursday night the temperature got down to 18 degrees (in north Florida) and stayed there for a while. In fact it was almost noon on Friday before the temperature got above freezing. Even though I had lights burning in my basement the pipes still froze in the basement, or so I thought. When we turned on our water to shower Friday morning we got a lot of air with a small amount of water. I just knew that I had a broken pipe between the pump and the fresh water tank, or even worse the pump housing could have been cracked. As it turns out the 60-gallons of water in an 80-gallon fresh water tank was frozen! Yes frozen. When I added water to the fresh water tank, when the park turned the water back on, everything started working properly.
The next time this Florida boy has to deal with weather in the teens I am going to make sure that my fresh water tank has more heat applied to it.
Sunday, January 26, 2003 We traveled 334-miles in the motorhome from Panama City Beach, Florida to Brunswick, Georgia. Blythe Island Regional Park Campground in Brunswick, Georgia. Full hookup with cable $24 per-night.
The RV-Park we are in is one travelers on I-95 between the northeast and Florida should be aware of. Although not cheap at $24 per-night it is near I-95 and is located between Savannah and the Florida line near Jacksonville. Brunswick also has a flying J complete with propane. EVERYONE, from the northeast heading to Florida should know to fill up with fuel and propane before entering Florida where fuel will be $.20 to $.30 per-gallon more and where propane will be at least $1.00 per-gallon more expensive.
Very seldom do we drive 300 miles per-day but we chose to do this drive on Sunday rather than fighting the weekday traffic. It was a wise decision. We plugged Panama City Beach into our Delorme SA-8 mapping program as the start and Brunswick, Georgia as the finish and asked for the shortest route. SA-8 routed us on the old roads we used to travel before I-10 ran across the northern part of Florida. It was just the route that we were looking for since we like to avoid interstates when possible.
Heading east on FL-20 to Tallahassee we traveled through pulpwood country. Historically, the pulpwood tree of choice was slash pine. However, we noticed that pulpwood companies were planting a short leaf pine that closely resembles the sand pine we see along the coast. Does anyone know anything about this change? Are the new trees being planted for pulpwood or some other purpose? How about it, does anyone know?
East of Tallahassee is the old town of Monticello. From Monticello we took a county road heading northeast to Quitman, Georgia through a series of rolling hills lined with grand old dairy farms. Once in Georgia we head east on US-84 through pulpwood country again. It seems that every little community along the route had a lumber mill, pallet manufacturer or some other industry designed to process forest products. Several times we spotted businesses stripping bark off acres of pine tree and cypress logs and bagging the bark. Now I know where Lowe's and Home Depot get all those bags of bark.
The only other thing of note was the number of robins we saw. I suppose the severe cold snap of the past few days has driven them from their haunts farther north.
Monday, January 27, 2003 Blythe Island Regional Park Campground in Brunswick, Georgia. Full hookup with cable $24 per-night.
Brunswick is one of this country's old cities. Founded in 1771 it is named for Braunsweig, Germany. Braunschweig is a city in Germany, about 35 miles southeast of Hanover. The city is also called Brunswick. It lies on the banks of the Oker River, in a rich farming area.
Why the English named it for a German town is a mystery to me. While Brunswick sports a German name it actually reflects its English heritage. Three of the main streets in town are Newcastle, Norwich and Gloucester. Victorian architecture is evident in many of the old homes still standing in the downtown historic district.
Keep in mind that Brunswick was settled nearly 100 years prior to the Civil War and 4-years before the Revolutionary War of 1775. Yet much history had passed through the area during the "colonial-era" prior to the settlement of Brunswick. In 1526, Spain founded the first European settlement in the present-day United States. Historians believe that this settlement, named San Miguel de Gualdape, was located somewhere along the coast near Brunswick. Before the end of the year, malaria and other diseases killed about two-thirds of the original population of 600. The remaining settlers returned to the West Indies in early 1527. From 1562 to 1564 France explored the Georgia coast and built fortifications. In 1565 Spanish troops expelled the French and maintained control over the Georgia coast until they were ejected by the British in 1742.
In the early 1700s the Spanish and English were both establishing colonies/outposts along the coast of Georgia. In 1733 Englishman General James Oglethorpe and 120 colonists settled in the vicinity of present day Savannah in the hopes of establishing colonies along the entire Georgia coast. In 1736 Oglethorpe established a military outpost/town at Fort Frederica on St. Simons Island to defend his British "Georgia" colony from the Spanish. Then in 1742 Oglethorpe badly beat invading Spanish troops from Florida, in the battle of "Bloody Marsh" on St. Simons Island. Within 10 years of this historic victory Oglethorpe returned to England deeply in debt. In the 21-years that Oglethorpe controlled Georgia more than 4,000 settlers arrived. Note that all this occurred during the "colonial-era" and before Brunswick was settled in 1771 and 120 years prior to the Civil War.
A visit to St. Simons Island while in Brunswick is a must. St. Simons Island is filled with "colonial-era" history. The battle of "Bloody Marsh" was fought less than a mile from what is now "the village". While visiting St. Simons Island you should drive down Demere road from the village and visit this historic spot where a small English force under the command of British General Oglethorpe, ambushed and defeated Spanish troops pushing northward from Florida to attack Fort Frederica. As it turns out this victory determined that English, not Spanish, would be spoken in what is today the southeastern United States. It can certainly be said that Oglethorpe's victory shaped the course of colonial American history.
Demere road, one of the main arteries transversing St. Simons Island is named for Captain Raymond Demere who served under General Oglethorpe. As one of the original colonists, the northeastern portion of St. Simons Island was granted to Demere who named his home Harrington Hall. Today that area of the Island (Harrington) is considered to have the Island's largest concentration of residents who trace their ancestry directly back to African-American slaves.
Driving north on St. Simons Island you will find Fort Frederica, now a national monument. That little fort/town and the people who colonized it played a large role in the early history of our country. It was these "colonists"/"troops" that defeated the Spanish in the battle of "Bloody Marsh" and in turn determined the course of history for the southeastern United States.
While on St. Simons Island soaking up the history we toured the lighthouse and ate at the 4th of May. The 4th of May is a quaint little place on the corner in the "village". It is popular with locals as well as snowbirds. They have daily lunch specials with entrée and several vegetables (all good southern cooking like grandma used to do). It is highly recommended for lunch.
Brunswick claims to be the official home of Brunswick stew. Joyce and I inspected a large cast iron pot at the local visitors center purported to be the pot in which Brunswick stew was first made. Although Brunswick, Georgia claims to be home to the famous Brunswick stew several other places also make that claim, I think. One of them may be Brunswick, Maine and the other the county of Brunswick in Virginia. Does anyone have any reliable information that might suggest Brunswick stew originated elsewhere?
Tuesday, January 28, 2003 Blythe Island Regional Park Campground in Brunswick, Georgia. Full hookup with cable $24 per-night.
Yesterday we toured SSI (St. Simons Island) and the lighthouse. Lighthouses on SSI have a long and storied history. The channel from the open ocean into the harbor is tricky and treacherous. Construction on the first lighthouse began in 1804. Remember that the American Revolutionary War occurred in 1775 so the new government of the "United States of America" constructed this lighthouse.
Confederate forces blew up that lighthouse in 1862 to prevent its use by Federal troops. The lighthouse we toured today was constructed in 1872 (after the Civil War). The original light was an oil-fired lantern. Today it is an electric light with its original 3rd order Fresnel lens shining brightly 18-miles out to sea.
Across the river from our campground we can see two enormous cargo ships tied to the pier on Colonel's Island just south of us. These ships are off-loading Japanese automobiles. Brunswick is one of the leading ports on the eastern seaboard for automobiles. As you approach Jekyll Island from the south on US-17 you will see hundreds of acres of new cars waiting to be loaded on carriers. The land is so flat in this area that these gigantic ships can be seen from a great distance. The ships are visible from I-95 where it crosses the Brunswick River just south of Brunswick.
We ate lunch at the Georgia Pig. The Georgia Pig is one of those places constantly written up in national publications for their exceptional Bar B Que. The New York Times Food Editor has featured it 5-times. Roadfood lists it as a must do! The list goes on and on. Joyce and I had to do it.
Now for my assessment: The whole time I was there I kept thinking about being at a basketball game playing against an OVERRATED opponent. I just wanted to breakout and start chanting OVERRATED, OVERRATED. Admittedly I am NOT a Bar B Que connoisseur. I can take or leave Bar B Que. Remember it is the Bar B Que lovers that rave about this place so my opinion really should not count for much.
To get to the Georgia Pig start from the I-95 and highway-17 intersection south of Brunswick, Georgia. It is located on the northwest side of the intersection, the third building north of the big Pilot truck stop. The reason I give such detailed instructions is because the place is hard to find even if you know where it is. It looks like and is a real dump. The term rustic does not do this place justice. No paint has ever touched the outside of the building, it sits far off the road, there is a dirt parking lot, the sign is hard to see much less read. Inside is not much better. The walls are decorated with Elvis memorabilia and framed articles from features in national publications. The individuals working in the place are rude and unfriendly. Now with all that said there was a crowd of Bar B Que enthusiasts chowing down. If you are a Bar B Que lover go for it! If not a die-hard Bar B Que fanatic you can skip it.
We spent the afternoon on Jekyll Island. Jekyll is one of a series of barrier islands located along the coast of Georgia. The State of Georgia owns Jekyll and controls development on the island. The island has significant history. In the 1730s when Oglethorpe and his 120 colonists arrived from England they scattered out. Some stayed in the area of Savannah, some at Fort Frederica on St. Simons Island and some on Jekyll. Major William Horton "colonized" Jekyll from 1733 until the 1760s. Interestingly enough the island was named for an Englishman who invested 600 pounds in the company that sponsored the colonization. Mr. Jekyll was not one of the colonists. Written records indicate that Major Horton's farming efforts on Jekyll were successful and that the group there actually produced enough food to keep the colonists at Fort Fredericka from starving. The Fort Fredericka colony was not self-sufficient. After Horton's death Major Demere from the St. Simons Island Colony "owned" the island.
Around 1790 a Frenchman by the name of DuBignon purchased Jekyll Island. What are the English doing selling the island to a Frenchman? It does not make sense to me but that is what happened. Of interest to Joyce and I is the fact that Dubignon is Joyce's Dad's middle name. He is English! Now we know Dubignon is French. What is an Englishman doing with a French middle name? Some things drive me crazy.
Dubignon, like the French we have studied in Louisiana did not assimilate into the population. He stayed on his island with his slaves and did not associate with his English neighbors on surrounding islands and the town of Brunswick.
In 1886, 20 years after the Civil War (1861-1865) Jekyll Island was purchased by the Jekyll Island Club. This elite "club" consisted of many of the wealthiest men in the world in fact the members of the club represented 1/6 of the wealth of the entire world at that time. Club rolls included such names as Morgan, Astor, Rockefeller, Gould, Goodyear, Crane, Vanderbilt, Pulitzer and others. They were a snobby bunch. They wintered on the coastal island with their families in grand "cottages". The Jekyll Island Club refused entry to the Island to non-members no matter how influential or important. Some really big names got snubbed. It is said that the idea for the Federal Reserve came from the clubhouse on Jekyll.
When the stock market crashed these families fell on hard times. The club failed to pay taxes to the State of Georgia and when things were finally settled the Jekyll Island club was no more and the State of Georgia had an Island. Now for the price of $3.00 anyone can visit the island.
Tuesday night Joyce and I met with a group of Joyce's high school friends at a local restaurant where we all had a good time. We thank Sandra for putting this together.
We got word that my Father passed away this afternoon (Tuesday). Joyce and I headed back to Panama City Beach Wednesday morning.
Now you know why you have not heard from us.
Until next time remember how good life is.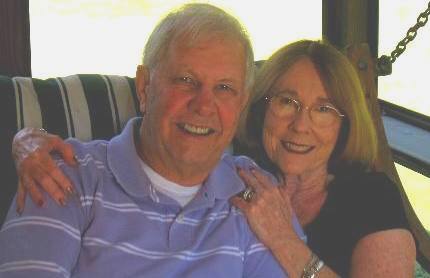 Mike & Joyce Hendrix who we are
We hope you liked this page. If you do you might be interested in some of our other Travel Adventures:
Mike & Joyce Hendrix's home page
Travel Adventures by Year ** Travel Adventures by State ** Plants ** Marine-Boats ** Geology ** Exciting Drives ** Cute Signs ** RV Subjects ** Miscellaneous Subjects
We would love to hear from you......just put "info" in the place of "FAKE" in this address: FAKE@travellogs.us
Until next time remember how good life is.