Rio Bonito Ranch, Texas
Places Visited:
Texas: Rio Bonita Ranch
Wednesday, April 6 Kerrville-Schreiner Municipal Park Kerrville, Texas $21-30-amp FHU paved interior streets and pads N30° 0.338' W99° 7.573' or 1-mile south of town on SR-173 phone 830-257-5392.
Today is a day dedicated to good friends. There is really nothing like friends, and good friends are even better than that. We had originally planned to be heading the motorhome west to probably Sonora today. However, we got a phone call from friends in Ft. Pierce, Florida. They were arranging for us to visit the famous Rio Bonito Ranch west of town, would we stay in Kerrville for another night? You betcha! How did we get so lucky? It just so happened that friends Dale and his wife Cheryl are old, old friends from our time in the Navy in Brunswick, Georgia. Dale married Cheryl and I married Joyce while stationed at Glynco Naval Air Station in Brunswick, Georgia back in the late 60's. We have been friends ever since. Dale and Cheryl's son Wayne worked at the Rio Bonito Ranch years ago when he was in his 20's and still had connections with the ranch owners. That is how this opportunity came about, well that and a number of phone calls.
Cheryl called to give us the Gate Code so we could get on the ranch and tell us to be there at 10:00 so we could eat breakfast/lunch with everyone when they come in from the morning hunt. The ranch is a big time hunting lodge as in 16,500 acres, 27-miles of fence to get around the property. This is prime white tail deer and turkey habitat in addition to the 16-species of exotic game. We didn't want to be late and arrived at the main gate a little after 9:00 this morning.
Scissors tailed flycatcher
Not wanting to be too early we goofed off around the front gate until around 9:20 watching a variety of birds we do not see in Florida like vermillion fly catcher and scissors tail fly catcher.
Front Gate to Rio Bonito Ranch
The road from the front gate to the Lodge is only 5-miles long but it is privately maintained if it is maintained at all. We started down the road in our Saturn making about 5-mph dodging holes that would gobble our Saturn in a heartbeat.
Entrance to the Lodge at Rio Bonito Ranch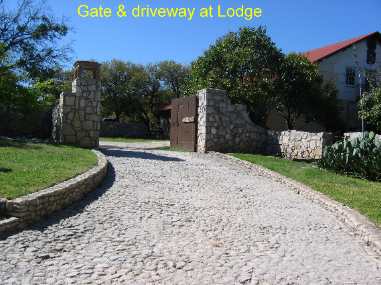 We arrived at the Lodge a few minutes after 10:00. Thankfully, the boss, Gwen, was not there to meet us so we visited with lodge guests that had skipped the early hunt this morning. They had bagged trophy game on the hunt yesterday afternoon and were too tired to get up for the early hunt this morning.
Inside the Lodge at Rio Bonito Ranch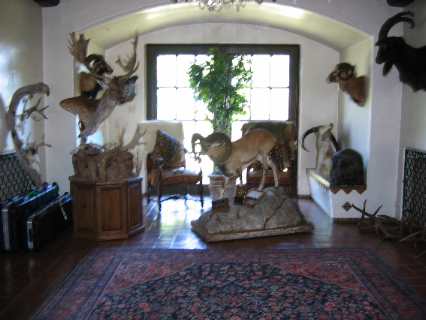 While we waited for the rest of the hunting parties to return we toured the old 28,000 square foot hacienda style mansion that serves as the hunting lodge. The place has 19 bedrooms! They serve 3-meals a day many consisting of savory dishes of exotic game.
Dining table at the Rio Bonito Ranch Lodge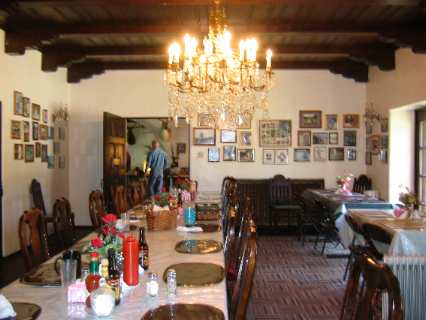 When everyone arrived from the morning hunt we had breakfast around a beautiful antique table that seats 20 guest.
Several hunting parties had their wives and children with them. Some grandfathers had grandsons with them. It is a classic setting in a beautiful area and the Lodge is so special. Trophy mounts cover the walls. Exquisite ranch furniture sets off the lobby of the lodge. The ranch is crawling with Whitetail deer and Rio Grand Turkey in addition to axis, Sika and fallow deer, ibex, aoudad sheep, Barbado rams, Texas Dall ram, Catalina goat, Mouflon ram, Corsican ram, black Hawaiian rams and wild Russian boars/hogs. In addition they have addax, eland, silk, oryx, black buck antelope, axis deer, buffalo, elk, fallow deer, red deer, Nelgai and big horn rams.
It is amazing how many of these exotics are roaming the 16,500 acres around this place. When Raymond took us on a tour of the property in one of their special 4X4 Suburbans we were able to see many of these exotics plus a good number of wild turkey. I just thought the main road from the gate to the lodge was not maintained, my bad, it was in wonderful shape. Raymond took us on paths/trails I wasn't sure the 4X4 Suburban was going to survive but it did. One of the hunting parties out this morning broke down and another vehicle had to be sent to rescue them. I can see how this could easily happen. Raymond told us they do not allow hunting from vehicles.
Dam and the lake it created on the Rio Bonito Ranch
This dam was built by the Hacienda owner back in 1920 in the hopes of using the water for an electric generator. A subsequent drought made electrical generation infeasiable. The lake that was created is still used today. Raymond told us that when it rained so much water comes this way that over 2' of water would flow over the entire length of that dam. The thought of that is so awesome.
End of a successful hunt at Rio Bonito Ranch
On the way out to the front gate we passed one of the big Suburbans with a load of hunters and the beautiful ram one of them had taken. I couldn't identify exactly which species but it had big rounded horns indicating some type of exotic ram.
Wild emu at the Rio Bonito Ranch
Then an emu jumped up from its resting place to give our Saturn the once over as we slowly passed.
We really had a good time. They treated us like special guests even though we weren't part of the "guests" that were paying to stay at the lodge. If you are a hunter or know someone who is that is looking for an opportunity to go Trophy Game Hunting both Native and Exotic they could not find a finer place. More information can be found at www.riobonito.com or exotics@riobonito.com phone 1-800-864-4303 tell Gwen & Raymond you read about them in our travelogues. The ranch is a wonderful setting for a church group in the summer when things are off season as far as hunting goes. It is also a wonderful setting for "business groups" where the partners in a firm get away (possibly with their families) to plan the coming year or have their annual meeting. The lake and lodge would make an outstanding setting.

Until next time remember how good life is.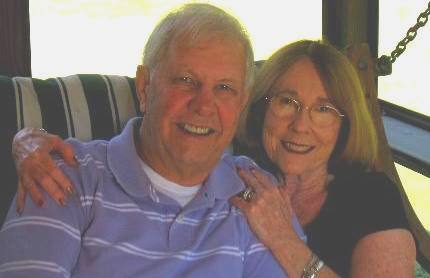 Mike & Joyce Hendrix who we are
We hope you liked this page. If you do you might be interested in some of our other Travel Adventures:
Mike & Joyce Hendrix's home page
Travel Adventures by Year ** Travel Adventures by State ** Plants ** Marine-Boats ** Geology ** Exciting Drives ** Cute Signs ** RV Subjects ** Miscellaneous Subjects
We would love to hear from you......just put "info" in the place of "FAKE" in this address: FAKE@travellogs.us
Until next time remember how good life is.