Florida: Ft Pierce and Okeechobee
Places Visited:
Florida: Ft Pierce and Okeechobee
Sunday, January 4, 2004
Land Yacht Harbor: Melbourne, Florida -- N28° 06.550' W80° 41.650' $25 Full hookup
With all the family in attendance we celebrated Pop's 90th Birthday. What can I say? We ate and fellowshipped all day and into the night.
Monday, January 5, 2004
The Savannas County Park Ft Pierce, Florida. Phone 772 464-7855 Elect & Water $20
N27° 23.01' W80° 18.48'
This morning, with our week of "family" responsibilities and activities behind us, we moved the motorhome 61-miles south to Ft Pierce. We arrived in Savannas County Park shortly after noon. After grabbing a bite to eat we headed out for some sightseeing. Our drive took us into Ft Pierce along Indian River Drive (state 707). Indian River Drive isn't on any of the National "Scenic Drive" lists that I know of but, if I was publishing a list of scenic drives, this would be on it. To the east is the Indian River to the west is upscale homes with beautifully manicured yards featuring a wide variety of tropical plants. Cocoanut palm trees are the predominant tree with rich groupings of hibiscus splashing color.
From downtown Ft Pierce we headed east & south on A1A. That took us across the Indian River to South Hutchinson Island and Jetty Park at Ft Pierce Inlet. If you are into fishing, the south jetty picnic and fishing area is for you. It is also a good place for a picnic or to access the beach. The park is lined with cocoanut palm trees. Warning, this park is NO PLACE for an RV since the park is a dead end road with no RV-parking and more importantly no place to turn an RV around. Cocoanut palms are easy to identify since they prominently display those distinctive "seeds" we are all familiar with. None are ripe this time of year. We are mostly seeing half grown cocoanuts. Smaller immature cocoanuts are green with larger more mature ones turning shades of yellow, gold and orange. I wonder when the cocoanuts turn brown like the ones we see in the grocery stores.
After touring the community around south jetty county park we headed back to the mainland on A1A to US-1 where we drove north a mile or so then turned east & north on A1A again. North Hutchinson Island is home to North Hutchinson Island State Park located on the south end of the island at the inlet where sea going boats traverse between the Atlantic Ocean and Indian River Lagoon.
Tuesday, January 6, 2004
The Savannas County Park Ft Pierce, Florida. Phone 772 464-7855 Elect & Water $20
N27° 23.01' W80° 18.48'
We turned to serious sightseeing today with a full schedule.
Our first stop was Heathcote Botanical Gardens in Ft Pierce, N27° 25.07' W80° 19.36' Savannah Road approximately 2/10-mile east of US-1. Like most botanical gardens this one had its genesis in an individual passionate about plants. The garden features numerous exotic plant species in addition to native trees and shrubs. To their credit the volunteer staff has placed identification plaques on the majority of plants. We appreciate that special touch.
Patio Restaurant in Vero Beach, Florida
Next we drove north 11-miles to Vero Beach and the Patio Restaurant.
Our friends, Dale and Cheryl, from Ft Pierce told us about this place and we are glad they did. The food is good while the eclectic decor is truly fascinating. The Patio Restaurant, US-1 at 11th Avenue has been around for a long time. Back in 1945 it was operating as an ice cream parlor. The owner has been collecting an interesting menagerie of stained glass, wrought iron, Spanish tiles, and hand carved wooden pieces putting them on display in the restaurant. Many of the wrought iron pieces and Spanish tiles were brought to Florida by Addison Mizner the world famous architect responsible for much of the beauty of Palm Beach and its fabulous mansions. A tile bar in the main dining room features tiles brought over from Spain. Individual tiles in the unique bar portray the coat of arms of the Spanish royal family. Hand painted floor tiles; hundreds of years old are displayed in the floor of the main dining room.
Mother and Joyce both like to think that they are a bit haute monde and can spot "quality-furnishings". When put to the test neither could pick out the Tiffany lamp from the others. When told which one the "Tiffany" was they were appalled. My opinion of the Tiffany lamp was --- well, something that would go for $2.00 at a yard sale. So much for what I know --- and so much for what Mother& Joyce know about "quality-furnishings". They have been exposed.
A wall above the bar featured hand carved wooden panels of bridal chests carved by the Druze tribe in the mountains of Lebanon. In the main dining room one wall featured hand carved casket tops from some exotic corner of the globe. Lighting fixtures are an amusing collection obtained from a variety of turn of the century mansions. Two matching light fixtures in the bar are reputed to have been stolen from James Cagney's place. The red room showcased a variety of stained glass obtained over the years from demolished luxury hotels.
A stop for lunch at the Patio Restaurant is recommended not only for the food but to enjoy the display of these decidedly eclectic items. They have a web page at www.veropatio.com that may contain more information, if you are so inclined.
After lunch we went through the Indian River Citrus Museum. You may not know it but citrus is not native to North America. Oranges first reached the "new world" in 1493, carried by Christopher Columbus on his second trip to the West Indies. On all Spanish ships bound for America, each sailor was required by Spanish law to carry 100 seeds with him. They carried these seeds in sealed clay olive jars.
In all likelihood Ponce de Leon introduced oranges to the North American mainland when he discovered Florida in 1513. These "sour-oranges" were spread across the state by native Indians as well as settlers. By the 1800s these sour oranges were growing wild and in cultivated groves. Prior to 1895 all Florida oranges were sour.
That all changed when Douglas Dummitt discovered a single sweet orange tree. When he grafted these sweet buds onto his wild "sour" orange stock ---- Indian River citrus was born. If you have never heard of Indian River citrus don't let anyone know. Indian River citrus is tantamount to Idaho potatoes, Pecos River Valley cantaloupes and Vidalia onions.
Indian River citrus became so sought after that the Federal Trade Commission issued a cease and desist order in 1930 that prohibited the use of "Indian River Citrus" by any citrus not grown in the Indian River area - (The natural watershed of the Indian River).
Ahhhhhhh, the things we learn in a museum. We will never be the same.
From the Indian River Citrus Museum we headed south on US-1 a few miles to McKee Botanical Gardens. McKee Botanical Gardens, like all other botanical gardens, was started by individuals. The original gardens consisted of 80-acres. Only18-acres remain but they are a truly 18 wonderful acres. Royal palms are the featured tree but a variety of other exotics are on display.
In addition to exotic plants McKee Gardens also features the world's largest mahogany table. The single slab of Philippine wood measures 35 feet 10 inches long, nearly 5 feet wide and 5 inches thick weighing more than 2 tons. Waldo Sexton, one of the founders and owners of McKee Jungle Gardens saw the table in 1903 at the St. Louis Louisiana Purchase Exposition. He purchased it and had it shipped by boat to Vero Beach. Anyone who has traveled through Louisiana and seen the large tables made from ancient cypress trees or Texas where they feature similar tables made from giant pecan trees will appreciate this magnificent mahogany table.
Mike next to a huge cypress stump at McKee Gardens
Mike next to a huge cypress stump at McKee Gardens.
McKee Gardens is recommended especially if you are a plant enthusiast. The only negative of the garden was the dearth of plaques to identify the myriad plants & trees on display.
Like I said earlier, this was a busy day. We are making up for lost time.
Wednesday, January 7, 2004
The Savannas County Park Ft Pierce, Florida. Phone 772 464-7855 Elect & Water $20
N27° 23.01' W80° 18.48'

A cold front blew in last night with a vengeance. Strong winds buffeted the motorhome all night. This cold front dropped the temperature from highs of 80 to highs of 70.
We met Dale and Cheryl at Lenzis Diner for breakfast this morning. This restaurant is located on US-1 at the intersection of Sunset Boulevard in Ft Pierce. It is the only place that we have eaten in Ft Pierce that we would recommend. In addition to a good breakfast menu they have interesting lunch specials that we will try on return trips.
After breakfast we said our good-bys to Dale & Cheryl and headed south on Indian River Drive to Jensen Beach where we took the causeway over to Hutchinson Island. We meandered a few miles south on Hutchison Island following A1A south until stopping in Elliott's Museum. Elliott's Museum is located on the south end of Hutchinson Island just before A1A turns west to cross over the Indian River Lagoon and St. Lucy River.
Elliott Museum honors the memories of both Sterling & Harmon Elliott (father & son). Sterling Elliott was a successful inventor from the turn of the century and winter resident of Stuart. Many Elliott inventions are on display in the museum including several of his bicycles. His patent on the "kingpin", used in automotive steering mechanisms, made him a wealthy man.
An automobile gallery houses an impressive array of antique automobiles and motorcycles even vintage evinrude outboard motors. The mint condition 1911 & 1915 Harley-Davidson motorcycles are a hoot; to say they have come a long way is an understatement.
One area houses a collection of Martin County History. I particularly enjoyed pictures from the old fishing industry in Stuart. They showed giant sword fish and equally impressive Jew fish. Joyce and Mother enjoyed the room displaying expensive "parian" porcelain dolls and accoutrements necessary for such a collection. Some haute exhibits are a bit over this red-necks ability to appreciate----this was one of them.
Joyce on beach at Gilbert's Bar House of Refuge near Stuart, Florida
Our next stop was Gilbert's Bar House of Refuge. If you were stopping by this "bar" for a drink you would be sorely disappointed. Built in 1876, Gilbert's Bar House of Refuge is listed on the National Register of Historic Places. Gilbert's Bar refers to a shoal of "Anastasia limestone rock". This ridge of limestone runs along the coastline and has caused many shipwrecks among unsuspecting sailors.
In the 1870s Congress appropriated money to build and operate a series of "Houses of Refuge" along the coast (they were also established on the Great Lakes). Early sailors stranded along the coast would find this area of Florida destitute of inhabitants. Stranded mariners were exposed to the terrors of starvation and thirst before reaching remote settlements. Until these Houses of Refuge the only chance of rescue for ship wrecked sailors along this unsettled coast was by passing vessels on the sea. Thus the need for these government sponsored "Houses of Refuge".
Refuge House Keepers were responsible for providing food, fresh water, medical care and shelter to stranded sailors until they could be picked up by passing ships or supply boats. One of the early Refuge House Keepers at Gilbert's Bar was also the first settler in Stuart. Records indicate a woman happened along, married and settled into the House of Refuge with him. What I want to know is ------------ how did a woman just happen along down here?
Following US-A1A back to the mainland from Hutchinson Island we turned south on a peninsula of land known as Sewalls Point. This was our outstanding sightseeing opportunity of the day. The peninsula is about 1&1/2 miles long, well garnished with posh estates showcasing gorgeous yards and landscaping. We are enthralled by the lush tropical vegetation liberally interrupted with blazes of color provided by lavender and crimson flowers. If you are visiting this area a leisurely drive through the Sewalls Point neighborhood will be worth your time especially if you like tropical foliage.
Thursday, January 8, 2004
Big "O" RV Resort 866-357-9619 $36 ($18 Passport America) full hookup.
N27° 10.215' W80° 51.412'
We moved from Ft Pierce to Okeechobee this morning. Okeechobee is located 45-miles southeast of Ft Pierce at the north end of the eponymous Lake. The drive inland from the coast took us from "the coast" through an area of citrus groves and finally into cattle & dairy country.
The area around Okeechobee is cattle country. The town of Okeechobee is a cow town catering to the cattle & dairy industry. It is kind of a cowboy hats and pickup trucks town. The local cattle auction is the largest in Florida and second largest east of the Mississippi. The difference we see in cattle around here and out west is the number of cattle per-acre in this area where as out west they think in the number of acres required to graze one head. This grass is green and lush and cattle have their work cut out trying to keep it manageable. Larson Dairy north of town is one of the largest dairies in the world with a heard size of 10,000 cows. Two different cattle ranches in town are reputed to have heard sizes in excess of 15,000 cattle each.
Property along the north side of Lake Okeechobee near the town of Okeechobee is lined with "fish-camps" doubling as RV-Resorts and RV-Parks.
Lake Okeechobee is the second largest fresh water lake entirely within the confines of the United States. Some of the Great Lakes are larger but they border Canada as well as the U. S. Lake Michigan is the only larger fresh water lake totally inside the US. The Great Salt Lake is actually the second largest lake totally in the US but it is ---- salt water.
Love this sign along US-98 south of Okeechobee, Florida
While fish camps cluster along the lake cattle ranches dominate land away from the lakes northern side. As we ventured down the east side of the lake cattle ranches gave way to nurseries growing a variety of exotic palm trees. One nursery was specializing in live oak trees, hundreds of acres of small live oak trees evenly spaced acre after acre. Plant nurseries gave way to sugar cane as we drove south.
To say that an eclectic group populates the area would be an understatement. For those that do not understand "redneck" possibly the sign advertising Rabbits, Coons, Produce, Cat-Fish, Chicks & Gator may help solidify the visual image of a true redneck. We saw that sign about 25-miles south of Okeechobee.
We would have stayed at Okee-Tantee County Park but I desperately needed a modem connection. Okee-Tantee N27° 8.935' W80°521.091' has full hookups or just water & elect sites for $30 a night but no modem connection. Okee-Tantee is directly on Lake Okeechobee. The park doubles as a boat launching facility I might add a BIG boat launching facility. They were having a Bass Masters tournament in the park today. Joyce and I returned to Okee-Tantee around 5:00pm to watch some of the weigh-in from the tournament. A total of over 1,200 bass were weighed in today. All but 20 were released alive after the tournament. The bass were dumped into a live well on a boat and transported back to open water for release. The largest bass of the day was 8 pounds 6 ounces. Today was the second day of qualifying where the field was narrowed to the top 20 anglers who will compete Friday and Saturday.
Wood Stork, Great Blue Heron Great Egret & Snowy Egret gathered at the fish cleaning table
It does not take much to entertain Joyce and I, that explains our infatuation with activity around the fish cleaning table at Okee-Tantee boat ramp. An entire flock of wood storks along with a lone great blue heron were standing guard over the fish cleaning facility. For those of you not in-tune with fish cleaning tables there is a lot of waste that fishermen do not save for the frying pan. Birds and gators like to hang around fish cleaning tables where food can be easily obtained.
Birds on the cleaning table from left to right are wood stork, great blue heron and the small white one is a snowy egret. The next pic is of a Great Egret. While the great egret is not sitting on the cleaning table he is stationed less than 10' from it.
Wood Storks are North Americas 2nd largest birds
Wood storks are North Americas 2nd largest bird, I think that the white pelican is the largest. Anyway, wood storks feed by wading in shallow water with their long, stout bill submerged and open. When they feel food the pill is snapped shut with the fastest reaction time known to vertebrates. This is a non-visual feeding method and as you might suspect works well when food is abundant. That accounts for the army of wood storks around the cleaning table----food is abundant. They are the fresh water equivalents of pelicans around salt water cleaning tables. They are nearly tame and do not expend unnecessary energy fleeing from humans.
Weather today consisted of clear sky and a high temperature of 75 with a low around 60.
Friday, January 9, 2004
Big "O" RV Resort 866-357-9619 $36 ($18 Passport America) full hookup.
N27° 10.215' W80° 51.412'
Mother became ill with a stomach virus last night. It did not abate as the sun rose this morning. In short Mother stayed home while Joyce and I went sightseeing.
Joyce and I headed down the west side of Lake Okeechobee along state highway 78. Our objective was to check out the communities, RV-Parks, parks, canal locks and fishing resorts so we would be better informed on future trips.
In Okeechobee, Zachary Taylor Camping Resort is one of the nicer RV-Parks/Resorts. Most of the residents spend the entire winter in the park and come back year after year. The majority have boats and go fishing every day. For more information try, 941-763-3377 or www.campfloridarv.com
We found a COE park along the way that would be nice for boondockers. This COE Park has about 80 sites with NO facilities/connections. You can stay for 14-days first come first serve is the arrangement. The people there like to fish and stay someplace cheap. This is the Indian Prairie Canal COE Park for want of a better name. It is located at N27° 03.77' W80° 50.55'. We stopped and talked to several groups of people boondocking there. One group was from Ontario. They had been coming to the area for 21-years. They stay in the COE Park for 14-days then go into a commercial park in the area for a week then come back for 14-days. Residents represented everything from an American Dream motorhome to a homemade shelter mounted on a pickup truck. Saving money, fishing and having fun were things they all had in common. Many had boats but others were fishing from the bank.
Down state highway 78 about 24 miles southwest of Okeechobee we located Aruba RV Resort run by Bob & Barbara Geiskopf. Bob has personality plus. He is originally from New York but likes to say he moved here as soon as he could. Bob created Aruba RV-Resort by the sweat of his brow. We learned a lot about the area from Bob. Aruba is nearly full of snowbirds that return year after year to the fellowship and fishing. Bob says that for the 3 summer months he may have a total of 25 people stay in the park. That is totally amazing since the park is packed now. Like other RV-Parks along the banks of the Okeechobee the attraction for most of the residents is fishing and CHEAP living. We liked Bob and his park the only downside would be the distance from the nearest town. For more information on Aruba RV-Resort try 863-946-1324 http://www.okeedirect.com/arubarv.htm
You can find Aruba in Lakeport near fisheating creek.
Another RV-Resort in Lakepark is Northlake R.V. Resort with a monthly rate about $330 plus electric. It is a very nice park and a lot going on. We did not stop at this park but friends have told us about it.
And finally we found "The Marina RV-Resort" located next to the Moore Haven Lock, in Moore Haven where the Caloosahathee River enters Lake Okeechobee. This is a nice enough park that has not been around long. The price was right. For more information try 863-94-2255.
We wanted to tour the lock at Moore Haven but the "code orange alert" the nation is now under had the lock placed "off-limits". We were told that as soon at the nation went back to code yellow they would open the Lock for tours again.
While in the RV-Park office downloading email tonight I struck up a conversation with a lady that asked me if I walked home at night (here in the park). I told her that I did. She warned me to "watch out for the gators". I said really!!! Then she told me that they feed at night and proceeded to tell me about the "big-one" that sunned himself behind her RV during the day. Back at the motorhome we all had a big guffaw. Someone has really been stinging this lady along -- she appears to be a good candidate for a "snipe" hunt. For those of you that are not familiar with alligators, they are extremely common in south Florida. For the most part they do not harm people but will eat pets like dogs and cats. Their primary food source is fish and turtles. Florida has a law prohibiting the feeding of alligators. That keeps them wild and wary of humans. Around Okeechobee fishermen are catching and cleaning fish on a daily basis. Alligators frequent the many waterside cleaning tables as do storks, herons, pelicans and other creatures. Regulars, enjoy the company. Large alligators that do this are considered nuisance gators and the state will remove them. However, those less than 10' in length are basically ignored. For those of you traveling with dogs, be forewarned; don't go off and leave your yapping dog tied in the yard. That is just too much temptation for an otherwise behaved gator. Your dogs yapping may sound like music to your ears but it has a dinner bell sound to the gator. Enough said.
Saturday, January 10, 2004
Big "O" RV Resort 866-357-9619 $36 ($18 Passport America) full hookup.
N27° 10.215' W80° 51.412'
We ate lunch at Pogie's in Okeechobee. It is a local restaurant only open for breakfast and lunch. They cater to the early morning fishermen then offer a lunch special. We enjoyed Pogie's enough to recommend it. The restaurant is named after one of the colorful early inhabitants of Okeechobee. Ole Pogie was a tough brawler in the early 1920s that changed his ways and became county sheriff.

Until next time remember how good life is.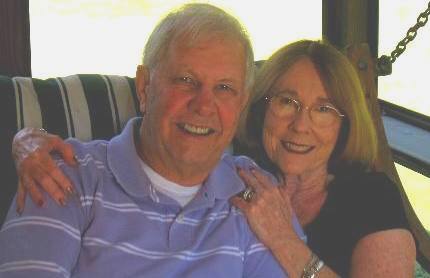 Mike & Joyce Hendrix who we are
We hope you liked this page. If you do you might be interested in some of our other Travel Adventures:
Mike & Joyce Hendrix's home page
Travel Adventures by Year ** Travel Adventures by State ** Plants ** Marine-Boats ** Geology ** Exciting Drives ** Cute Signs ** RV Subjects ** Miscellaneous Subjects
We would love to hear from you......just put "info" in the place of "FAKE" in this address: FAKE@travellogs.us
Until next time remember how good life is.