South Dakota: Custer State Park, Iron Mountain Road, Pig tail bridges, one way tunnels, Mt Rushmore, Wind Cave National Park, Hot Springs, Mammoth Site
Places Visited:
South Dakota: Custer State Park, Iron Mountain Road, Pig tail Bridges, one way tunnels, Mt Rushmore, Wind Cave National Park, Hot Springs, Mammoth Site
Saturday August, 28: Custer State Park Game Lodge Campground: Near Custer in the Black Hills of South Dakota: N43° 45.677': W103° 27.505' $15.00 NO HOOKUPS at all, just a paved pad & interior roads with central dump & water.
The weather is so beautiful. It was in the low 50's last night and got up to possibly 70 today with a clear blue sky.
We moved the motorhome from Rapid City to Custer State Park approximately 30-miles south of Rapid City. It was an easy uneventful drive with abundant scenery. We were traveling south on State Road 79 with the Great Plains stretching to the east and the Black Hills to our west. Leaving Rapid City we were at an elevation of 3,200' with the elevation gradually sloping toward the east and dramatically rising to 7,000' in the Black Hills. State Road 79 hugs the Great Plains at the base of those mountains. While we were traveling in grasslands virtually barren of trees the landscape directly west of us was sporting ponderosa pine. Only a few feet of elevation made the difference or possibly an additional inch of rainfall each year. I read somewhere that the Black Hills got 16" of rain per-year while the surrounding plain averaged 15" or less. The boundary between the forest and plain was dramatic, like a chalk line divided them.
At Hermosa we turned west on State Road 36 for 12-miles or so. Immediately upon turning west we were in hills laced with ponderosa pine. We were gaining altitude constantly. By the time we arrived at the campground in Custer State Park we were at 4,288' of elevation.
On the way into the park we passed a pasture and watched a flock (12 or more) of mature adult turkeys spread out across the large pasture. I was able to slow and pull the motorhome off the road. We were able to get some good video and digital photographs. They slowly made their way across the pasture then stopped in the shade of a large cottonwood tree and rested. It was extremely difficult to spot them sitting still in the shadow of that tree.
Flock of turkey in Custer State Park, South Dakota
We saw another flock of turkeys as soon as we entered Custer State Park then had to stop the motorhome to let 30 or 40 buffalo cross the road before we made it to the campground located only a few miles into the park.
Custer State Park Campground does not have electricity or water just paved interior roads and paved back-in sites. We didn't know that they did not have electricity but it didn't really matter since we did not need electricity and the campground is located exactly where we wanted to be.
Buffalo jam on Wildlife Loop in Custer State Park, South Dakota
Within a few minutes we were in the Saturn and heading out to see the wildlife in Custer State Park. They have one road called the "wildlife loop" that is probably 15 to 20 miles long that is one of the best wildlife drives anywhere. Buffalo by the hundreds are by the roadside, on the road; on both sides of your car in short they are everywhere. Pronghorn antelope are scattered along the entire route. White tail deer are numerous in areas with tree cover. Prairie dog villages abound. Wild turkeys were abundant in the wooded areas on the western end. We watched several flocks wander through some high grass. The almost grown chicks from this years hatch were chasing down grasshoppers and other bugs in the grass while the adults seemed to be searching for grass seeds. We must have seen 50 or more turkey in total but generally in groups of 10 or 12. Big horn sheep and mountain goats can be seen along the wildlife loop but not on every passing. We were fortunate enough to see a group of 4 mountain goats today.
Mike feeding wild donkeys on Wildlife Loop road in Custer State Park, South Dakota
Donkeys are smart animals. They know that automobiles will stop if they stand in the road. They operate like the train robbers of old. One gets in the road to stop traffic while the others move from car to car trying to get their head in and find crackers, peanuts, bread, carrots, crackers you name it they will eat it. They are fat as they can be. They have this routine down pat. We had some saltine crackers so I rolled my window down and fed them while Joyce took video and digital pictures. They are not satisfied with keeping their heads out of the car when they know there are more crackers inside. The critters will stick their head in the driver's window and snatch crackers out of the passengers hand or lap, ask Joyce who was holding the crackers while I fed them to the burros.
What an experience. It is something you just have to do if you visit Custer State Park.
Upon reaching the west end of wildlife loop road it was time to stop for lunch which we did at the Blue Bell Lodge. In addition to Blue Bell Lodge there is Blue Bell Campground if you want to camp under the tall ponderosa pines.
It was time to reverse our tracks and head back. This time while traversing the wildlife loop we saw several more large groups of turkeys but the buffalo that were so plentiful on the trip over had disappeared over some hilltops and we didn't want to pursue them down the gravel roads. There was enough to see from the pavement.
Flock of turkey near Wildlife Loop Road in Custer State Park, South Dakota
Pig tail bridges on Iron Mountain Road in the Black Hills of South Dakota
Back on the east end of Custer State Park we stopped by the motorhome to refill the drink cooler and change into some warmer clothes. We were heading up to Mt Rushmore to watch the laser light show that starts around 9 PM. The laser light show didn't really interest us but it was a good excuse to take in the scenic Iron Mountain Road from Custer State Park to Keystone & Mt. Rushmore. Every book on scenic highways published has US-16A locally known as the Iron Mountain Road in it and for good reason. It is the road that they said couldn't be built. Iron Mountain was just too steep and there wasn't enough room to build the required number of switchbacks. That was the truth but someone came along that was "thinking outside the box" & substituted "pig tails" instead of switchbacks. Some of you may not have heard of a pig tail that replaces a switchback. It is where the road corkscrews and passes under itself. I think that there are 4 of these pig tails on a two mile stretch of the Iron Mountain Road. To say they are exciting would be an understatement. One or more of the pig tails has its genesis at a one way tunnel. That is something else that is exciting. A sign at the entrance to the tunnels reads "blow your horn one lane tunnel". Now that was a good idea but drivers were so occupied with lining their vehicle up to go through the tunnel that they forgot to blow their horn. None of these tunnels is accessed with a straight angle into the tunnel, there isn't room. On two of the tunnels you pop out into mid-air, literally. The road on the other side of the mountain is suspended and spirals down going under itself on the way down. One tunnel if not two opens up with a view of Mt Rushmore about 3-miles away. What a beautiful sight popping out of one of those one-lane tunnels and seeing Mt Rushmore through an opening in the trees made just for that view. That view only lasts a moment because the road abruptly takes a sharp turn. However, as you descend Iron Mountain Mt Rushmore comes into view several other times. That is one thrilling ride.
Tunnel on Iron Mountain Road in the Black Hills of South Dakota with a view of Mt Rushmore in opening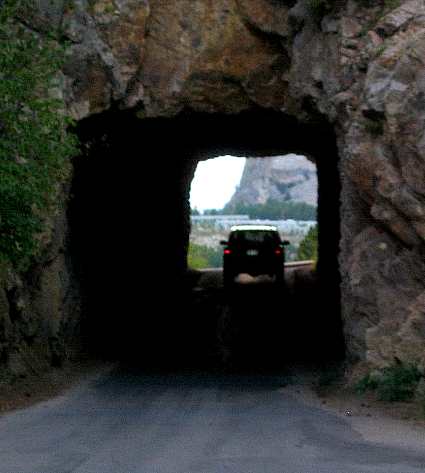 Besides Iron Mountain Road being a thrilling drive it was full of wildlife. We saw several flocks of turkeys and were able to count over 20 at one time. Since it was getting late in the day deer were out and it was too difficult to keep count. Buffalo were abundant but not like earlier in the day.
View of Mt Rushmore from the highway west of Keystone, South Dakota
Once we arrived at Mt Rushmore we decided we didn't really want to wait another hour for the laser light show to begin so we just looked at the faces on the mountain from the highway then turned around and headed back over Iron Mountain Road.
That drive over Iron Mountain is one "kick in the pants". Don't miss it if you are in the area. One of the funniest parts of the drive is to look into the eyes of those SUV drivers. There is TERROR in those eyes. They can't keep their SUV on their side of the road; they want some of my side. They are particularly funny when the pop out of one of those super narrow one way tunnels. Another funny thing is the big SUVs and dually trucks are so preoccupied with the smallness of those tunnels that they don't beep their horn when going through. I think the "oh my gosh" factor freezes them.
Sunday August, 29: Custer State Park Game Lodge Campground: Near Custer in the Black Hills of South Dakota: N43° 45.677': W103° 27.505' $15.00 NO HOOKUPS at all, just a paved pad & interior roads with central dump & water.
Today was the day we scheduled to head south to Hot Springs and the Mammoth Site. We had several other things on our list like the Wild Horse Sanctuary and Wind Cave National Park in addition to driving the "wildlife loop" in Custer State Park on our way there and returning.
To our surprise there was not much wildlife on the loop on our way to Hot Springs this morning. We only saw a few antelope and very few buffalo and one flock of turkey wallowing in some wet straw and grass in a stream bed. Once we left Custer State Park and entered Wind Cave National Park we started seeing buffalo, in fact a lot of buffalo in some very scenic settings. Then we were out of Wind Cave National Park and in Hot Springs where we admired the old buildings left over from the days when hot mineral water bath houses were all the rage.
The Mammoth Site was our objective so we headed to it before doing lunch. Friends Buddy & Suzie Kisner told us about this place. They raved on and on about it. There was no way we could visit the Black Hills and not visit the Mammoth Site. It didn't take long to understand why they were so enthusiastic about the place. Suzie was a middle school science teacher. This place was a science teachers dream come true.
At what is now the Mammoth Site, 26,000 years ago large Columbian and woolly mammoths became trapped in a spring fed, slippery-sided sinkhole near the southern edge of hot Springs. The bones of the mammoths that died became preserved in the sinkhole mud. The site was discovered when land was being cleared for a subdivision back in 1974. The site has been preserved and a building constructed over the entire sinkhole containing the mammoth bones (yes, it is a BIG building).
The Mammoth Site is a museum and paleontological site near Hot Springs, South Dakota
Once in the building visitors use an overhead walkway to view the site and see bones still left in the sedimentary rock. Guided tours lead you through the dig site and point out the bones just as they are found. Paleontologists can tell a lot about what happened at the site. Only a few mammoth fell into the sinkhole every year or so for about 100-years. They can tell that because there are layers of sediment between skeletons. The digging is going slowly. They estimate that they have 40 or more years of digging yet to do. They only dig for a few weeks each year and spend the remainder of the year processing and preserving what they dug in those few weeks.
This site is something everyone should see. I can see why Suzie was so excited.
Now, let's get back to the town of Hot Springs. We can't tell you a good place to eat but we can share a place to avoid and that is the Elk Horn Café. It would take several pages to enumerate all the reasons why but suffice it to say we will not go back and will encourage others to avoid it.
In the late 1800s numerous bathhouses, sanitariums and luxurious hotels were built in Hot Springs to host the thousands of visitors who came to bathe in or drink from the warm springs. Most of the larger structures were built of sandstone, and many are still standing today.
The grand five-story Evans Hotel was built in 1891 and is still the centerpiece of Hot Springs. In all, approximately 50 structures were constructed of pink sandstone that was mined only a few miles from town. It is worth a trip to Hot Springs to just admire these old sandstone buildings.
I don't guess that our generation relies as much on the "curative" benefits of the area's mineral springs as previous generations. But the "plunge" or "Evans Plunge" still remains. It is the world's largest natural warm-water indoor swimming pool. The site is built over several small springs and one enormous warm-water spring. You can visit that pool and those springs inside the Evans Plunge building. Fresh clean water circulates in the pool at the rate of 5,000 gallons per-minute completely changing the entire pool every half hour. The pool has something for everyone from a foot pool to a big Whale Slide for thrill seekers.
Buffalo grazing in Wind Cave National Park, South Dakota
On the way back home we stopped by Wind Cave National Park's Visitor Center. We are not cave people but Wind Cave National Park is also an above ground preserve for antelope and bison. We saw a large herd of bison on the way back. They blocked the road for 15-minutes or so. It is not wise to try and push a 2,000 pound bull out of the way when he decides he wants to stand in your lane. When a large group of them gather to face off with automobiles they win.
Wind Cave National Park consists of 28,000 acres of wildlife preserve in addition to one of the world's longest and most complex cave systems. On the surface, antelope, bison, elk, deer and prairie dogs forage in the woodlands and high prairies. Guided tours are offered for the cave visitors above ground visitors only need open their eyes to see the abundant wildlife.
Big Horn Sheep feeding next to road in Custer State Park, South Dakota
Once we exited Wind Cave National Park and entered Custer State Park we started seeing white tail deer then a group of big horn sheep feeding next to the road. Big horn sheep are one of those wild critters that you don't see every day. These were close enough to the road for us to get a good view and good pictures and video.
Further into Custer State Park white tail deer appeared at every turn. Then while watching and waiting for the buffalo to move a sharp tail grouse came walking by not paying any attention to us. That was the first grouse of any kind either of us had ever seen. Amazingly we did not see any antelope this time through and only a few groups of turkeys but we did see several hundred buffalo straddling the road somewhere along that vast expanse of prairie. There is no way we could ask for any more that we have seen. You never know what you are going to see when you take the wildlife loop in Custer State Park.
While buffalo are not the only animals in Custer State Park they are the main attraction. Nearly 1,500 bison live in the park during the summer months. They share 18,000 acres of grassland with other wildlife in the park. During the winter the park's prairie supports from 950 to 1,000 buffalo. Why the difference you might wonder? That difference results from the annual "Buffalo Roundup" and sale.
Each fall in early October the Wild West returns to Custer State Park during the annual "Buffalo Roundup". Park staff, cowboys and cowgirls saddle up to move the park's 1,500 bison to the buffalo corrals. The 2004 roundup is Monday, October 4 and is open to the public.
Buffalo off Wildlife Loop Road in Custer State Park, South Dakota
The roundup serves several purposes. The park's 18,000 acres of grasslands will only support a certain amount of wildlife with buffalo being a major consumer of park "grass". As you might imagine it is very important to keep the herd in balance with the grassland's ability to support the herd and the other wildlife that inhabit the park's prairie land.
The buffalo roundup gathers the herd into large corrals where they are examined by veterinarians. Animals are selected to be sold at the annual auction, held on the third Saturday in November. Animals to be sold at the auction are tested for tuberculosis and brucellosis and all calves are branded. This auction helps control the size of the bison herd and provides a valuable source of income for the park.
In addition to sorting out excess buffalo to be sold all calves are hot-iron branded, the entire herd is inventoried and calves receive preventative vaccinations. Two-year old bulls are semen-tested and all sale animals are back-tagged and bled for brucellosis test. These activities take 4 days and are open to the public.
Just prior to the sale, which is held the third Saturday in November, the sale animals are worked again. Cows are pregnancy-checked, TB tests given and read three days later. Again, the sale animals are back-tagged and bled for brucellosis testing. Friday before the auction, the sale animals are sorted into groups in preparation for the sale.
The park has offered its surplus bison to the private sector since 1966, and has started thousands of private herds. As a result of this sale and others bison have recovered from the brink of extinction in the late 1800s to nearly 250,000 today. About 90 percent of today's bison are privately-owned and the potential exist for the bison population to grow into the multi-millions in the near future. Through their bison sale, Custer State Park has made a major contribution to the recovery of the magnificent animal.
For those interested springtime is calving season with most calves being born in April and May. Then there is the rut that takes place in July and August. And that my friends completes the awesome cycle of life in Custer State Park.
If by chance you want more information on this sale contact Ron Walker at 605-255-4800, extension 207 or email CusterStatePark@state.sd.us
Their website is www.custerstatepark.info it probably has information about the roundup and sale also.
Bill Pounds visited Custer State Park during the annual Buffalo roundup in 2003 and took some awesome pictures that he has posted on his web site:
http://www.billpounds.com/trip2003 start at page 60 to skip the earlier parts of Bill's trip.

We paid for another night in the campground since we had not finished all that we had planned for this area.

Until next time remember how good life is.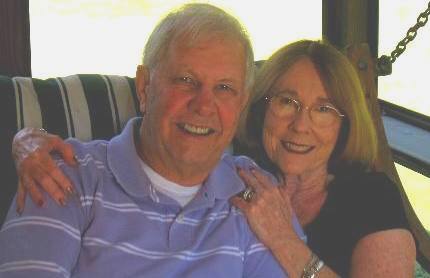 Mike & Joyce Hendrix who we are
We hope you liked this page. If you do you might be interested in some of our other Travel Adventures:
Mike & Joyce Hendrix's home page
Travel Adventures by Year ** Travel Adventures by State ** Plants ** Marine-Boats ** Geology ** Exciting Drives ** Cute Signs ** RV Subjects ** Miscellaneous Subjects
We would love to hear from you......just put "info" in the place of "FAKE" in this address: FAKE@travellogs.us
Until next time remember how good life is.