Deer & Turkey are just some of the wildlife that is easily viewed in Custer State Park located in the southern part of the Black Hills of South Dakota.
We are camped near Custer State Park and the town of Custer in the southern part of the Black Hills at Custer's Gulch RV-Park. It is an OK commercial campground just like dozens of others in this area.
My grandson collects butterflies. I wonder if he could tell me the name of this one.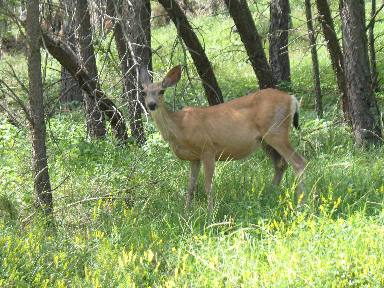 Deer in the Black Hills are as thick as squirrels in the east. In some fields in the late afternoon we counted as many as 20 deer. We see a mix of white tails and mule deer.
Deer in Custer State Park are a dime a dozen.
Turkey wading through tall grass in Custer State Park. It is difficult to get a good picture of them when the grass is so tall and lush.
This is another turkey wading through tall grass.
We saw many flocks of turkey but the largest groups seemed to be concentrated on Lower French Creek road not far from our RV park.
On several occasions we noticed deer and turkey foraging together. This deer was traveling with 10 to 12 adult turkey. I guess they depended on each other as early warning systems.
This is a group of fast moving turkey making their way through tall grass pecking grass hoppers and ripe grain at a fast pace.
Deer, deer everywhere more deer. Custer State Park is full of deer. No wonder we are able to spot mountain lion in Custer State Park.
Deer are thick as squirrels in my back yard.