One of our favorite activities in the Black Hills of South Dakota is to take a slow drive along the scenic Iron Mountain Highway where many of the one way tunnels form a picture frame around Mount Rushmore. I also love the unique engineering design in the pigtail bridges used in place of hair pin turns to navigate down the side of Iron Mountain.
We are camped near Custer State Park and the town of Custer in the southern part of the Black Hills at Custer's Gulch RV-Park. It is an OK commercial campground just like dozens of others in this area.
This is just one of the tunnels on the Iron Mountain Scenic Drive. I included this picture because this tunnel and several others were made to form a frame around Mount Rushmore. Look closely and you can see Washington's head and some of the others as well.
This is one of the "big" tunnels at 10' 6" wide.
You always like to see a falling rock sign when you are about to enter a tunnel on the Iron Mountain Highway Scenic Drive.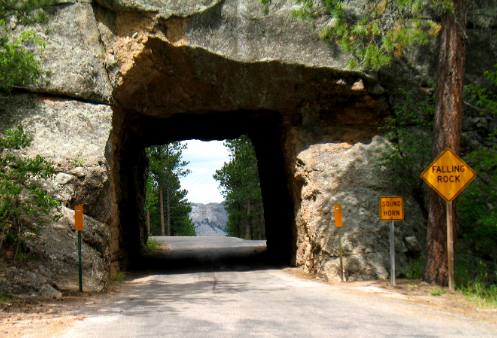 This is another of those tunnels on the Iron Mountain Scenic Drive that frame Mount Rushmore.
This picture may give a better view of Mount Rushmore.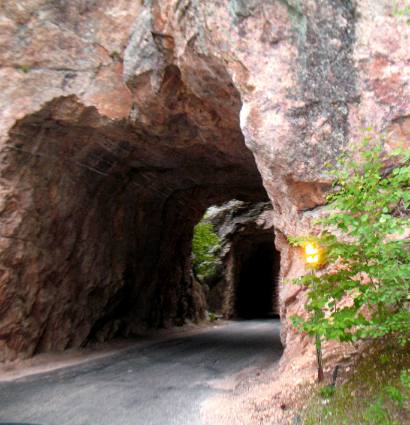 Here we have two tunnels in a row on Iron Mountain Highway. Note that these are one way tunnels.
This is another tunnel that frames Mount Rushmore. We pulled over here to get pictures.
No, that is not any of us. We did not walk through the tunnel rather just taking pictures from this side. I wonder how many of these tunnels frame Mount Rushmore. It seems that every time we go through a tunnel we can see Mount Rushmore.
There are a dozen or so of these one lane tunnel signs on the scenic drives. Thank goodness there is not a lot of traffic.
This tunnel is getting a bit narrow but not as narrow as the "famous" one at the Needles.
A tour bus can go through this one with probably 6" on either side of the mirrors. Nothing I would want to attempt. Traversing the concrete barriers and other construction obstacles on I-10 through Houston (in our motorhome) was enough excitement for me.
That is all there is.