There is so much to see and do in the Black Hills of South Dakota. In this travellog we took the Iron Mountain Scenic Drive through small one way tunnels that showcase Mount Rushmore and feature several unique pig tail bridges with a stop by scenic Sylvan Lake and the awesome rock formations. Then we drove the wildlife loop in Custer State park which is always exciting.
We are camped near Custer State Park and the town of Custer in the southern part of the Black Hills at Custer's Gulch RV-Park. It is an OK commercial campground just like dozens of others in this area.
Custer, South Dakota is a small tourist town. The population is a little over 1800. It sits on the southern end of the Black Hills and is about 13 miles west of Custer State Park's "wildlife-loop". Small ranches such as this one are scattered along US 16A which passes through both Custer and Custer State Park.
This photo of a granite dome was taken along Iron Mountain Road also known as US-16A south of Keystone. Along the drive (Iron Mountain Road) you will encounter many one lane tunnels and three unique pigtail bridges. We enjoyed the drive along with dozens of other tourist as we stopped at one pull out after the other to take photographs. Actually, we enjoyed this drive on several occasions and you will also when you visit the Black Hills.
Rolling hills and green pastures are where buffalo will be found. They roam throughout Custer State Park and one never knows where you might find them. Many times we were on the main road and sometimes we drove the gravel roads. There is one thing for sure, our car didn't stay clean driving those gravel roads, but it is worth it to get off the beaten path.
Those specs on the horizon are buffalo.
This is beautiful Sylvan Lake. The rock formations project out into the Lake and the beauty is awesome. We took a short hike around the entire lake. It is hilly and rocky in some spots but not a bad workout. The beauty keeps you plugging along and the trail takes you back to the parking lot. It was about 70 degrees, perfect for hiking.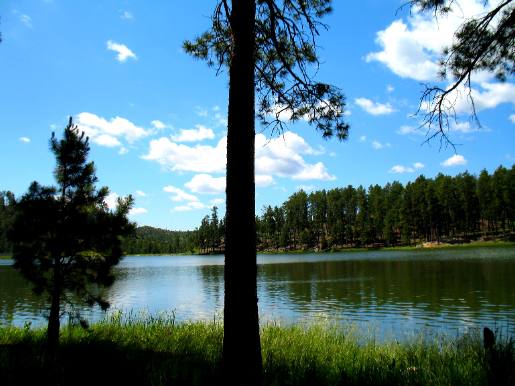 This is Center Lake off Iron Mountain Road. There is also a campground on this Lake.
Blue skies and fields of green grasses. Buffalo should be eating this grass but they have obviously found greener pastures elsewhere.
A striking view as we drove along the "wildlife-loop" in Custer State Park!
This is what comes after a fire.