Feeding the wild donkeys of Custer State Park is one of those "must do" activities.
We are camped near Custer State Park and the town of Custer in the southern part of the Black Hills at Custer's Gulch RV-Park. It is an OK commercial campground just like dozens of others in this area.
A group of donkeys has "mugged" this vehicle.
This family was having fun feeding the donkeys and the donkeys were responding with appreciation.
These donkeys are patiently waiting for me to provide them with a morsel.
Joyce is teasing this donkey. She has her window rolled up. The donkey can see the chip bag in her hand. It did not take long for the donkey to realize the only feeding line open was through my window, no matter who was holding the bag.
This is one of the friendly but wild donkeys in Custer State Park along the wildlife-loop.
The nice donkey sticks his head in the vehicle and spreads his lips waiting for a morsel of food. I am trying to mimic the donkey and at the same time get food to him before he licks my face. I think I do a pretty good job of mimicking him don't you think? Feeding the donkeys is something fun to do in Custer State Park.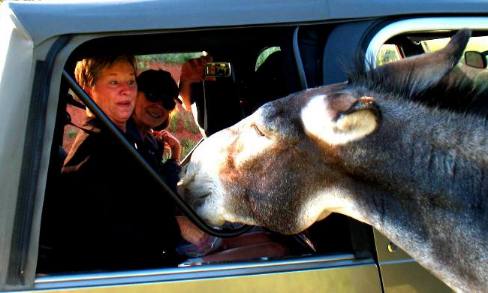 I think Macklyn prefers Les's lips. VBG Joyce is having too much fun to take a picture but I see that Les is taking a picture from the other side of their jeep. It will be cool to see the picture he got from where he is located.
Come on Mac, he only wants a potato chip not a kiss. VBG