Prairie Dogs buffalo & Pronghorn are common in Wind Cave National Park located in western South Dakota.
We are camped near Custer State Park and the town of Custer in the southern part of the Black Hills at Custer's Gulch RV-Park. It is an OK commercial campground just like dozens of others in this area.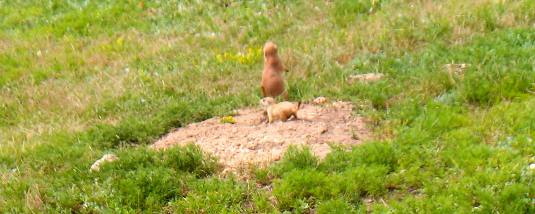 Now that is one fat prairie dog. He is signaling (barking) to all the other prairie dogs in this "town" that a pesky car with Florida license plates has stopped to interrupt our lunch.
This pronghorn, like the buffalo, has yet to shed all its winter coat. All the animals are scraggly looking until they shed that winter coat.
This prairie dog is the colony lookout. His job is to sound the alarm if danger approaches. It looks like he has taken his turn at the buffet also.
This pronghorn in Wind Cave National Park has shed most of its winter coat.
Isn't this a nice pronghorn!
Now this is a good looking pronghorn feeding in Wind Cave National Park.