We are going to check out the Buffalo in Custer State Park which is located on the south side of the Black Hills of South Dakota. The buffalo are best spotted on the Wildlife Loop in Custer State Park and is always an exciting drive.
We are camped near Custer State Park and the town of Custer in the southern part of the Black Hills at Custer's Gulch RV-Park. It is an OK commercial campground just like dozens of others in this area.
There are many beautiful valleys such as this in Custer State Park along the famous "wildlife-loop". Buffalo are often in the far distance as three lone bulls are in this picture.
Rolling hills and green pastures are where buffalo will be found. They roam throughout Custer State Park and one never knows where you might find them. Many times we were on the main road and sometimes we drove the gravel roads. There is one thing for sure, our car didn't stay clean driving those gravel roads, but it is worth it to get off the beaten path.
Those specs on the horizon are buffalo.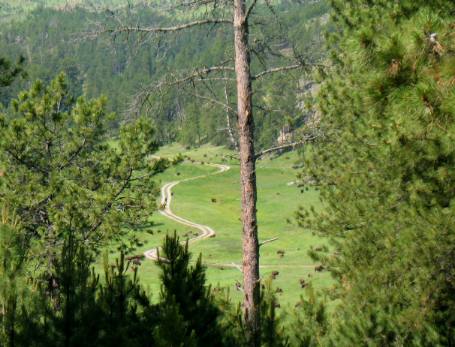 Deep valley with grazing buffalo.
Just one of the many gravel roads! The dots you see in the valley are buffalo in Custer State Park.
A herd of buffalo grazing on the beautiful green hills. What makes this spot so special?
Buffalo look like black dots when they are in the distance.