Wild donkeys and buffalo are staples of Custer State Park.
We are camped near Custer State Park and the town of Custer in the southern part of the Black Hills at Custer's Gulch RV-Park. It is an OK commercial campground just like dozens of others in this area.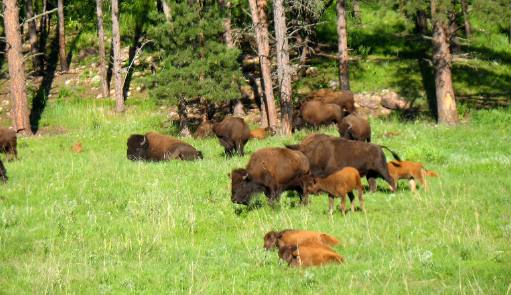 Buffalo cows and calves. This appears to be a good calving year.
Big bull buffalo are solitary animals during most of the year preferring to not be bothered by cows and calves. Things are different during rutting season when they want all the company they can command.
It is early July but the bison have yet to shed all their winter coat.
On this trip the buffalo seemed to be hanging out to the south and west of Custer State Park in and around Wind Cave National Monument. We saw most of the large herds while driving SR-87 between US-16A and Wind Cave.
A lone bull buffalo heading no where in particular.