Buffalo are a common sight in Wind Cave National Park however, coyote are not as easy to spot.
We are camped near Custer State Park and the town of Custer in the southern part of the Black Hills at Custer's Gulch RV-Park. It is an OK commercial campground just like dozens of others in this area.
This coyote in Wind Cave National Park is looking for a prairie dog that is not paying attention. A ground squirrel would do but this one is patrolling a prairie dog town.
This coyote is loping along looking for an opportunity to surprise a prairie dog in Wind Cave National Park.
It will be hard for "Wiley Coyote" to sneak up on this prairie dog.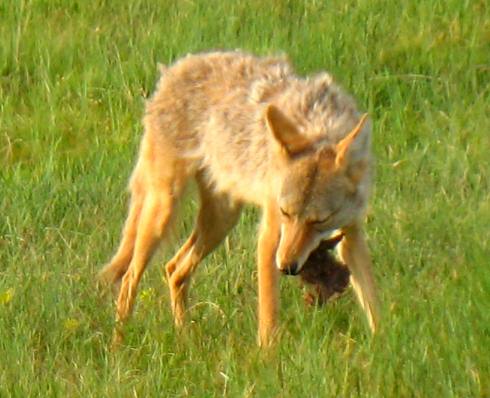 This coyote caught a careless prairie dog and is having supper.
Another coyote eyeing a prairie dog that may join him for dinner, or so he envisions.
More buffalo probably in Wind Cave National Park.
This little buffalo calf needed to rest.
Old bulls like this one are solitary creatures except when the rut comes along then they turn into social animals.
This is a fine specimen of a bull buffalo in its prime.
Buffalo cows and calves heading for a watering hole.
This lone bull has staked out a pasture with lush green grass.