One of our favorite activities in the Black Hills of South Dakota is to take a slow drive along the scenic Iron Mountain Scenic Byway where many of the one way tunnels form a picture frame around Mount Rushmore. I also love the unique engineering design in the two pigs tail bridges used in place of hair pin turns to navigate down the side of Iron Mountain.
We are camped near Custer State Park and the town of Custer in the southern part of the Black Hills at Custer's Gulch RV-Park. It is an OK commercial campground just like dozens of others in this area.
You always like to see a falling rock sign when you are about to enter a tunnel on the Iron Mountain Highway Scenic Byway.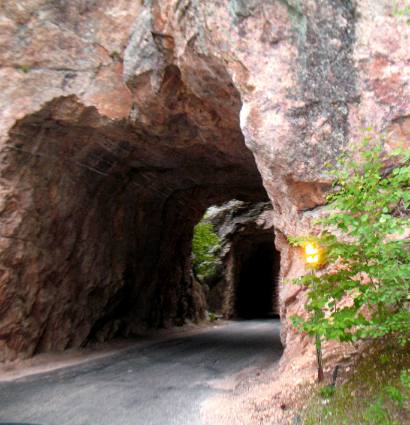 Here we have two tunnels in a row on Iron Mountain Highway. Note that these are one way tunnels.
No, that is not any of us. We did not walk through the tunnel rather just taking pictures from this side. I wonder how many of these tunnels frame Mount Rushmore. It seems that every time we go through a tunnel we can see Mount Rushmore.
In order for some of those tunnel shots (of Mount Rushmore) to work many of the tunnels emerge into essentially "thin air". Road builders designed a series of pigtail bridges as a solution. Pigtail bridges perform the same function as switchbacks. They move traffic from one elevation to another as easily as possible. Since these tunnels popped out into thin air these bridges were constructed from the mouth of the tunnel and in a sweeping motion corkscrew down. This picture was taken immediately after exiting one of those tunnels. You can see how the road corkscrews around and passes under the bridge. A pretty impressive piece of engineering that I have only seen here in the Black Hills.
This is another of those pigtail bridges on the Iron Mountain Scenic Drive. In one place I think they string two of them together as the highway really drops in elevation.
A tour bus can go through this one with probably 6" on either side of the mirrors. Nothing I would want to attempt. Traversing the concrete barriers and other construction obstacles on I-10 through Houston (in our motorhome) was enough excitement for me.
Yet another pigtail bridge. I can not tell from this picture but I suspect the tunnel is on the right side of that bridge.
This one lane bridge is in Wind Cave National Park located a bit south of Custer State Park and the city of Custer.
This is one of the pigtail signs, it is a good indication things are going to happen fast.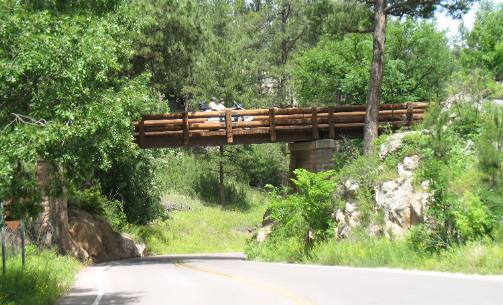 By now pigtail bridges are becoming as common as flies around a feed lot. Not really but there are a number of these engineering marvels located throughout the Black Hills. I think this one is located in Wind Cave National Park south of Custer and north of Hot Springs.
That is all there is.