Silver City, Pinos Altos, Cliff Dwellings, La Mesilla in New Mexico
Places Visited:
New Mexico: Silver City, Pinos Altos, Cliff Dwellings & La Mesilla
July 15, 2003 Silver City RV-Park. Silver City, New Mexico full hookup, 30amps, gravel sites and entrance roads some shade $16.50 per-night.
Virtually every scenic drive book published features the Gila Cliff Dwellings and Inner Loop Scenic Byway. With so many recommendations this is one we are not going to skip. Our five-hour drive started in Silver City on New Mexico 15 where we headed north through Pinos Altos and on to Gila and the Gila Cliff Dwellings National Monument. Joyce had read about New Mexico 15 being narrow, crooked as a dog's hind leg, as well as not having a centerline. Somewhere it was written that it was only one and ½ lanes wide. She was putting up some serious resistance to begin with but it all faded as the route simply was not as bad as had been made out in some of the literature. It did have some twists and turns, for sure, but the terrain was heavily wooded and the road was not hanging on a cliff. The road did not have a center line but that was not a problem as everyone was going slow and passing opposing traffic was easy.
While passing through Pinos Altos today we located the old courthouse with the "hanging-tree". The hanging tree is dead and will not be around much longer.
Just north of Pinos Altos was an old arrastra site. An arrastra was an early Mexican mill that crushed oar bearing rock to get at the precious metal miners were after. No matter what kind of metal, gold, silver, copper, zinc etc., you don't just shovel it out of the ground. Metal is trapped in other rocks like quartz. The oar bearing rocks have to be crushed into almost dust before other processes are used to extract the metal from the dust. An arrastra was a "millstone" about 6-feet in diameter and 10" thick. A long log was placed in the center of the millstone. About 8-feet along the log was a center pivot then another 18 or 20-feet out on the log was a brace of oxen that walked round and round in a circle. The millstone would roll around on a radius of around 8-foot while the oxen were operating on a 20' radius. Oar bearing rocks would be put in the path of the millstone and rendered into the powder necessary to extract the metals they were after. It goes without saying that an arrastra was constructed on a flat piece of hard rock. This was a crude method of processing oar but that is the way it was done prior to the late 1800s.
A monument just north of Pinos Altos honors Ben Lilly, a legendary mountain man and hunter in the early 1900s. Ben had a pack of hounds that he used to track mountain lions and bears. Ben was employed by ranchers to rid the area of mountain lions and bears which preyed upon their cattle & sheep. The ranchers formed a group that paid Ben $50 for each hide. During one three year period the group paid Lilly a total of $5,500.
The part of New Mexico 15 above Pintos Altos wasn't nearly as frightful as the literature had made it out to be. It turned out to just be a normal scenic drive. The closer we got to Gila and the Gila Cliff Dwellings the more scenic the route became. In my opinion New Mexico 15 north of the New Mexico 35 intersection is the most beautiful. From the New Mexico 35 intersection north into Gila offers vista after vista from atop the Pinos Altos Mountain Range. Then there is the descent into the Gila Valley. This portion of the drive made it all worthwhile.
There is a commercial full hookup RV-Park in Gila. By the way I am not recommending that you head there in your RV. RVs do make the trip but flatlanders don't need to be tackling the route with inadequate equipment or inadequate experience in serious mountain driving.
Hummingbird feeders at the Gila Cliff Dwelling Visitor Center were alive with hummingbirds. Like in Mogollon the other day they were thick as flies around the feeders.
We drove to the Cliff Dwellings but decided to skip the walk out to the Cliff Dwellings. Temperatures were hovering near or above 100-degrees. It just did not make sense to go for a hike in those temperatures.
After leaving the Cliff Dwellings we backtracked down New Mexico 15 to the junction with New Mexico 35 where we turned and headed down to and through the Mimbres River valley. In the valley there was irrigated fields and fruit orchards.
In San Lorenzo we headed west on New Mexico 152 then US 180. About 18 miles east of Silver City we pass by the gigantic Chino open pit copper mine. We stopped at the overlook to gaze into the gigantic pit. By my estimate it is over one mile wide at the surface and no telling how deep. We can see where the hole is 800 or more feet deep but off to the side we can see where it goes much deeper. The overlook did not provide a view into the deepest parts of this open pit. I can only imagine how deep they are mining.
We finished the day back in Silver City touring the Silver City Museum.
Silver City residents had their city changed forever around the turn of the century. Residents had cut every tree within sight either to warm their homes or to fire the steam engines at local milling plants. Overgrazing had removed all grasses. The stage was set. Then it came. Heavy rains during the June rainy season. When the flood was over main street was a 30-feet deep chasm. Less than 5-years later another flood deepened it even further. Now the gully was down to bedrock. Bridges were constructed across this gully and a businesses moved one street to the west paralleling the old main street gully. In the 1930s the CCC constructed rock walls to the gully to channel future flood water down the "Silver City Gully". Now there is a walk along what once was "Main Street". The pictures in the Silver City Museum documenting the great floods were interesting and telling.
July 16, 2003 We drove 105-miles to Coachlight Motel & RV-Park. Exit 139 on I-10 in Las Cruces. 50-amps, shade full hookup with pool 1-mile from Old Mesilla / La Mesilla.
Last night I plugged Silver City, New Mexico into our SA-8 program as the start of our trip home then designated Pensacola, Florida as finish. The trip home is going to be around 1,500 miles. We are beginning that 1,500 mile jaunt today. We are not in any hurry to get home but the motorhome is pointed in that direction.
We arrived in Las Cruces (city of crosses) around 10:15 this morning. Although there are a number of good RV-Parks in Las Cruces we like to stay at the Coachlight Motel & RV-Park because of the location. It is within a block of I-10 and about a mile from La Mesilla. If you are visiting Las Cruces more than likely you are really here to explore La Mesilla. Plan where you are going to stay in accordance with what you intend to do.
We drove the Saturn to Stahmann Farms 6-miles south of La Mesilla on New Mexico 28. Stahmann Farms has been in the pecan orchard business since 1932. Today the farm has over 4,000 acres of pecan trees and is the world's largest family owned pecan orchard. It goes without saying that they are one of the world's largest pecan growers producing around 10 million pounds of nuts each year. Joyce and I just wanted to see what 4,000 acres of pecan trees looked like. Impressive might be the best way to describe the sight. In addition to pecan groves they have a company store and also conduct tours of the pecan processing facility and candy factory. Of course we took the tour of the groves and pecan processing plant.
Each of the over 180,000 trees are numbered so that managers can keep track of how fertilizers, insecticides, water rates, and a host of other factors influence a pecan crop. The farm is almost insecticide free. They use lady bugs to control aphids in over 80% of the orchard but have to resort to pesticides where their groves border other groves that do not have aphids under control. They raise their own lady bugs and release them from the back of a pickup truck driving through the orchard much like a mosquito spray truck driving through the neighborhood. There were no web worms in any trees. I guess the lady bugs eat the web worm larva also.
We dined at the La Posta (Spanish for the Inn) Restaurant. When visiting La Mesilla dining at La Posta is almost obligatory. We have eaten here before and decided that we couldn't visit La Mesilla without dining there again. The building occupies the former Butterfield Stage Depot building. In addition to good food they have fish tanks featuring piranha plus a collection of talkative parrots in the lobby. A variety of galleries and specialty shops round out lobby. All that is housed in a building that was an Inn in the 1850s.
Across the street is the building where Billy the Kidd was convicted of murder and sentenced to die by hanging. La Mesilla was the Territorial seat of Justice so even though the murder Billy committed was 150-miles northeast of La Mesilla the trial was held in La Mesilla. Billy was held in jail here in La Mesilla awaiting trial and after the trial until marshals from Lincoln arrived in town to return him to Lincoln for hanging. Billy was returned to Lincoln but escaped prior to being hung killing two deputies in the process. Sheriff Pat Garrett shot him to death less than 3-months later.
After eating we strolled around the plaza reading historical plaques. This afternoon temperatures hit 100 degrees, however a cool breeze is blowing tonight and it is very comfortable. On the south side of the plaza we hear music coming from a "dive". We decided to see what was going on. We would not have entered a dive like this several years ago. Our travels have softened our preconceive notions and we have become more adventuresome. As it turns out we stumbled upon a unique bar designated in the January 2002 issue of Men's Journal as one of the 50-best bars in America. The magazine says the El Patio Cantina thrives as a blues joint & biker favorite. A blues band was playing but the clientele looked to be hip college students or young professionals, not bikers. Of course the adobe building looked like it would qualify as a biker bar.
July 17, 2003 Coachlight Motel & RV-Park. Exit 139 on I-10 in Las Cruces. 50-amps, shade full hookup with pool 1-mile from Old Mesilla / La Mesilla.
Hurricane Claudette slammed into the Texas Gulf Coast day before yesterday and literally everyone in New Mexico is praying that remnants of the storm will move over New Mexico and become stationary. To say they need rain is an understatement. A Television announcer the other night was bemoaning the fact that the state's main reservoir of water, Elephant Butte Reservoir, was down over 150'. The news last night out of El Paso, Texas indicated that rain bands from tropical depression Claudette were expected in El Paso by early morning and flash flooding was possible. Las Cruces and La Mesilla are 40-miles north of El Paso so they are expecting rain today also.
La Mesilla is small by today's standards but 150 years ago, it was the largest and one of the most popular towns between San Antonio and Los Angeles. It was also the largest city between Chihuahua, Mexico and Santa Fe, New Mexico along the Camino Real. It was a major crossroads town. Census records from the early 1850s record a population of 3,000 in La Mesilla while Las Cruces only had 600. During a brief period in the mid 1800s, Mesilla was a main stop for the Butterfield Stagecoach. Remember it had an Inn, La Posta, where weary travelers could sleep and get a bite to eat. La Posta is the restaurant where we ate in last night.
In 1846, President Polk declared war on Mexico (Mexican American War). By 1848 the war had ended without much fighting or bloodshed. Most of the current states of New Mexico, Arizona, California, Nevada and portions of Utah and Colorado were ceded to the United States in return for $15-million. You have the picture, we won the war then paid them $15-million for the territory. (Things haven't changed much ---- in 2003 we still send the army in, kick a little butt, spend a few BILLION then tell the residents they are going to do things OUR way.) In 1948, with the war over, Las Cruces was in the United States and La Mesilla was in Mexico. Mexicans that lived in Las Cruces that still wanted to be "Mexicans" moved to La Mesilla.
They were not Mexicans long. Shortly after the war the United States realized that it needed access to an all weather route across the continent, between the east coast and California. That is when in, 1853, we made what is known as the Gadsden Purchase and for $10-million purchased a strip of land across the bottom of New Mexico and Arizona and into California. This did not make residents of La Mesilla happy. These "Mexicans" became Americans with the stroke of a pin! Many had moved from Los Cruces five years earlier to stay Mexican citizens now Mexico had "sold" them to the United States. The signing of the Gadsden Purchase was in the plaza in Mesilla with US army troops and residents of Mesilla watching. To consummate the Gadsden Purchase army troops stationed nearby raised the American Flag in the Plaza while politicians waxed eloquently. One unhappy Mexican climbed into a tree with his beloved Mexican flag. Army troops made him stay in the tree with his flag until all the speeches were completed.
You can see the mid to late 1800s was a time when a lot of historically significant things were happening in La Mesilla.
When you visit La Mesilla today it is situated on a Plaza or town square with the Albino Catholic church dating from 1855 at the north end of the plaza. On the southeast corner is the La Posta Restaurant while on the southwest corner is the oldest brick building in New Mexico. On the east side of the plaza is the building where Territorial court, 1848 until 1921, was held for the district of New Mexico, it is where Billy the Kid was tried, convicted and sentenced to hang. It is also where Billy the Kidd was held in Jail. Several buildings on the south side of the plaza housed the stage coach lines and or pony express. Just standing on the plaza now lined with gift shops and galleries you can feel the history this place has witnessed. It also makes me wish I had paid closer attention in history class.
Why did Mesilla not grow like Las Cruces? It is fairly simple. Remember that the Gadsden Purchase was made primarily to secure an all weather rail road route to the West Coast. When in 1881 the rail road was being constructed through southern New Mexico the people of Mesilla did not want the rail road to go through their community. The company obliged by routing the rail road through Las Cruces. The rest is history. Mesilla, however, remains the birth mother of Las Cruces.
On the way back from downloading e-mail in the office this morning I met a couple passing through Las Cruces in a motorhome. They were so excited by their "find" and wanted to share it with me. They had found an authentic old Mexican village just down the road. They said that I really needed to visit that "old Mexican village" before we left town. As it turns out they had driven down the road looking for a place to eat and stumbled upon La Mesilla. After eating they drove around the square looking at the old adobe structures. Neither had a CLUE where they were. They thought they had stumbled upon a quaint old Mexican village. I thanked them profusely for sharing their "find" with me and promised that we would investigate that village first thing today.
As promised we headed to La Mesilla this morning where Joyce spent a few hours doing whatever she does in the "shops". I spent my time taking video of the square and the significant buildings surrounding it.
For lunch we dined in the Double Eagle a historic dining establishment on the plaza. The Double Eagle building has been recognized by the United States Department of the Interior as the oldest structure on the historic Mesilla Plaza. The Plaza itself is a National Landmark also. It was originally constructed in 1840 as a private residence. In the 1950s it was a cotton storehouse before becoming a series of small shops in the 1960s.
In the 1980s the present owner completed a major restoration of the entire building. To enter the Double Eagle you first enter a courtyard through magnificent post-Civil War 1,000 pound cast iron and gilded gates. Immediately upon entering the foyer you are surrounded by multitudes of antiques and literally star-struck by the glittering gilded baccarat crystal chandelier hanging from the pressed tin ceiling. A step or two to the right and we are gazing at a simply awesome bar. The "Imperial Bar" has two rolled glass panels etched with water lilies and cattails framed with oak-turned columns and spindle fretwork. It features a large cherry and walnut German cupboard in the style of Empire Revival complete with a French polished-veneer finish. With all this stuff surrounding it a 12-foot gold-leafed pier mirror is carved with a shell and acanthus leaf pattern.
That is just a few small details of that bar. The bartender told me that it came from some famous hotel in Chicago..... Sorry but I do not remember the name of it but he did say it was a place frequented by Al Capone.
Wow! Wow! And more Wow! To see THAT bar in this old 1850s adobe building almost takes your breath away. There are a lot of things I so not understand, the building is on the National Register of Historic Structures yet the Adobe structure has "pressed tin ceiling tiles" and this Bar. The furniture, chandeliers, ceilings and other appointments are stunningly beautiful but hardly "historically accurate in this old adobe building".
If you don't do anything else in La Mesilla make sure that you walk into the Double Eagle and take a gander at the bar. The facility sports 9-dining rooms plus the "Imperial Bar". Each is reeking with antiques and magnificent artwork. Gilt tin ceiling tiles salvaged from a San Francisco hotel after the Great Quake of 1906 are used in many rooms. One has a magnificent stained glass ceiling surrounded by those gilt tin ceiling tiles.
All rooms with high ceilings sport magnificent Baccarat crystal chandeliers, antiques and art gallery quality art.
Let me give you a heads up on the Double Eagle. It is really two restaurants. Peppers Café is located inside the Double Eagle Restaurant. Peppers offers Southwestern style cuisine at normal prices. The Double Eagle opens at 5PM and is a White Tablecloth and "cloth" napkin place with commensurate prices. I like to say it is an "Uncle Andy" place. VBG To sum this up if you are dining on the cheap do Peppers for lunch. If you want to splurge try the Double Eagle after 5PM. In my opinion it is worth the price of lunch or dinner to walk around and admire the rooms, as you can tell we did.
After lunch we wandered over to the Gadsden Museum two blocks east of the plaza and across from the local school. It is not the easiest place to find but take the time it is worth it. The museum is privately owned and operated by Mary Veitch Alexander. When we visited today Mary's daughter Tancy Bird was there and the two of them spent about 4-hours with Joyce and I in the museum. This is a truly marvelous museum of the history of Mesilla and the Albert J. Fountain, Jr. family. Mexican artifacts, pictures, silverware, china, stemware clothes etc., have all been meticulously collected for the past 150-years. In addition there are ample Indian artifacts from the 1800s. The building itself is on the National Registry of Historic places. I could go on and on about the museum but suffice it to say we spend an engaging 4-hours with the owners and curators of this wonderful museum. One day I predict this private museum collection will become part of the New Mexico History Museum. Don't miss stopping by the Gadsden Museum and spending some quality time with the owner and her daughter.
July 18, 2003 We dorve 414-miles to Best Western/Buster's RV-Park Sonora, TX. Full hookup with cable $18
We got up this morning and headed east with no particular destination in mind. To began with we headed south on New Mexico 28 instead of I-10 that parallels New Mexico 28 as both head toward El Paso. We chose New Mexico 28 because it follows the old Camino Real (the road between Chihuahua Mexico and Santa Fe, New Mexico). This section of New Mexico 28 is referred to as the Oñate trail after the Spaniard that let the first settlers north from Mexico to the Santa Fe area in 1598.
New Mexico 28 is about 5-miles west of I-10 as it traverses through the Mesilla Valley bright green with well watered pepper fields, pecan orchards and alfalfa fields. We were told by a farmer in Mesilla that those that had water were the lucky ones. Many farmers did not get water this year. He told us that many of those that had water this year will not have it next year unless New Mexico gets some major rain. That is so sad. This is a beautiful bright green valley when irrigation is available.
If you want to enjoy the Oñate trail like we did today you can follow it from La Mesilla to Texas 375 at exit 6 on I-10 just north of El Paso. Think seriously about enjoying that side road instead of I-10.
The rest of our trip east on I-10 was uneventful as you would expect a trip across 400 miles of west Texas to be.
July 19, 2003 We drove 116-miles to Fredericksburg RV-Park: Fredericksburg, Texas. Full hookup with cable and modem connection available. $21 per-night.
We continued our journey east this morning. However, we were only going 116-miles to Fredericksburg where we plan to spend the weekend. We stopped 25-miles short of Fredericksburg in the town of Harper to spend some time visiting the Raz Exotic Animal and Bird Sale/Auction. Watching this auction and sale was a hoot. Where else can you see this variety of wild animals being auctioned? There were Watusi, Watusi Cross, Longhorn Cattle, American Bison, Water Buffalo, Cape Buffalo, Aoudad, Blackbuck, Addax, Oryx, Llamas, Zebra, Elk, Red Deer, Nelgai, Waterbuck, Eland, Fallow Deer, Axis Deer, Sika Deer, Ibex Goats, Sicilian Donkeys, Boer Goats, Catalina Goats, White Texas Dall Sheep, Barbado Sheep, Mouflon Sheep, Black Hawaiian Sheep and Corsican Sheep.
They were running these wild animals into an auction ring with a room full of people watching. As you might imagine the BARS between the auction ring and the audience is substantial. It better be to hold things like bull Cape Buffalo or for that matter a bull American Bison. Some of the elk and red deer had trophy racks while others were small and needed to be bottle fed.
When they ran the Watusi cattle (especially the bulls) through the auction arena the crowd would gasp for air. Although they the bulls are about average size 1,500 pounds or more it is the HORNS on the bulls that are so awesome. The horns don't curve or anything like that. It is their gargantuan size that is so awesome. The horns are much like a Texas Longhorn's protruding straight out from each side of the head. The base of a Watusi's horns where they attach to his skull are 10" or more in diameter. They are not happy critters when they enter the auction ring. They prance around the ring looking for something to hook on those horns. It is obvious by the way they swing their heads around in an agitated manner that they would like to get one of those cowboys on the end of one of those massive daggers.
Ranchers love magnificent horns and from the bidding on these bulls it is obvious they wanted to put some of that blood into their cattle.
I tried to look up Watusi, Nelgai, Sika and several others of these exotic animals in my dictionaries and encyclopedias with no success. I am sure that the spelling is correct and I saw these animals with my own eyes even though Webster and World Book does not have a listing.
In addition to the BIG exotic animals a menagerie of smaller animals and fowl were on display in another building. What were not sold there would be auctioned later in the afternoon. There were multiple varieties of Swans, Geese, Doves, Quail, Pheasants, Pigeons, Peafowl, Ducks, Emu, Ostrich, Rhea and Turkeys. Virtually every kind of dove and quail were being sold as were 5 or more varieties of Turkey. I could not help but think of my two sisters. If they were here they would be taking all these cuddly little creatures home.
They have these exotic animal auctions two days a month in Harper, Texas. You can not miss the auction if you travel through Harper. If you are visiting Fredericksburg this will be as good entertainment as anything you will see. I wish they had a website but I did not see one. You can call them at 830-864-4538 to get the auction dates each month. You have not visited the "Hill Country" if you miss this!
We met a nice young man from an exotic game ranch west of Harper. He was there with his Father. They were there to purchase anything that was really cheap and to keep up with the prices different species were bringing. His family ranch was in Mountain Home, Texas very near the famous YO Ranch. He gave me his card. They specialize in Year Round Hunting, non-native animals (exotics) do not have open season, like native white tail deer and turkey. They advertise Axis, Mouflon, Aoudad, Blackbuck, Fallow, Ibex, Sika and more. If you are interested call Gary Dixon @ 281-441-2788. They were good people. Tell them I sent you.
Joyce spent several hours with me at the exotic animal auction this morning so I spent the afternoon with her as we did what thousands of other tourist were doing........walking in and out of shops in Fredericksburg.
As it turned out Fredericksburg was sponsoring a huge arts and crafts festival in the downtown-park, complete with non-stop music from 7PM until the wee-hours. Fredericksburg is a German town and as you might suspect, the bands played polka music. They would take an Elvis song and make it into a polka by having the tuba put that polka beat to it. Thank goodness Joyce got tired of the polka before mid-night! I paid dearly for my few hours at the exotic animal auction!
The crafts fair featured a variety of talented artist and craftspeople and attracted a lot of people.
Fredericksburg is home to the Admiral Nemitz Museum & History Center and the George Bush Gallery of the National Museum of the Pacific War. Both are housed under the same roof and are must visits when in Fredericksburg.
Admiral Nemitz was born and raised in Fredericksburg. Seeing his boyhood home and his accomplishments always reminds me of the drastically different ways that we treated "German Americans" and "Japanese Americans". Nemitz was a fine admiral that led the United States to victory in the Pacific. What completely blows my mind is how a German American, Nemitz, could be put in charge of the Navy's Pacific Fleet at the same time that Japanese Americans were being rounded up and placed in detention camps.
Until next time remember how good life is.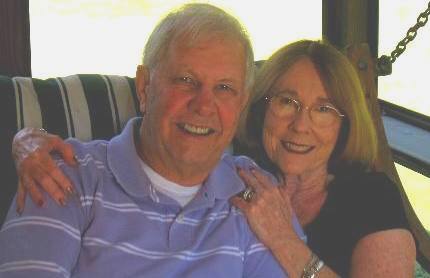 Mike & Joyce Hendrix who we are
We hope you liked this page. If you do you might be interested in some of our other Travel Adventures:
Mike & Joyce Hendrix's home page
Travel Adventures by Year ** Travel Adventures by State ** Plants ** Marine-Boats ** Geology ** Exciting Drives ** Cute Signs ** RV Subjects ** Miscellaneous Subjects
We would love to hear from you......just put "info" in the place of "FAKE" in this address: FAKE@travellogs.us
Until next time remember how good life is.