Mormon Row Grand Teton National Park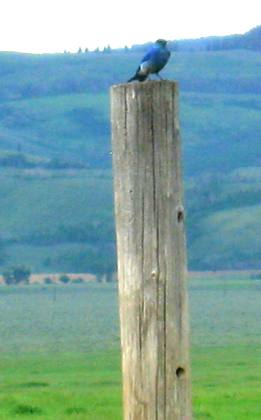 Joyce captured this mountain bluebird on a fence along Mormon Row. We see a lot of bluebirds in Gros Ventre Campground where we are staying.
Joyce took this picture of one of the lush pastures along Mormon Row with the Teton Range in the background.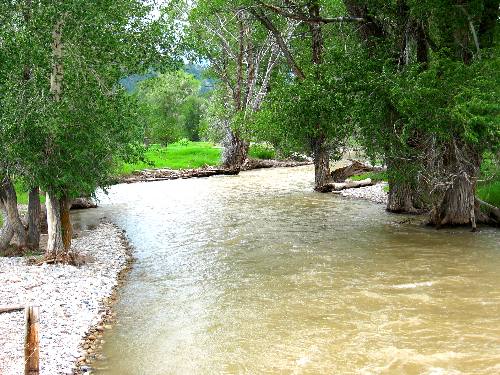 Cottonwood trees line this creek flowing through Mormon Row in Grand Teton National Park.
Buckwheat & Larkspur growing in field along Mormon Row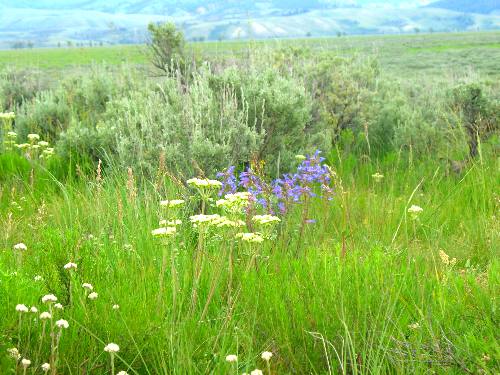 Mormon Row runs through Antelope Flats. This picture is looking east from Mormon Row across Antelope Flats which is covered with sage brush and a variety of beautiful flowers. In this picture the buckwheat are the whitish color flowers and the blue flower is larkspur. Sage brush is the silver-green bush in this picture.
Antelope Flats is heavily grazed by buffalo.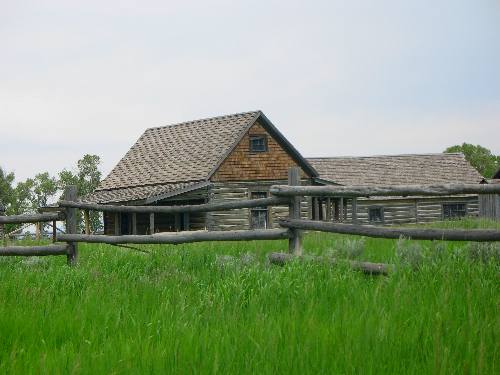 Abandoned farm house along Mormon Row.
You can locate this old farm house and others like it in Grand Teton National Park by driving North on the main highway through Grand Teton National Park from Jackson past the turn off to Moose Junction and Dornan's. A few miles north of the Moose Junction intersection you will see a road going east called Antelope Flats Road. Turn on Antelope Flats Road. Several miles up Antelope Flats road you will get to the junction of Mormon Row. This farm house and others like it are located just off Antelope Flats Road on Mormon Row. You can not miss it.
By the way when you are on Antelope Flats Road continue driving on past Mormon Row and visit the small town of Kelly and if you are really in for some visual overload turn on Gros Ventre Road and follow the Gros Ventre River into the Gros Ventre Wilderness. On the drive up Gros Ventre Road you will pass the Gros Ventre Slide where you will want to stop and read the kiosk plus take the short trail that leads out on the slide. It is a pretty awesome geological experience. Just upstream from the Gros Ventre Slide is Slide Lake and if you keep going you will go past the Red Hills Ranch and other ranches as you make your way deep into the Gros Ventre Wilderness.
Until next time remember how good life is.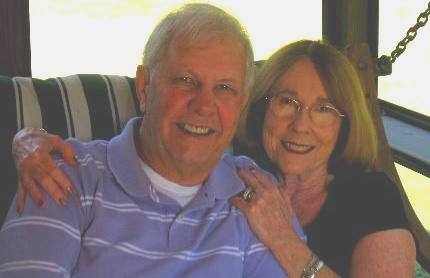 Mike & Joyce Hendrix who we are
We hope you liked this page. If you do you might be interested in some of our other Travel Adventures:
Mike & Joyce Hendrix's home page
Travel Adventures by Year ** Travel Adventures by State ** Plants ** Marine-Boats ** Geology ** Exciting Drives ** Cute Signs ** RV Subjects ** Miscellaneous Subjects
We would love to hear from you......just put "info" in the place of "FAKE" in this address: FAKE@travellogs.us
Until next time remember how good life is.