Sunset Pier Evenings
Mike and Joyce enjoying an evening at Sunset Pier in Key West.
We have joined the crowd of tourist at Sunset Pier that have gathered in this spot to not only watch the sun set but to consume some fine food and beverage while listening to some great live music and dancing.
Joyce has a seat on Sunset Pier to watch the sunset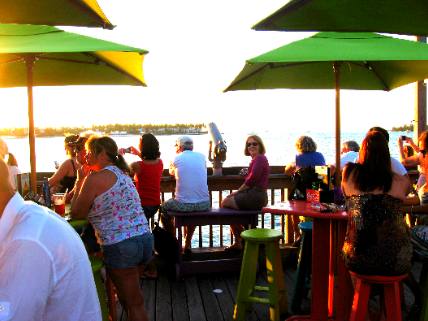 We arrived at Sunset Pier a bit late and had to settle for a seat around the perimeter as all tables were full.
As you can see it is a good idea to arrive at Sunset Pier a good bit early if you want to enjoy everything from the comfort of a table.
That is Joyce looking at me from that seat next to the telescope.
Evening crowd on sunset pier waiting for the sunset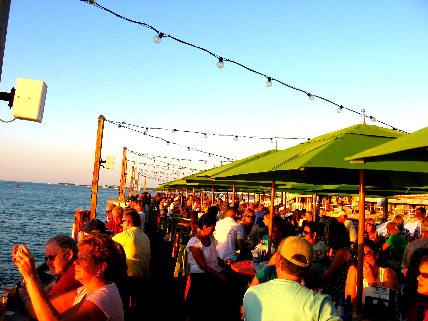 Long before the sun actually sets Sunset Pier is wall to wall humanity. While sunsets are the main attraction good food and beverage plus live music and dancing seem to make Sunset Pier one of the most popular places in Key West to view the sunset every evening.
To find Sunset Pier walk to the north end of Duval Street until you get to the water then follow the boardwalk to Sunset Pier. Or you can access Sunset Pier from Mallory Square. From Mallory Square just walk to the northwest corner and follow the boardwalk to Sunset Pier.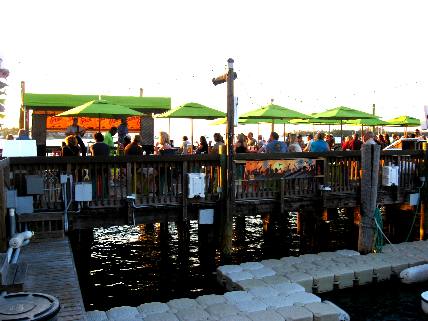 In this picture we are approaching Sunset Pier from the boardwalk at the foot of Duval Street.
Crowd on Sunset Pier enjoying the food & entertainment while waiting for the sun to set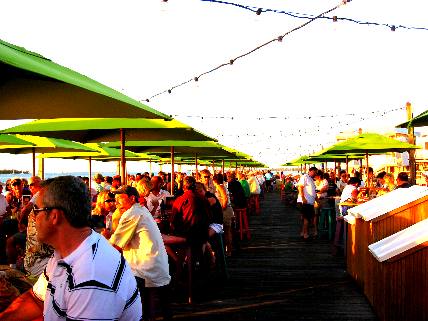 Management at Ocean Key Resort has to love the crowd that congregates on Sunset Pier every evening to watch the sun set. As you can see in this picture Sunset Pier is packed from end to end and the sun is still pretty high in the sky.
Ocean Key Resort that overlooks Sunset Pier in Key West
The setting sun "lights-up" Ocean Key Resort each evening. Joyce took this picture of Ocean Key Resort from our seat at Sunset Pier about 20-minutes before sunset one evening.