Margaritaville and other Key West Traditions
We are dry camping along with some 700 other RV'ers at the Navy Base here in Key West. Actually, there are two bases within the NAS Key West complex that make up the 700-plus campsites. The two locations are at Sigsby and Trumbo Point. Sigsby is located 3 to 4 miles from "Duval Street" in Key West while Trumbo Point Campground is located 6 to 8 blocks from "Duval Street". We are staying at Trumbo Point, an easy walk to Duval-Street. But remember this is Dry Camping. There is central dump station and fresh water. Generators can run from 6am to 10PM. Life is good.
Commercial Campgrounds in Key West start at $100 a night and are located about 5-miles from Duval Street. Parking in Key West starts at $13 a day and goes up. The $13 parking site is about 6 blocks from Duval Street. The closer you get to Duval Street the more expensive the parking site.
Jimmy Buffett's "Original" Margaritaville Store on Duval Street in Old Town Key West, Florida

Jimmy Buffet has his original store and his original Cafe on Duval Street here in Key West.
Jimmy Buffett's Margaritaville Cafe is one of those "bucket list" places that just have to be experienced when in Key West. Actually, it isn't anything to write home about. But it is one of those "must do" places. Yes, we did it once this trip with friends Macklyn & Les.
We saw this decoration while walking the docks behind Hogfish Grill on Stock Island near Key West. Hogfish Grill is only a few blocks from Boyds --- the popular RV-Park everyone uses when visiting Key West.
Parrot riding shotgun on this Key West, Florida bicycle
Parrots on folk's shoulders is a common sight in Key West. The individuals with parrots, iguanas, pythons etc., on their shoulders are just as "colorful" as the animals if you get my drift, and I think you do. VBG
Free Lance entertainers on Duval Street in Old Town, Key West
This lady is getting her picture taken with a rooster and a red parrot. Note the iguana laying on the top of that blue buggy. Inside the blue buggy is a pretty big python. This guy makes his living providing photo-ops to tourist. He works Duval Street on a daily basis. It is hard to see the red parrot sitting on top of that red rooster but he is there if you look close.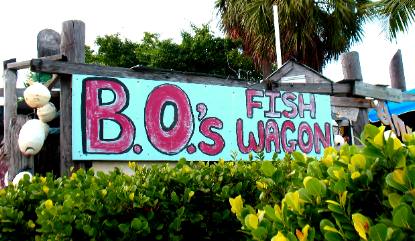 We always enjoy walking past B.O.'s Fish Wagon an outdoor restaurant on Caroline Street across from the old and now vacant West Marine store. We eat lunch there on a regular basis.
Key West, Florida Transportation
No automobiles, just motor cycles, motor scooters and bicycles. Now that is the essence of Key West.
Until next time remember how good life is.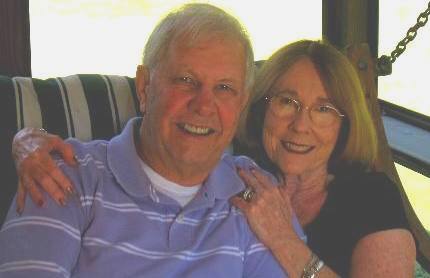 Mike & Joyce Hendrix who we are
We hope you liked this page. If you do you might be interested in some of our other Travel Adventures:
Mike & Joyce Hendrix's home page
Travel Adventures by Year ** Travel Adventures by State ** Plants ** Marine-Boats ** Geology ** Exciting Drives ** Cute Signs ** RV Subjects ** Miscellaneous Subjects
We would love to hear from you......just put "info" in the place of "FAKE" in this address: FAKE@travellogs.us
Until next time remember how good life is.