Stock Island Foliage
Coconut palms are a common landscape plant throughout the Florida Keys but especially here on Stock Island and in Key West.
Red mangrove thickets like this one cover much of the undeveloped portions of Stock Island.
Red mangroves will take root and flourish wherever they can find shallow quiet water in tropical regions.
When sightseeing in Key West and Stock Island you can not help but spot the red mangrove.
Bright red Manila palm fruit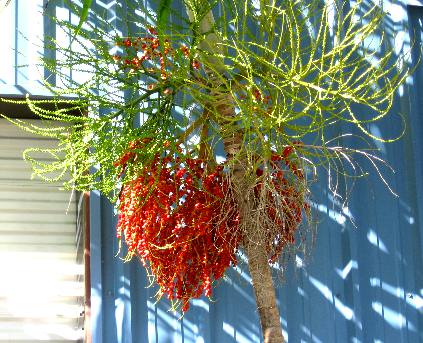 The Manila palm is sometimes called the "Christmas Palm" because its fruits become bright scarlet and tend to be that color in the winter.
This picture was taken on Stock Island in January so it fits the moniker "Christmas Palm" just fine.
Osprey in the top of an Norfolk Island Pine on Stock Island
This osprey was perched on the very top of this talk Norfolk Island Pine on Stock Island. We wouldn't have spotted the bird except we had the windows down and we could hear it's loud screech. It was communicating with it's mate that was setting on a nest not far away.
Actually, I think these bananas were growing closer to the marina property next to Hogfish Grill than they were on the Hogfish Grill property but I do not know the name of that marina so Hogfish Grill is as close as I can get to the location for these bananas
Tropical bananas can be seen on Stock Island as well as throughout Key West.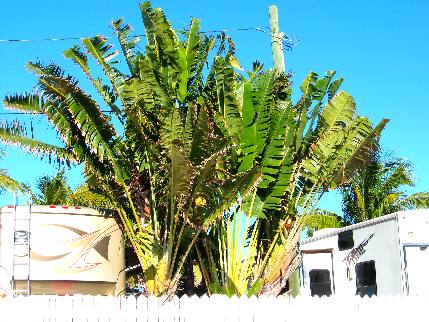 Joyce took this picture at Boyd's RV Park on Stock Island. We were on the street that passes by Boyd's and I stopped so Joyce could take this picture out the window of our Saturn.
Travelers palms are a distant relative of bananas The name comes travelers palm is said to come from the plants ability to store up to a quart of water in each of the leaves where they connect to the main stalk. It will catch rain water in the cavity and thirsty travelers way back knew they could obtain fresh water there. Now you know why it is called a travelers palm. VBG
Travelers palms are one of the most stunning landscape plants we see in Key West.
Until next time remember how good life is.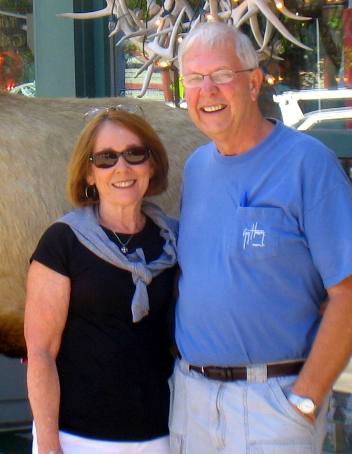 Mike & Joyce Hendrix who we are
We hope you liked this page. If you do you might be interested in some of our other Travel Adventures:
Mike & Joyce Hendrix's home page
Travel Adventures by Year ** Travel Adventures by State ** Plants ** Marine-Boats ** Geology ** Exciting Drives ** Cute Signs ** RV Subjects ** Miscellaneous Subjects
We would love to hear from you......just put "info" in the place of "FAKE" in this address: FAKE@travellogs.us
Until next time remember how good life is.