Key West, Florida Flowers & Plants
January, 2010
Key West is noted for beautiful travelers palms, ficus trees and ginger blooms. We are going to share some of those sights with you. I hope you enjoy them as much as we did.
We are dry camping along with some 700 other RV'ers at the Navy Base here in Key West. Actually, there are two bases within the NAS Key West complex that make up the 700-plus campsites. The two locations are at Sigsby and Trumbo Point. Sigsby is located 3 to 4 miles from "Duval Street" in Key West while Trumbo Point Campground is located 6 to 8 blocks from "Duval Street". We are staying at Trumbo Point, an easy walk to Duval-Street. But remember this is Dry Camping. There is central dump station and fresh water. Generators can run from 6am to 10PM. Life is good.
Commercial Campgrounds in Key West start at $100 a night and are located about 5-miles from Duval Street. Parking in Key West starts at $13 a day and goes up. The $13 parking site is about 6 blocks from Duval Street. The closer you get to Duval Street the more expensive the parking site.
This is a magnificent travelers palm. It was certainly a sight to see.
Some will tell you that the foliage will automatically orient itself in a west-east direction. I do not know where that tale came from but it is definitely not true. We see them oriented in all sorts of directions.
Still others say it was given the name "travellers palm" because the sheaths of the stems hold rainwater, which can be used as an emergency drinking supply. Now this sounds a bit more credible, at least to me.
We liked the aerial root system on this ficus tree in someone's yard. You might recognize this tree if it were in a pot since it is a popular house plant. We have several of them that have survived severe abuse over the years.
Many yards sport epiphytes such as these orchids growing on a palm tree.
Key West, Florida has many plants that we do not see anywhere else
The colors on this shrub were just too bright to pass up.
This is a splendid travelers palm located on Caroline Street in Key West across the street from B.O.'s Fish Wagon Restaurant and next to The Red Doors Dress Shoppe.
Joyce took this picture of a stop sign and travelers palm while on William Street looking north. William is a sidestreet that intersects Caroline. The stop sign is stopping traffic for Caroline. For those of you that are familiar with Key West B.O.'s Fish Wagon and Pepe's restaurant is just around the corner to the right. Straight ahead is Key West Bight Marina.
Key West, Florida bleeding heart with solid pink bloom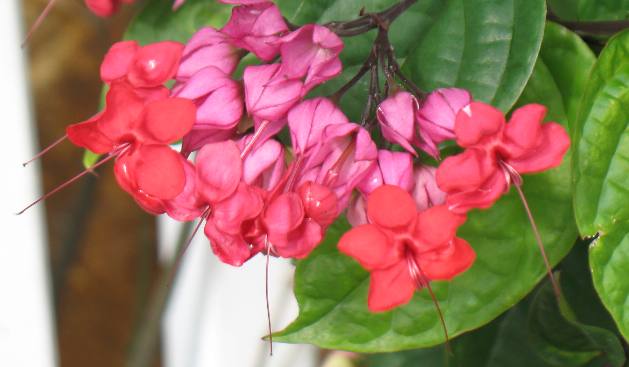 This is a bleeding heart, yes bleeding heart. While the familiar bleeding heart bloom is white with a bleeding heart these are bright red.
Fish tail palm bloom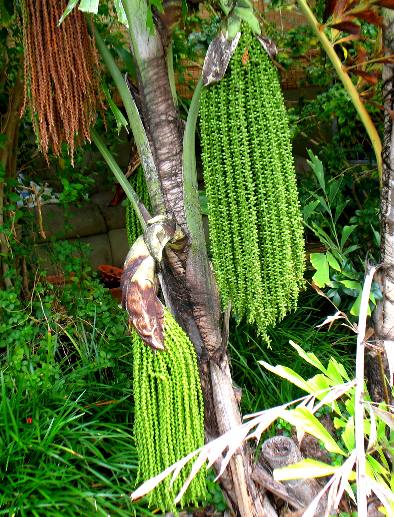 These bloom chains were on a fish tail palm. We thought they were unique.
Bright red ginger bloom we only see in Key West, Florida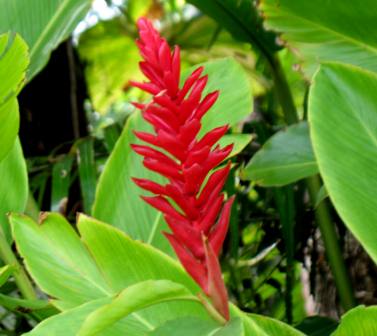 This is a ginger bloom. I now you probably think all ginger is white ---- down here they like crimson ginger plants. We only see these bright red ginger blooms in Key West.
Pink Ginger Bloom that we only see in Key West, Florida
This bloom was on a ginger plant near that crimson flower above. I do not know if it is a pink variety or if the crimson becomes pale after a few days. Anyone want to clue me in?
Flame Vine bloom we see all over Key West
This is a flame vine. Flame vines are known to cover fences or climb tall trees. In full-bloom they turn whatever they cover a bright orange. I got some seeds off this plant. They will actually grow in Pensacola and I hope to grow some of them.
Powder puff blooms can be seen throughout Key West
These are powder puff blooms. I have, or should I say had, two of these plants in my front yard in Pensacola. They do not tolerate cold weather and I am afraid that this winter may have been too much for the ones in my yard.
To my surprise they actually survived the brutal winter Pensacola endured in December of 2009 January & February in 2010.
This is an orchid tree bloom that is fairly common in Key West.
Until next time remember how good life is.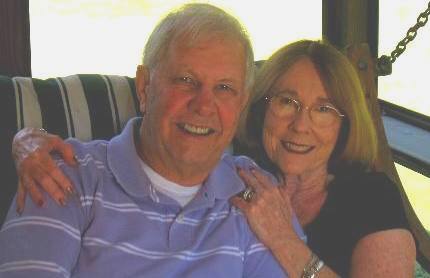 Mike & Joyce Hendrix who we are
We hope you liked this page. If you do you might be interested in some of our other Travel Adventures:
Mike & Joyce Hendrix's home page
Travel Adventures by Year ** Travel Adventures by State ** Plants ** Marine-Boats ** Geology ** Exciting Drives ** Cute Signs ** RV Subjects ** Miscellaneous Subjects
We would love to hear from you......just put "info" in the place of "FAKE" in this address: FAKE@travellogs.us
Until next time remember how good life is.