Ficus
Ficus trees are also known as fig trees. Ficus trees are noted for their "aerial-roots".
In this picture taken of a large ficus tree in Key West, Florida you can see several types of aerial roots that will, over time, develop into woody trunk extensions.
In the upper portion of this picture you can see what I call aerial hair roots that are falling to the ground. Once they actually touch the ground they will take hold in the earth and begin to grow larger until they actually develop into another trunk.
Near the bottom of this picture you can see where much larger root extensions have become much larger.
This is a better view of the "hair-like" aerial roots are falling toward the ground.
Aerial Roots on Ficus tree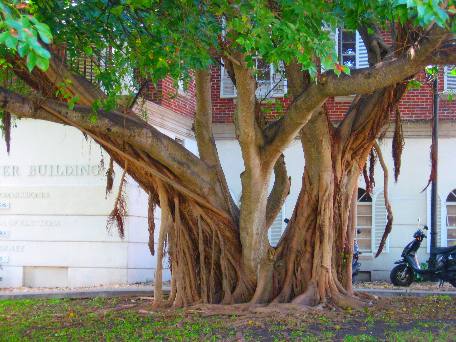 In this picture you can see where the aerial roots are much larger than the aerial roots in the previous pictures.
Ficus trees and banyon trees are closely related. So closely related that some refer to all the tropical fig trees with aerial roots as "banyan" trees.
Look at the aerial root system on this ficus. Since a ficus can start life as an epiphyte or air plant then develop roots that extend to the ground some are sometimes called "strangler figs".
You can learn more about strangler figs here.
Since ficus trees can start life as as an epiphyte (air plant) they can start life high in the canopy of a "host-tree" or on a building.
Here are some strangler figs (ficus trees) that have started life on a building.
Banyan trees also have this "aerial root" system.
Look at the aerial root system on this ficus tree in back of the Mel Fisher Museum in Old Town Key West.
As you can see the aerial roots on this ficus tree have become firmly attached to the ground and have transformed into woody "trunks".