An epiphyte is a plant that usually grows on another plant (usually a tree) non-parasitically. Sometimes epiphytes grow on other object. In south Florida we see ball moss growing on telephone wires. Epiphytes get their moisture and nutrients from the air and rain. With that said they sometimes obtain moisture & nutrients from debris accumulating around it.
Some of the more common epiphytes are Spanish moss, orchids, bromeliads and lichens.
Spanish moss one of the most common epiphytes
Epiphytic plants like Spanish moss attached to their hosts high in the canopy. That gives them an advantage over plants restricted to the ground where there is less light and they can become and easy meal for herbivores.
Orchids are epiphytes also
Epiphytes like this orchid have roots that are used as attach mechanisms to whatever they grow on.
Epiphyte orchid bloom
Epiphytes have some of the most beautiful blooms of any plant.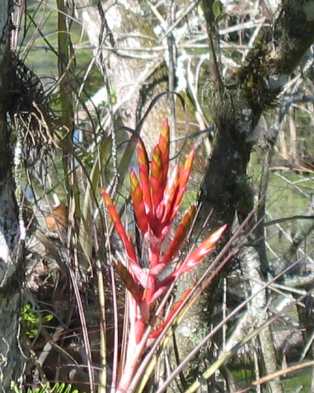 Bromeliads like orchids have beautiful flowers. This is a wild bromeliad we saw in the Everglades.
It amazes me how these epiphytes do not need soil to flourish.
Staghorn ferns are another epiphyte that we see in south Florida. They are generally featured hanging from large trees by substantial chains.
Epiphytic ball moss
Ball moss is another epiphyte that is common is Central and South Florida.
I do not recall seeing ball moss north of Orlando but I suspect there are scattered pockets of it a bit north of Orlando.
Some ferns are epiphytes
These epiphytic ferns were in Corkscrew Swamp near Naples, Florida.
Mike & Joyce Hendrix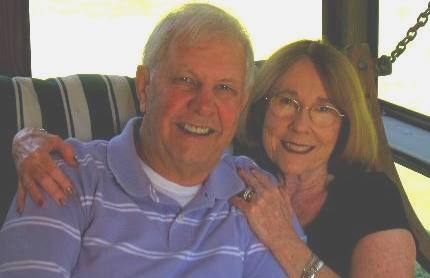 Mike & Joyce Hendrix who we are
We hope you liked this page. If you do you might be interested in some of our other Travel Adventures:
Mike & Joyce Hendrix's home page
Travel Adventures by Year ** Travel Adventures by State ** Plants ** Marine-Boats ** Geology ** Exciting Drives ** Cute Signs ** RV Subjects ** Miscellaneous Subjects
We would love to hear from you......just put "info" in the place of "FAKE" in this address: FAKE@travellogs.us
Until next time remember how good life is.