January 31st, 2009
This travellog covers several days of exploring Key West where were admiring kapok trees, Tourist Trees, Travelers Palms & ginger blooms plus a variety of other exotic plant life on the island.
We are dry camping on the Navy Base at Trumbo Point in Key West. I am a retired DOD civilian and the Navy allows retired DOD civilians to camp in the Navy facilities as long as there is space available. We are paying $12 a night to dry camp on a grass field along with over 600 other RV's. All I can say is: It is wonderful.
Coontie Palm Fruit on plant in Key West, Florida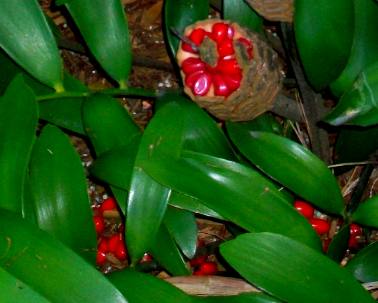 This seed pod was located near the ground coming out of the base of the plant. The plant looked to me like some exotic fern or cross between a fern and dwarf palm. If anyone knows what it is please let me know. The leaves are thick and waxy. It is low to the ground with the seed pod coming out of the "trunk" near the ground.
These dainty purple flowers are interesting.
This unusual trunk/root system belongs to a large kapok tree situated on the court house in Key West. For years kapok was the material used in life preservers.
These bright red blooms are on a chenille plant.
This is a starburst bloom. The small trees are spectacular but it seems impossible to get a satisfactory picture of the entire plant. The white parts of the bloom wash out the picture. The only way to get a picture seems to be to take the flower in the shade or at least subdued light.
This bright red flower is on a ginger plant. Here in Key West we see ginger plants that are 8' to 10' tall. Back in Pensacola they seem to only get about 4' tall. Until here in Key West we have not seen any red ginger. We see white blooms on the ginger I am familiar with.
Orchid
This orchid plant was on the side of a royal palm tree in a spectacular yard in Truman Annex.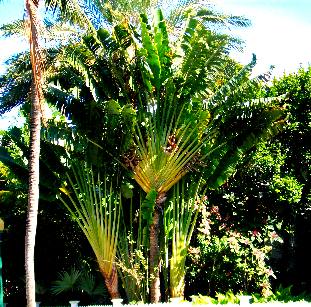 These travelers palms were in a yard also located in Truman Annex.
This is one of the osprey parents on the nest above our motorhome. They are very noisy and have totally "whitewashed" a screen tent set up on the other side of the nest. I have to wonder why the camp hosts put anyone in that site --- on the other hand I do not know why anyone would stay in that site but the folks there are there for the winter.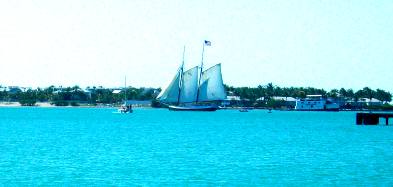 The Jolly II Rover is one of the sailboats that pass between us and Sunset Key on a regular basis. They sure make the view interesting.
Don't you just love this color combination? I particularly like the dolphin used as an accent decoration.
I couldn't help but think that this old oddly deformed tree had been through Hell & high water. It has obviously been in that spot for 100 years or more. It has certainly had a rough life. One has to wonder how it ever survived this long.
We took this picture of a tourist tree limb because it so epitomized the reason for its moniker ---- red & peeling skin.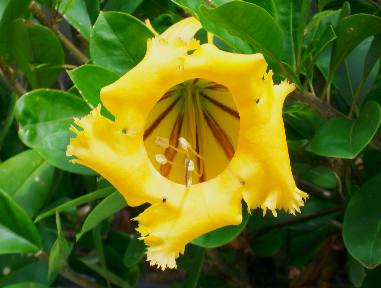 I am not sure what this flower is but it was stunning. I am not sure whether it was a vine or a bush. After getting back home and looking through some books and Googling it appears that this is a Chalice Vine or Cup of Gold.
This helica lily was showing off in fine style. Sadly they are not in bloom at this time. This one just had a wayward gene.
Joyce took this picture on one of our daily walks around the island. We were very near the southern most point of the Continental United States. If you look closely you can see Cuba 90-miles in the distance, not really. It is there but you can't see it.
Ahhhh! Now this is a favorite Key West past time. We had to stop in this place one day to experience some Cuban food. It did not disappoint. I think it was on the corner of Dual& South Street, if not is was close to there and the only Cuban place in that area.
We didn't notice any chickens while dining at that Cuban restaurant, instead they employed pigeons. This one was faster than most bus boys and was cleaning the table next to us before the people left their seats.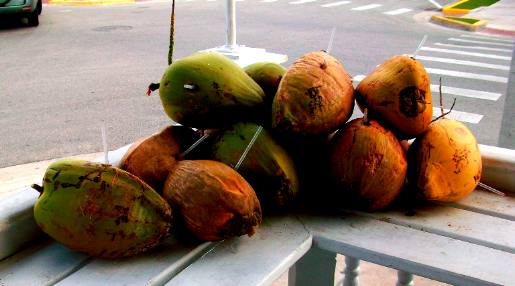 Evidence that many people were having a good time at that Cuban restaurant. If you get to Key West try it.
House boats in marina at Key West
House boats basking in a late afternoon sun at a marina near our campground. The colors were more vivid than the picture allows because the sun was washing out strong Caribbean colors.
Until next time remember how good life is.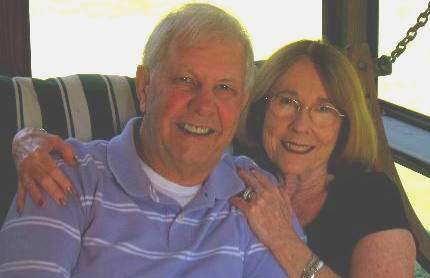 Mike & Joyce Hendrix who we are
We hope you liked this page. If you do you might be interested in some of our other Travel Adventures:
Mike & Joyce Hendrix's home page
Travel Adventures by Year ** Travel Adventures by State ** Plants ** Marine-Boats ** Geology ** Exciting Drives ** Cute Signs ** RV Subjects ** Miscellaneous Subjects
We would love to hear from you......just put "info" in the place of "FAKE" in this address: FAKE@travellogs.us
Until next time remember how good life is.